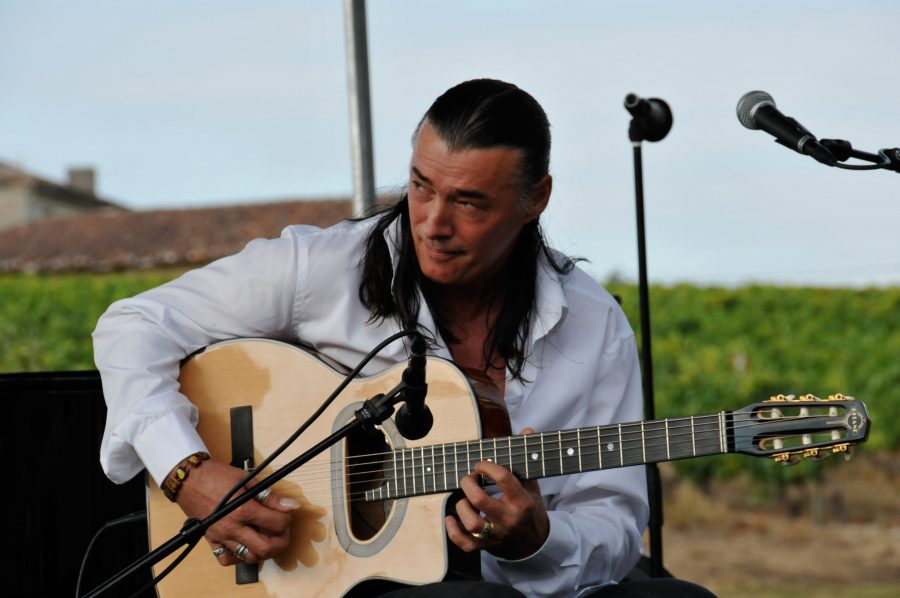 Courtesy\Darcie Champagne
The Dana Center presented The International Guitar Summit, a show combined musical mastery with engaging storytelling, and the multicultural group of guitar virtuosos was met with a large, enthusiastic audience on Feb. 10.  The first half of the show featured each of four individual musicians performing both inventive covers and original pieces.
First to perform was gypsy legend Lulo Reinhardt from Germany.  Reinhardt began his set by explaining the difficulty he faced in attempting to secure a visa to come to the US for his work.  Reinhardt performed "Desert Inspiration," a song he wrote for his documentary film of the same name that follows Moroccan nomads and their varying styles of music.  Reinhardt then introduced Debashish Bhattacharya, an innovative slide guitarist from India.
As Bhattacharya explained, he learned to play the Hawaiian guitar as a child, eventually traveling to Hawaii to perform for Tau Moe, a renowned native Hawaiian
guitarist.  Referring to him as "Papa Tau," Bhattacharya described his closeness with Moe and the Hawaiian guitar, despite never actually meeting him.  He performed an original piece dedicated to Moe on an instrument of his own invention.  The Anandi combines elements of the Hawaiian guitar, a traditional guitar, and the sitar.
Italian Luca Stricagnoli performed next, using his acoustic guitar not only to create unique melodies, but also as a percussion instrument.  Stricagnoli first performed an original, then gave an impressive, two-guitar rendition of Guns N' Roses' "Sweet Child of Mine," for which the audience gave a standing ovation.
Stricagnoli then introduced Brazilian guitarist Chrystian Dozza, who played "Ballade," a lilting ballad written for his parents.  His second piece, also an original, combined new Brazilian rhythms with traditional ones.
The second half of the show featured duets, trios, and quartets in a breathtaking demonstration of multicultural artistry. Christine Drew said of the show "I think it's really remarkable that we are able to have such unique opportunities at Saint Anselm to experience various cultures and how people express themselves through music. The International Guitar Summit was a true representation of that. The audience was able to immerse themselves completely in their music, and for the final piece, all four guitarists compiled an improvisation piece combining all of their musical backgrounds to create a piece that was unforgettable."
The International Guitar Summit's performance drew attention to the importance of
culturally diverse experiences. As a universal language, music was the translator for the evening, inviting the audience to immerse themselves in new musical encounters, both traditional and contemporary. Indeed, the performances encouraged spectators to "listen with the ears of their heart."