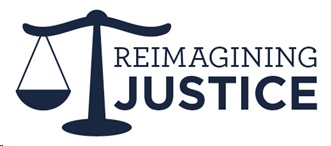 The Gregory J. Grappone Humanities Institute, along with the Anselmian Network for Racial Justice, and The Saint Anselm Criminal Justice Department hosted the second webinar of a three-part series called, "Reimaging Justice" on Tuesday, March 16th. The series has focused on the criminal justice system and relations between the police and communities of color.
Part 2 of this series highlighted conversations about police use of surveillance and their use of relationship with the communities they serve. Attorney Julian Jefferson, Esq. was the keynote speaker, along with three panelists: Albert E. Scherr, Esq., a professor at the University of New Hampshire Franklin Pierce School of Law; Joseph Lascaze, a Smart Justice Organizer with the ACLU of New Hampshire(American Civil Liberties Union); and James Testaverde(SAC 1997)- Deputy Chief of the Nashua Police Department.
In his keynote address on Tuesday, Jefferson said that 2020 was, "one of the most formative years of my adult life. The death of George Floyd, his murder being broadcast on television, was something I instinctively knew I did not want to see, and for selfless reasons. I knew if I watched it, I knew I would be obligated to try and do something about it. And who am I?  What can I do? I am just one person. A public defender working miles away in New Hampshire."
After highlighting George Floyd's death and the personal impacts the event had on him, Jefferson went on and said, "We can not have an informed discussion about surveillance and race without recognizing the root of the problem. The longstanding structural and systemic inequalities in this country that have plagued our black population, our Native American population, and other people of color. These longstanding issues that are clearly based and originated from an ideology of white supremacy. The legal, hostile, and overt racism of the Jim Crow era is not something in our distant past."
Jefferson also addressed the events in Charlottesville, VA, the re-election of Barack Obama in 2012, and his own experiences with racism during a police encounter during his studies at law school. He stated: "we can have this conversation, black, white, brown, and all colors in between without fear or animosity to our fellow citizens. We can recognize racism, without resorting to a ridiculous notion that all white people are racist. We can also recognize some of the dark and dangerous elements in our police forces without resorting to the ridiculous position that 'all cops are bad.'"
Jefferson spoke about his personal experiences with racism and discussed how New Hampshire alone is not immune to racism. He recalled a run-in with the police while returning home from working security at school. He was pulled over and felt proud that he stood up for himself during the experience.
Jefferson concluded his address by asking a second question: "What can we do about issues surrounding surveillance and police."
From there, the panelists discussed issues about high and low tech surveillance. Professor Scheer highlighted that high-performing technologies such as body cameras, although useful, are "not ready for primetime."
James Testaverde, deputy chief of the Nashua Police Department stated how, "Nashua doesn't have any body cameras," and that there was a 0% percent increase in the NH state budget for high tech surveillance police equipment.
Joseph Lascaze continued on the discussion, stating that there is a difference between intent and impact. At the end of the panel discussion, Testaverde stated: "we need something more tangible than a person's race."
The final webinar of the series will take place on April 6th via Zoom. For more information, contact the Office of Alumni Relations or Professor Bouchard.