Saint Anselm welcomes Favazza as new president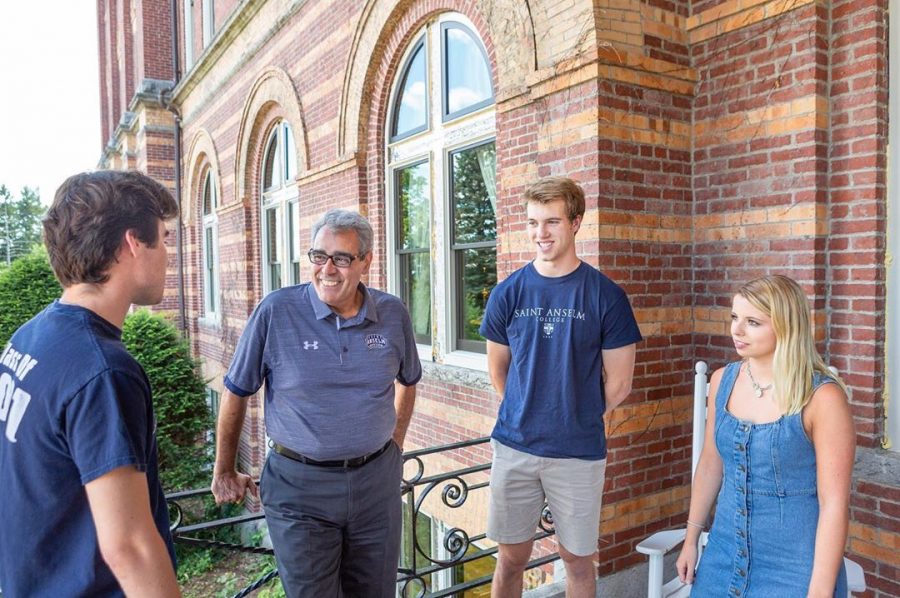 Janelle Fassi '21, News Editor
September 22, 2019
Dr. Joseph A. Favazza assumed the presidency of Saint Anselm College on July 15th, making him the 11th president of Saint Anselm College. He considers himself a Saint Anselm freshmen, but has been in higher education for 27 years. 
Favazza's wife, Dr. Paddy Favazza, Ed.D, is an accomplished researcher and professor in Early Childhood Education. Both were named Senior Fulbright Scholars in 2000 and taught together for one semester at Babes-Bolyai University in Cluj-Napoca, Romania. The couple has four children: Alina, Ana-Marlise, Petr, and Isabella. Three of their oldest children are adopted as siblings from Romania, where they taught together. The Favazza family was documented as part of the Hallmark Entertainment Channel's "Adoption" series. They also appeared on the Oprah Winfrey show in 2002.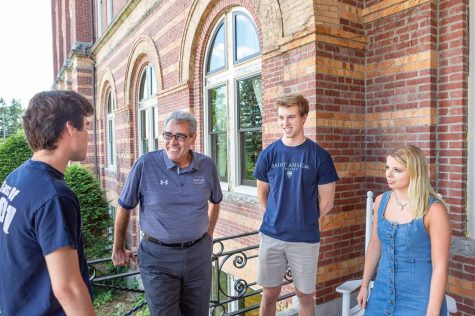 Dr. Favazza was previously recruited to be the Dean of General Education at Stonehill College in Easton, Massachusetts and had served as Provost and Vice President of Academic Affairs since 2012. Prior to Stonehill, he was an Associate Professor of Religious Studies and theology at Rhodes College in Memphis, Tennessee, where he is a native. Dr. Favazza and his family resided in Sharon, Massachusetts while he was at Stonehill, and have since relocated to Bedford, New Hampshire, only ten minutes from campus. In fact, his new house is the same home that former President DiSalvo resided in. He was not initially looking to become a college president, but with his academic credentials, he says Saint Anselm chose him. 
Dr. Favazza was rooted in a Benedictine education himself at St. Meinrad College in Southern Indiana, where he earned a B.A. in History. The College itself is now closed, but still remains a very large theology school and seminary for people preparing for priesthood. He said, "because of that experience, I had such a great experience with the Benedictine Community, Saint A's felt like home."
However, Saint Anselm is certainly not new to the president. All of his four children have since graduated college, but when his oldest daughter was looking at colleges ten years ago in 2010, they did a tour of Saint A's. He said, "it was my first visit on the campus, and of course I just loved it because it reminded me of my college…and my daughter said, ''Eh, not so much,' So it was a big disappointment, but you know, hey never say never." Although it was not meant to be for his daughter, it was clearly meant to be for our president. 
As this is his first time as a college president, he looks forward to getting connected with as many students and faculty as possible. He held a Pizza with the President event with the Intercultural Center on Sept. 3rd, taking questions and suggestions from students, most of whom were first-years. Although he never considered being a college president in the past, Chief Diversity Officer, Dr. Ande Diaz said Dr. Favazza is "a leader that thinks holistically and really cares about [important] issues."  
One important issue he emphasized was respectful discourse, especially considering the political climate at Saint Anselm and all across the state. He said, "I am hoping Saint A's can be a place where that kind of discourse can happen…I really want us to engage ideas but in a way that starts with respect and understanding."
Much of what Saint Anselm can gain with respect and understanding comes from the value of Conversatio. As president, Dr. Favazza hopes to uphold and strengthen Saint Anslem's sense of community. He hopes to also incorporate hospitality, which he says comes from welcoming people with respect and the exchanging of ideas. 
What sets Saint Anselm apart from other schools is not only its Benedictine tradition, but also its roots in a liberal arts education, which Dr. Favazza says is giving students an "education that is transformative." He adds, "massaging that curiosity key will sustain someone for a lifetime…and that's what a liberal arts education can do."
Solidifying admissions efforts and getting the story out about Saint A's is another important issue for the president, which he says starts with retooling our admission efforts, marketing, and better capitalizing on the New Hampshire Institute of Politics. He hopes to work on programs where Saint Anselm has faculty strengths to attract new students. Although Saint Anselm is only undergraduate at the moment, he said he is looking into a few targeted graduate programs and summer programs. 
By no means is he looking to turn Saint A's into a big university, but he believes a few very targeted programs would be helpful. He says part of the challenge of higher education is creating the Saint Anselm experience, (i.e small classes, large faculty, wide array of campus programs) and making this experience accessible and affordable to as many students as possible. While he is looking at many different ways to make this happen, he says, "if Saint A's is going to be Saint A's, it can't just be for fewer and fewer and wealthier kids, it just can't be because that's not our mission, and so how can live out our mission in a way that continues to attract students from across socioeconomic backgrounds, ethnic backgrounds, racial backgrounds, and continue to provide the kind of quality educational experience [in] our mission." 
This includes not only student diversity, but faculty and staff diversity as well. He says he plans on working with Dr. Ande Diaz to work on how Saint Anselm recruits, hires, and retains faculty and staff, and also incentivize a diverse student body to enroll because it "enriches the campus." Both student and faculty engagement will help keep the College sustainable, and in lieu of the recent college closings across the country, Dr. Favazza reassures that there is no need for our campus to worry. 
He says, "many of those colleges are very different from Saint A's, they had a much smaller student population, a much smaller endowment, and so their financial health was very risky for a very long time and we're just not that. We have very strong endowment, we have good enrollment…I'm impressed with the alumni I've met and their commitment to the place. We have a lot of strengths and I think one of my roles is to make sure we take all of those strengths that we have and make sure they're aligned in a way so that our future continues to be strong. It's strong, but we can be stronger."
In order to make Saint Anselm stronger, it is important to consider the division of power between the monastic community and the Board of Trustees. Favazza himself served as a priest in the Archdiocese of Memphis. He served at St. Anne's in Bartlett, Our Lady of Sorrows in Frayser, St. Anne's on Highland, and Holy Names in North Memphis. He left the priesthood to get married and the decision to leave the priesthood took three years. When looking at problems from the past, Dr. Favazza believes the only way forward is through communication and collaboration. He says, "I think it's really important that we're at a new moment to bring together the monastic community, the faculty, the staff, and the Board of Trustees, and students, to say, '"What are going to be the big priorities for Saint A's as we move forward?'" rather than just saying '"This is what the president says.'" My style is going to be, here are some ideas, what can we rally around?". 
He jokes, "one dirty little secret about being a president or being an academic administrator is, the only power I really have is, I can shape an agenda."
As to what he's looking forward to this year, Dr. Favazza excitedly brought up homecoming, commencement, volunteer engagement at the Meelia center, student activities, and his own inauguration. He remarked, "I'm just looking forward living into the culture at Saint Anselm this first year, kind of going through that first cycle almost like a first year [student] and just doing things for the first time."