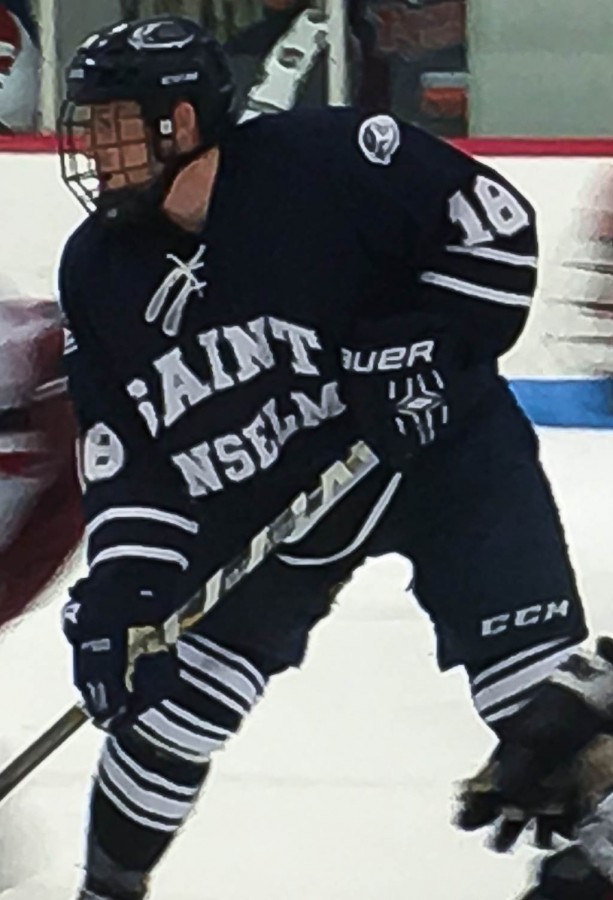 Cody Jones
With the winter sports season now in full swing, a young, clutch scoring threat has emerged on the ice for the Saint Anselm Hawks men's ice hockey team. Freshman Bryan Green had a week to remember earlier last month, which resulted in him winning both the Northeast-10 Conference and New England Hockey Conference "Rookie of the Week" awards.
It all started on Tuesday, January 19 on the road against Franklin Pierce, when 9:50 into the first period of play, Green scored his first collegiate goal to give the Hawks a 1-0 lead. He would go on to score two more times in the second period, earning a hat-trick and the first three goals of his career at St. A's, in a game the Hawks would win 5-1.
Then on Friday, January 22, in a game at home against Saint Michael's, Green scored the Hawks' first goal of the contest to tie it at 1-1 in the second period. The Hawks would tack on another goal later in the second to take a 2-1 lead, but Saint Michael's would respond by scoring twice early on in the third to put St. A's in a 3-2 deficit. The Hawks' chances began to look bleak late in the third period as they were still down, but with less than two minutes remaining in regulation, junior CJ Blaszka was able to escape with the puck on a breakaway, passing it to a wide open Green in front of the Saint Michael's net who scored to tie the game 3-3, and give the Hawks new life. Green's goal would force an overtime period and an eventual St. A's victory when senior co-captain Bryan Sullivan scored to uplift the Hawks to a 4-3 victory in overtime.
Green's storybook week continued the next day when St. A's faced Norwich. The Hawks again found themselves down by one late in the third period. For the second day in a row, Bryan Green would once again play the hero when this time with only 40 seconds remaining regulation, he scored the game tying goal, knotting the game up at 2-2 which would be the eventual final as neither team scored again, resulting in a draw.
Green, the freshman Nursing Major from Weymouth, Massachusetts, reflected on his career week by saying "to score my first goal and then two more in the same game and have a hat trick for my first three goals of the season was a pretty incredible feeling, and then going into the next two games and having two tying goals in the last minute to give us a chance to win the game or even just bring the game into overtime was an incredible feeling."
Green describes his short time thus far playing Hawk hockey as "a good experience overall, great group of guys, very welcoming group of guys. Even though we only have a few seniors on the team, they really stepped up and have been leaders. Bryan Sullivan, Mark Meads and Tyler Estee have really stepped up for us and showed us the way since the beginning."
Green also added that "as a whole, we've had a good season overall, but we've had a few games we probably should have won, but it happens. I think we started off with one of the best records we have had in a long time."
Previously, Bryan attended Dexter School in Brookline Massachusetts and describes his first year playing at St. A's as being a "really good experience coming from a school where everyone was really close and a small school atmosphere and then coming to St. A's I feel like it was not a big change at all, it basically had the same environment where everyone is really close, everyone knows everyone, which I really like."