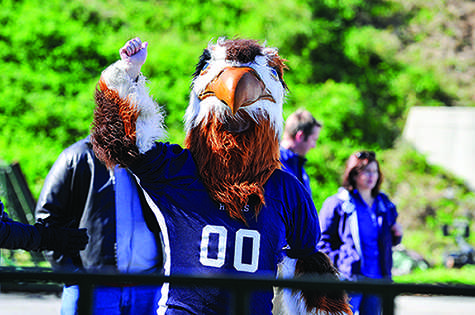 Flickr\Saint Anselm College.
Earlier this summer, representatives of Saint Anselm College attended the inaugural Health and Safety Summit of the Northeast-10 Conference.
Leaders and delegates from all fifteen academic institutions in the conference gathered with the unified goal of increasing discussion and education on the well-being of their 6,500 student-athletes.
Noted guest speakers, including the NCAA's Chief Medical Officer Dr. Brian Hainline, provided valuable insight and commentary on preserving the athletes' wellness both on and off their respective fields and courts.
Held in Providence, RI, the June summit featured multiple leaders from each institution, ranging from Presidents to student-athletes, in order to ensure every concerned party had an equal opportunity to both participate in and learn from the proceedings.
The topics discussed included mental health, nutrition, and student-athlete performance. According to a study done by the National Alliance on Mental Illness, suicide is the third leading cause of death for college students. Dr. Brian Hainline stressed that mental health is the "most important" issue regarding student athletes today. In particular, he reiterated that the negative effects of excessive alcohol and drug consumption coupled with sleep deprivation contribute directly to suicidal tendencies.
Depressants like alcohol can increase thoughts of suicide, and Dr. Hainline emphasized that "suicidal tendencies increase five-fold" when athletes are sleep-deprived.
In recognition of the dangers of sleep-deprivation, student representatives from each institution discussed how balancing varsity sports and academic career rigorously demands their time.
The Health and Safety Summit provided an open platform to promote dialogue between the student-athletes, institutional administrators and faculty members, helping further the collaborative effort to improve the student athletes' unique position at their respective schools.
At the conference, NE-10 Commissioner Julie Ruppert stated that, "Division II has been on the forefront" of protecting their players by implementing new policies, including time off at the end of each playing season. However, she recognized that further steps may need to be taken in order to provide an atmosphere where the demands of being exceptional athletes do not compromise the pursuit of being exceptional students.
The inaugural Health and Safety Summit is a promising sign of the conference's intention to protect their athletes' well-being. Recognizing the demands that each player assumes and cautioning about the risks they face will serve to further individual and program awareness; this will help both the NE10 and each individual institution preserve the health and safety of their athletes.