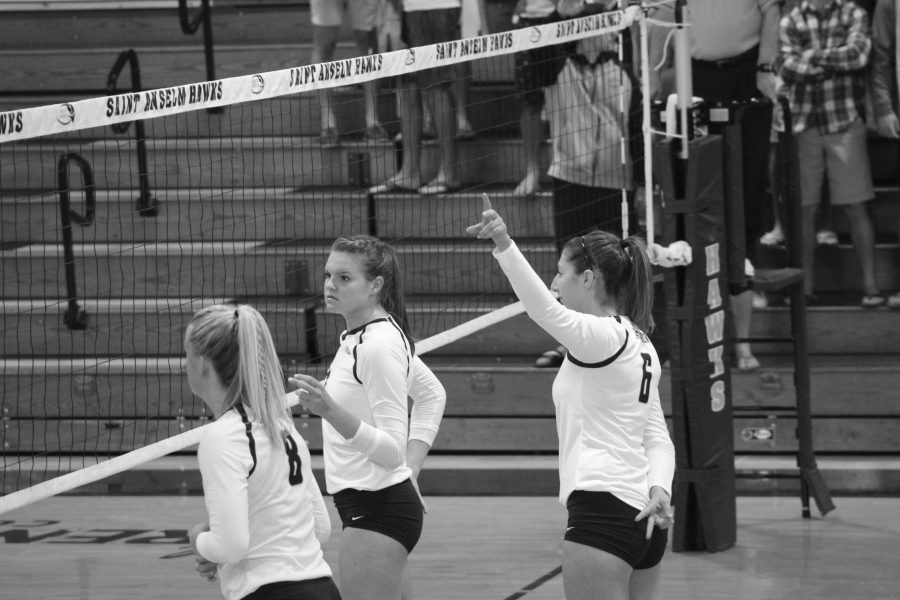 Crier\Tim Mannila
How badly you want something dictates how hard you'll work for it. Those are the exact words that second-year volleyball coach Braden Zamore has written on the white board outside of his office door. If their dominating start to the season is any indication, senior captain Cecilia Chrisom and the Hawks definitely want to make the NE-10 playoffs, and they've been toiling like Hercules to earn that spot.
The volleyball team has opened their 2016 campaign with a screaming 10-1 record, earning their first inter-conference victory over Pace University last Saturday in a thrilling four set match in Stoutenburgh Gymnasium. The Hawks have already equaled their victory total from last season. Zamore was especially thrilled when his side knocked off school rival Southern New Hampshire University at their gym for the first time since 2002. After only losing one player to graduation (new volunteer assistant coach Lauren Oxley), the young Hawks team has matured into a dominating force in the NE-10.
Zamore highlights the team's experience as the "biggest difference" from his first season. Last year, half of the volleyball team was first year players. Having another year of experience has helped the entire team gain the composure and poise necessary to finish games, a problem the Hawks struggled with last season. They lost five matches in the fifth set, a statistic that Zamore attributed to late mental errors. Their costly inter-conference losses left the Hawks empty-handed last season, as they missed making the program's first NE-10 playoff berth in 11 years by one match.
"Last year was devastating," Chrisom explained. "Missing it by one game hits home everyday." The team rallied over the summer, coming back with unparalleled drive that made a tremendous impression on Zamore. The coach emphasized one player adding "two and a half inches on her vertical leap" over the three summer months as a prime example of the team's renewed commitment. "They came back with a determination and a motivation that I haven't seen in twelve years of coaching," Zamore explained. The team works hard every single practice to avoid repeating last year's shortcomings.
From drilling relentlessly as they erase any personal deficiencies to improving team communication and strategy on the court, the Hawks will do "anything to keep [last year's disappointment] from happening again," according to Chrisom. The senior business major recognizes that preparation is essential to their success, but also attributes the incredible "closeness" of the team as a key factor to winning. The acceptance and respect fostered within the group makes each player feel incredibly "comfortable" with one another, which helps them push and motivate one another to excel.
As a captain, Chrisom is responsible for keeping her team focused. "I make sure everyone is in a good mental place," number 1 explained. By reminding her players to "think about the little things" like doing homework, showing up on time to practice, and reminding them of team lifts, Chrisom knows that she is helping her team achieve a dedicated and concentrated mindset that will "translate to the court."
Her position as a libero also gives her a unique viewpoint during every match, helping her act as an active participant while also affording her the opportunity to observe both teams from the sideline. The defensive-specialist acts as a player-coach, giving her team advice and instructions that come either directly from the coach or from her own observations. Her extensive experience and grounding personality help steer the Hawks to maintain a clinical approach to each match, giving them valuable guidance and support.
Home attendance has been another incredible factor for the Hawks this season. "We're absolutely blessed and excited to have the large crowds," Zamore said. He credits the raucous fans for putting extra pressure on the visiting team and for motivating the Hawks to excel at home. Both Chrisom and Zamore highlighted the contributions of the men's hockey team in particular. Chrisom credited their boisterous cheers for "lighting a fire in us," while Zamore praised them for pushing his team to be the best they can be. At the Hawks home match against Queens, Zamore stated, "as soon as [the hockey players] walked in, the atmosphere and the player's attitudes changed." The enormous impact of the home court advantage provided by a strong student cheering section is evident, as Hawks have outscored their opponents 12 sets to 3 this season, leaving them unbeaten at home.
Zamore said he is thrilled and honored to be coaching this team. This season has "been one of the most amazing experiences" he has had as a coach, due largely to the "great, selfless group of student athletes" he coaches. Zamore has only high praises for his players this season, as they have proven dedication to excellence time and time again. He is particularly proud of the upperclassmen, who have been "integral" to their success thus far. He recognizes the tremendous contributions of his two senior captains, Brennah Gladwill and CC Chrisom. "They play well and set a good example on the court," Zamore said, "but they also hold their teammates accountable. They push them and help them work harder."
The two seniors and four juniors have stepped into leadership roles for the team, helping the younger players transition into the program. "Having new players is exciting for the program… it's rewarding to see a young player develop quickly," Zamore said. New players help push the veterans and bring new life to the program, but it is the experience that Zamore values most when counting on his players in the tough matches. Their poise and mental fortitude is the key factor separating this year's squad from last year's disappointments.
While Zamore relies on his seniors for their leadership skills and talent, Chrisom was quick to praise her coach for his contributions to the team's improvements. "He's really enthusiastic," the senior said. That enthusiasm translates to enormous benefits for the team, as they work hard to achieve the lofty program and individual goals he has set for the Hawks.