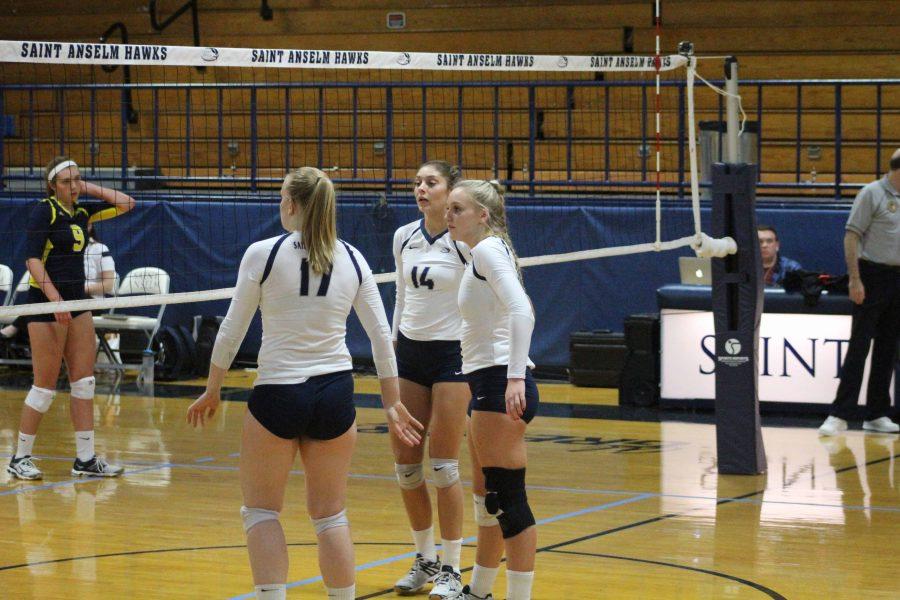 Crier\Tim Mannila
The Saint Anselm volleyball team has continued their impressive start to the 2016 campaign, as they currently hold second place in the NE-10 conference. Despite some recent struggles that have seen the women drop three of their last five, the Hawks were able to regain their winning ways in the second of two away matches Oct. 15 with strong scoring by captain Kathryn Teets, and most recently in taking three of four sets at Saint Mike's on Oct. 18.
The Hawks won fourteen of their first fifteen games, notably cruising to a nine game win streak before clashing with divisional foe Bentley University. The Hawks traveled to Waltham, Massachusetts, to take on the Falcons, where they lost in a tough five set match. Junior captain Katy Teets led the team with eleven kills and a total of 17.5 points, while senior captain CC Chrisom produced twenty-nine digs as the women took sets one and three before falling just short in the fifth set, 15 to 13. Bentley is currently first in the NE10 with a conference record 5 – 0 and an overall record of eight wins, eleven losses.
After dropping two close matches against LIU Post and Daemen College, the Hawks capped off their week with a victory against Mercy College. The "much needed" five-set triumph proved to be a high note by "boosting team morale" after the long week, according to Teets. Notably, the last five matches have been decided in five sets, a testament to their stamina and determination. In their matchup against Mercy the Hawks were led on offense by freshman Catherine McGarthy, who scored seventeen kills and totaled twenty-one points. Then Cecilia Chrisom once again showcased her defensive skill with a team-high twenty digs.
With the matches over the weekend, Teets has accrued a career total of 661 kills, which moved her into ninth place on the all-time record for kills at Saint Anselm. In her third year here, she is also tenth on the all-time attacks attempted (1962) and fifth in kills per set (2.82). Teets was unaware of her proximity to the record until a teammate informed her.
"It's awesome to be a part of something that's solidified in school history," the outside hitter said.
The volleyball team is currently second in the NE-10 with a conference record of 6 – 1 and an overall record of sixteen wins, four losses. Three of their four losses occurred last week, as the Hawks kicked off a tough road schedule that will keep them out of Stoutenburgh until a Nov. 8 matchup against Stonehill College. Without the immense support the Hawks have enjoyed at their home matches, Teets and her teammates were forced to "bring a lot more energy" to their away matches. Teets credits her vocal teammates with "making sure there is good momentum" by cheering every point, motivating the Hawks to excellence.
The last eight matches of the volleyball season are all against conference rivals, meaning that the Hawks' playoff push starts now. Teets emphasized that her team will "go into these matches with confidence" due to the talent and depth throughout the roster. While they can't look past any opponent and need to treat each game with "respect" by playing as well as possible, the chemistry and experience on this year's volleyball team are proving to be a potent force.
The Hawks won 3-1 at Saint Michael's College on Tues, Oct. 18 and play next on Friday, Oct. 21 at New Haven.