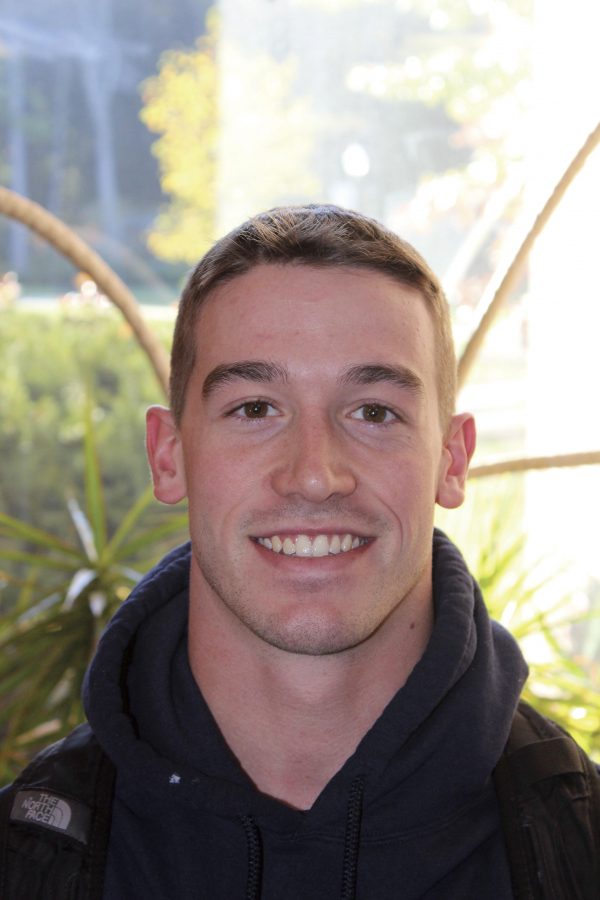 Crier\Tim Mannila
Shaun Callahan is closing out his fourth year of Saint Anselm College by easing the team's transition into a new coaching staff. Callahan, who has nearly doubled his career tackles this season, is closing the football chapter of his life in order to fulfill his dream of becoming a state trooper.
This season, Callahan and the other seventeen seniors on the team have been instrumental in orchestrating a changing of the guard for Saint Anselm football. The Criminal Justice major and Sociology major credits his fellow seniors with "sticking it out" and providing valuable leadership to their younger teammates.
The cornerback described his responsibilities as a senior leader on the team as being a "big brother" to his teammates. Setting a positive example for the younger players is "crucial" to easing their transition to a higher level of play.
Callahan provides that positive example both on and off the field. Number eighteen has recorded 30 total tackles and an interception this season while breaking up four passes, bringing his career total to 64 tackles and six passes defended across 23 competitions. Academically, he has earned a spot on the Saint Anselm Dean's List and the NE-10 Commissioner's Honor Roll twice and three times, respectively.
He described the challenge of balancing academics and athletics as arduous, but stated that is was made easier by his "love of the game."
Callahan has high expectations for the team after he graduates. With talented young players under the direction of first-year head coach Joe Adam, he believes the only direction they can go is up.
"This program has a bright future ahead of it," he said.
Now that the team has had some more time to learn Coach Adam's system and style of football, Callahan believes they will continue the success they've enjoyed over the last two games.
When asked about the team's struggles this season, the senior explained that they had a "hard transition to a brand new offense and defense." Since Coach Adam was introduced to the team on the last day of their "spring ball," the team had a limited opportunity to learn their coach's new style before the season.
Describing his method compared to that of previous coach Patrick Murphy as "night and day," Callahan remarked that he had increased optimism for the team going forward. "Every game we've been getting better," the senior noted. The Hawks backed up this assertion with a 28 – 17 statement victory over Merrimack College on Senior Day last Saturday. This came on the tail of the Hawk's first win of the season against Pace University, when they trounced the Setters 42-7 on Family Weekend. Callahan recorded one tackle for a loss against Pace and three total tackles against Merrimack.
With two games remaining in his collegiate football career against, the senior is preparing for a future of police work in his home state of Massachusetts. Next semester, Callahan will embark on an "internship with the police department of Salem, Massachusetts," a position he hopes to turn into a job after graduation.
But the starting cornerback has loftier goals for his future. "I want to be a Massachusetts State Trooper," Callahan said. He wants to work for a local police department for a few years to accumulate professional experience before realizing his ultimate goal.