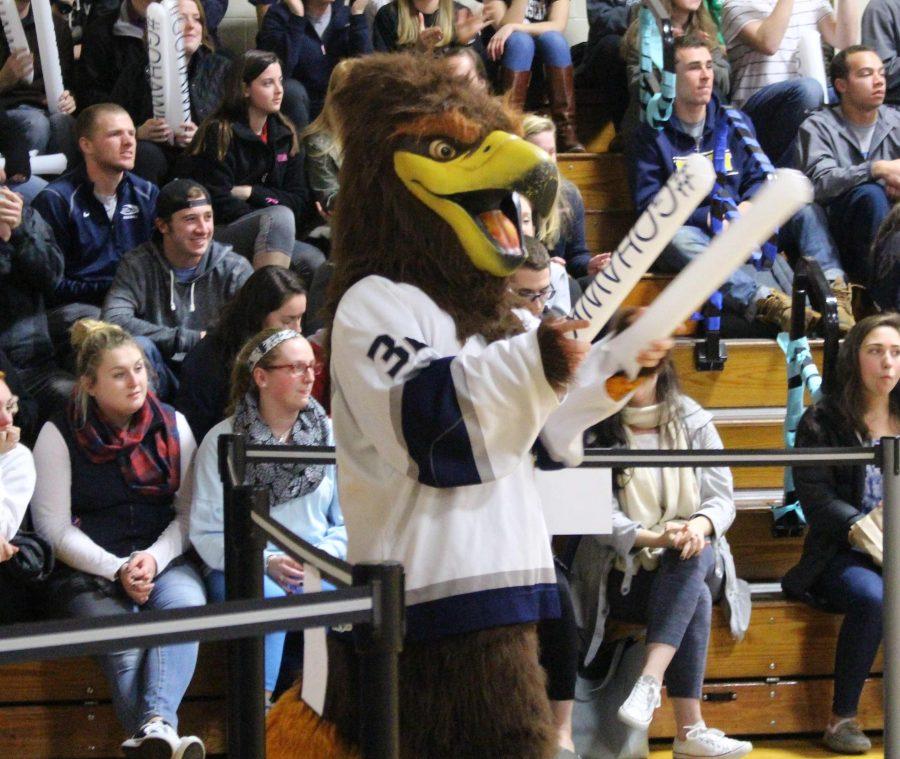 Crier\Livy Ashburne
There are approximately 450 varsity student-athletes enrolled at Saint Anselm College between the 20 Hawk athletic teams. Each one of these athletes juggles demanding academic, athletic and work- related schedules.
The Crier spoke with several Saint Anselm student-athletes, who discussed their experiences thus far.
Sophomore Tommy O'Brien, a business major and forward on the men's ice hockey team, said that he has become used to a "structured environment" as a student-athlete.
"Personally, if I didn't have structure I would be lost. If I didn't have a hobby, or something on top of academics, I would push my homework off," O'Brien added.
"During the season we could have a midterm one day, but we might be in New York the night before [for a game]. So you have to study a week in advance because you know you can't study the night before your exam. It's all about managing your time," O'Brien continued.
Senior Brian Stankiewicz, an accounting major and captain of the cross country team, also echoed that student-athletes need good time management because they have to "balance out essentially a fulltime job" between academic and athletic responsibilities.
Stankiewicz also said that through being a student-athlete "you also get pretty good leadership skills."
He specifically referenced captain's practices, which are typically run by seniors.
"At some point in your four years, you will get that leadership experience, which I think is very helpful," Stankiewicz added.
Senior Joe Levasseur, a criminal justice major and captain of the baseball team, cited communication as being a great skill he's formed as a student-athlete.
"Communication is key, especially with coaches which can be similar to getting in contact with your boss in the future. Communication is very crucial to making sure that everything runs smoothly, and that everyone is on the same page," Levasseur told The Crier.
In addition, Levasseur also agreed with Stankiewicz and O'Brien that time management is one of the biggest parts of being a student-athlete. He is currently doing an internship with the Massachusetts State Police Department in Salem, MA.
Levasseur said that this year in particular he has had to learn how to balance his internship and the baseball fall practice schedule.
"I'm going down [to the internship] four to five days a week then coming back up here and then going to practice, so that's another big commitment too. Coming straight from work, going straight into the locker room and then going right down to the field."
Junior Jess Perkins, a nursing major and captain of the women's tennis team, has also had to balance multiple commitments. As part of the nursing program, she has to do clinical work, which means that her days typically start very early.
Perkins said that there are days when "I have to get up at 5 a.m., then I have clinical all day until 2 p.m., and I have to be at a match at 3 p.m."
She told The Crier "I think it makes me a little more disciplined because I have to get to bed early the night before, and I have to manage my time better."
Perkins went on to say, "It definitely helps that my coach is so accommodating. She lets me get to practice right on time as opposed to a little early, which is normally what we're supposed to do, because she understands that is tough to come straight from clinical."
Perkins added, "I also think [being a student-athlete] helps you meet a wider variety of people. My tennis friends are very different from my other friends. Everyone brings a different perspective, so I get to see things from a different social perspective, a different academic perspective and a different athletic perspective."
Associate Athletic Director Courtney McGrath told The Crier that she believes that being a student-athlete "helps once you graduate to find a job. I think it helps you to time manage. I think you learn how to work with others in a dynamic situation."
"You learn how to deal with adversity and deal with situations that you may not have experienced otherwise, " McGrath continued.
Associate Athletic Director Mitch Capelle said, "Student-athletes are spending hours and hours on a bus and going places and have to go to all their classes then and go to practices. How they dedicate a chunk of their free time to being a student-athlete, it cuts down on the amount of time they have to spend on their studies, especially at a place like Saint Anselm where academics are pretty rigorous."
When asked if she thinks something sets student-athletes at Saint Anselm apart from their counterparts at other colleges, McGrath said "I think that student-athletes here are some of the hardest working student-athletes I've seen, especially freshmen year when it is so new."
"There's the curriculum piece, the studies, and athletics, but there is also working community service and engagement, which an institution like this honors and values," McGrath continued.
Capelle praised the coaches at Saint Anselm and said, "I think every coach, of every team, works as a really good mentor, a sounding board, somebody as a resource for our student-athletes, to be able to go to about academic problems, about personal problems, about anything. That provides some individual attention that maybe a lot of other students don't get. I think that's a big part of what helps a student-athlete here."
McGrath and Capelle also clarified that there are NCAA policies in place, which dictate how much time student-athletes are able to spend per week in team activities.
The NCAA allows Division II student-athletes to participate in 20 hours of "countable team activities" a week during championship and non-championship seasons.
Championship seasons are when teams are competing for conference and NCAA titles, and non-championship seasons are during the opposite semester. So the fall sports non-championship season is in the spring, and spring sports have theirs in the fall.
Winter sports such as ice hockey and basketball only have a championship season because they play during both academic semesters.
Per NCAA Division II policy, championship and non-championship season countable activities include gatherings such as practices, athletics meetings, competition, field, floor or on-court activity, required weight training and conditioning, required participation in camps, and discussion or review of game films.
When teams are out-of-season, "a student-athlete may participate in a maximum of eight hours per week of countable athletically related activities and may not participate in any countable athletically related activities on two days per week during the out-of-season period" according to NCAA Division II guidelines.
In addition, teams can hold "voluntary sport-related activities (e.g., initiated by student-athlete, no attendance taken, no coach present)," according to NCAA Division II policy. Voluntary activities do not count towards countable team activities.
NCAA Division II policy also dictates that student-athletes not in season are required to have a full week off from countable team activities before the end of semester finals.
These policies are in place to help student-athletes balance their commitment to both athletics and academics.