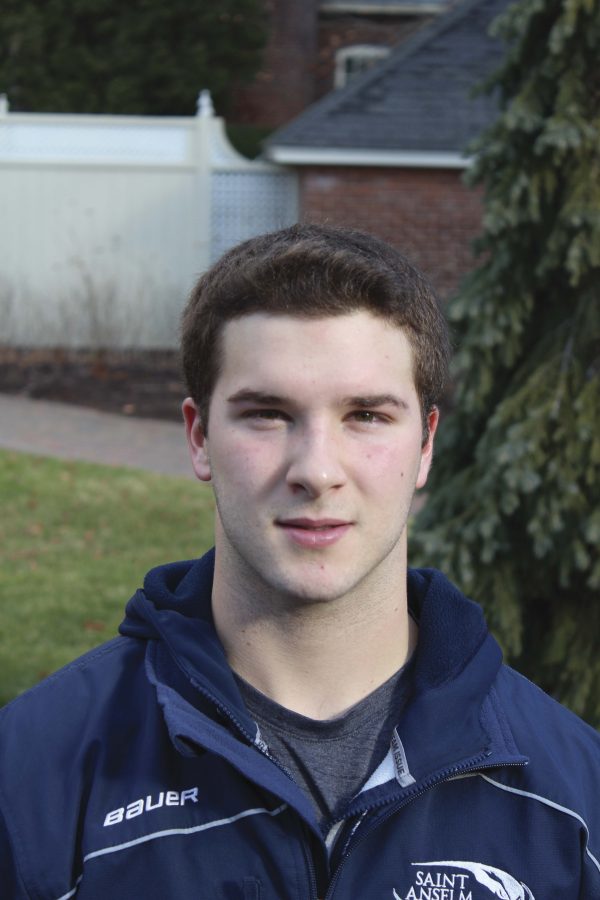 Crier\Tim Mannila
Jeremy Carignan, a sophomore forward on the Saint Anselm varsity men's ice hockey team, is off to a soaring start for the Hawks this year.
Through Saint Anselm's first nine games, Carignan leads the team in goals, with six, and points with 11, which already surpasses his totals in both categories from last season. He recently recorded two goals and an assist against Daniel Webster on Friday, Dec. 2 in a game the Hawks won 10-2.
Carignan is also coming off a strong 2015-2016 campaign, in which he scored 10 total points, tied for the most among Hawk freshman last season. For his efforts, Carignan was named to the 2015-2016 Northeast-10 Conference All-Rookie Team.
He is majoring in biology at Saint Anselm, and is originally from Amos, a small town located in northern Quebec, Canada.
The sophomore forward said he began skating at a very young age, and credited his dad, who played college hockey in Canada, for being a big reason why he started playing the sport.
"As soon as I was old enough to put skates on, I got on the ice," Carignan told The Crier.
"I was lucky enough to live in a small town where hockey is the biggest thing. Everyone wants to play hockey. I was lucky enough to live right across the street from the rink," Carignan continued.
Prior to coming to Saint Anselm, he attended and played ice hockey at Brewster Academy, a college preparatory school in Wolfeboro, New Hampshire. He went on to play two years of Junior hockey, first in Canada and then for Walpole Express, an Eastern Hockey League team based in Walpole, Massachusetts.
Playing college ice hockey in the United States has "always been something I wanted to do growing up," Carignan told The Crier.
After his stint at Walpole Express, Carignan was recruited to play at Saint Anselm.
One of the main reasons he decided to come to Saint Anselm was because of the "small class sizes."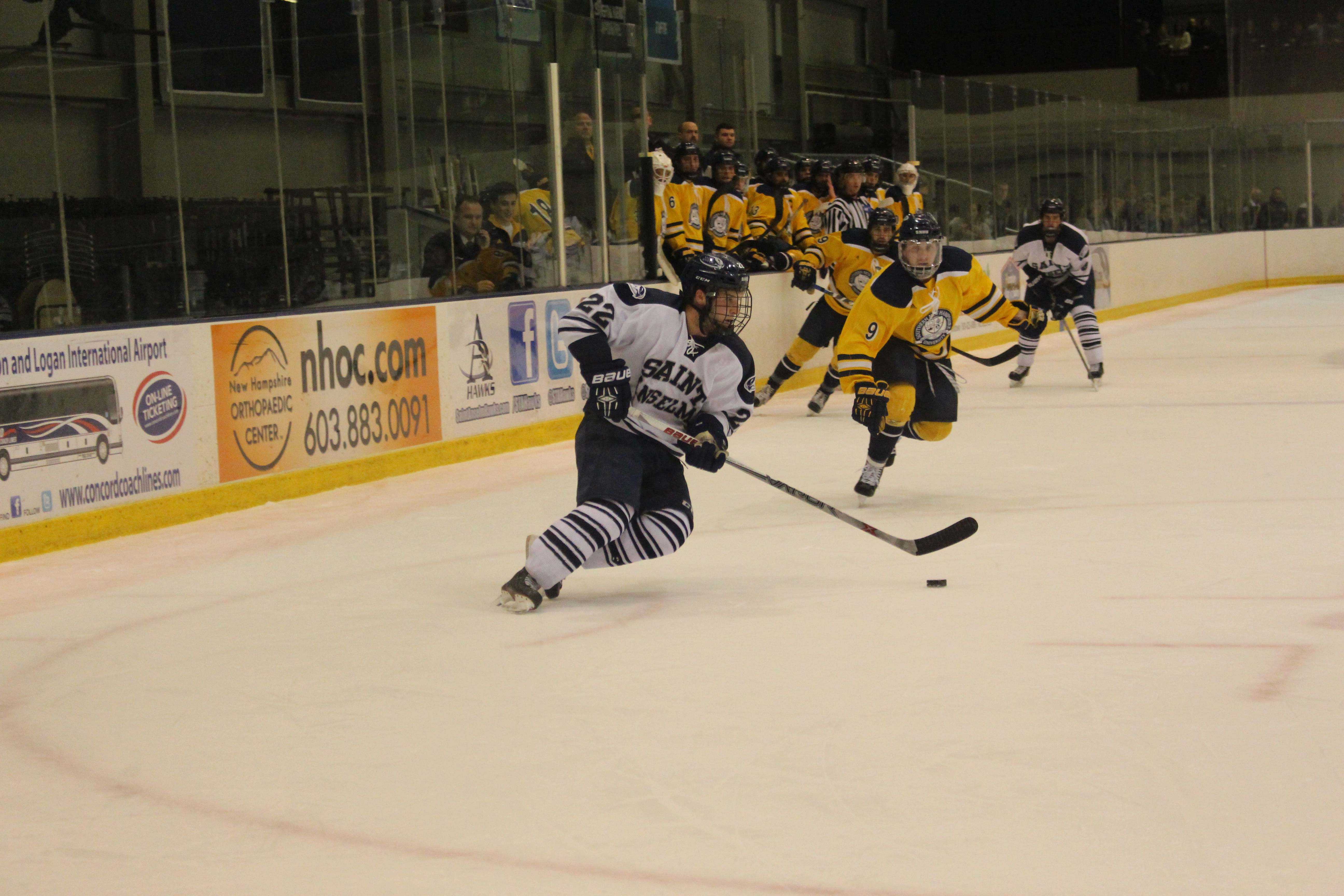 Carignan said that in that regard, Saint Anselm is similar to Brewster Academy, which he described as a "good learning environment."
According to Carignan, classes have been going well thus far and he likes being a biology major. However, he also said that  going to school in the United States can be challenging for him because French is his first language since he grew up in Quebec. He said, "it's only been four or five years" since he started attending an English speaking school.
As for the college's ice hockey program, Carignan said he is very impressed with the athletic facilities, especially Thomas F. Sullivan Arena. He has also enjoyed playing in front of the Hawk fans.
"It's a really good feeling to see that all your friends and all your classmates are in the stands cheering," he told The Crier.
Carignan said the team has "improved so far since the beginning of the season," but that they "still have plenty of potential to reach."
Moving forward, Carignan said it is important for the team to play well against the other Northeast-10 Conference teams in order to contend for a championship.
"For us it is important to win the NE-10 [Conference title]," said Carignan.
After college, Carignan said if he is able to, he "would love to pursue a [professional] hockey career."
"I've always had an eye on playing in Europe. It's always been a dream since I have had a few friends that did," Carignan told The Crier.
Off the ice, Carignan said he is interested in going to veterinarian school. He told The Crier that he grew up with pets at home, and he also worked at his uncle's dairy farm caring for cows.
"I have always had an attachment with animals," Carignan explained.
He said that it would be a "tough decision" for him if he has to pick between pursuing a European hockey career and veterinarian school.
For now though, he is focused on being a student-athlete at Saint Anselm, which he has described as a "great" experience thus far.
Jeremy Carignan and the Hawk men's ice hockey team will be back in action on Friday, Dec. 9 when they host New England College at 7 p.m. in Sullivan Arena.