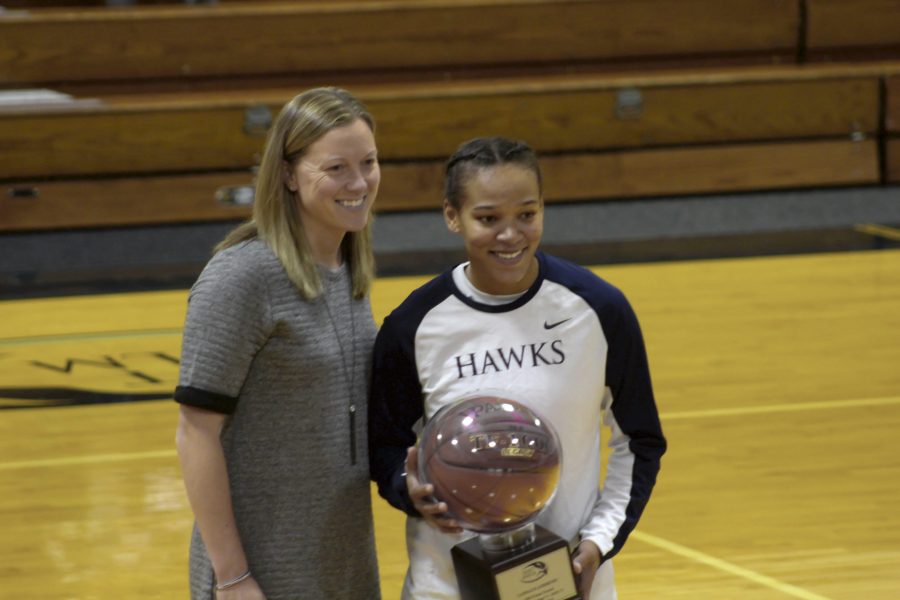 Crier\Tim Mannila
Once in a while, fans are lucky enough to witness a player that has something special. Something indefinable, a gritty combination of raw talent and hard work that leaves stadiums spellbound. Their undeniable athletic prowess is capable of bringing a crowd to a roaring crescendo with a last-second buzzer beater, while their leadership and presence leaves their teammates better for having known them.
The Hawks have been lucky to have Candace Andrews, the electrifying guard who has powered the women's basketball team for four years. Her record-setting career has been captivating to watch, but (as with all college athletics) the curtains are drawing to a close. The Crier sat down with Andrews to reflect on her career, season, and plans for a life after graduation.
From her rookie year, Andrews' talent shone through. In the Dorchester native's first season of collegiate basketball, she won both the NE10 and ECAC Rookie of the Year Awards, made the NE10 All-Rookie Team, and led the entire league in steals. Andrews also collected four NE10 Rookie of the Week awards.
Since she was such a pivotal part of the team, it seemed natural for the coach to offer her a captainship. But not to Andrews.
"I came in contributing to the team, but not leading," she explained. Although she was offered the position of captain as a sophomore, Andrews didn't accept the honor until her junior year. The poised guard felt that she "was not ready" for the leadership role, and that she needed to mature as an individual and a player before becoming a captain.
Under the tutelage of head coach Julie Plant, number 12 began to convert her position on the court. Despite playing basketball since the second grade, it wasn't until her sophomore year that Andrews began to transition from a shooting guard to a point guard.
"Being a point guard has helped me balance distributing and shooting," Andrews explains. By deepening her understanding of the different aspects of ball management and control, she was able to nearly double her assist total of her first two seasons in her junior year.
Andrews eventually accepted the captainship in her junior year, and "stepped up to be a leader on [her] team" both on and off the court.
This season, Andrews has been an overwhelming force on the court. She has posted double-digit scoring in 20 out of 22 games this season, netting 20 points or more in six of them. The point guard has been posting career-highs in points, shooting percentages, rebounds, steals, and assists.
A prime example of her tremendous impact on the team came in a dramatic, last-second victory over American International College this season. With 4.2 seconds left in the game, she coolly stepped up to bury a game-winning jumper. She credits her teammates for the victory, saying she was impressed with "how much heart we had."
Two games later, Andrews would once again provide last-second heroics against New Haven. With the score tied at 59 and 11 seconds left in the first overtime period, the senior drove to the basket, scoring on a layup and drawing a foul shot which would put the Hawks up by three. Andrews sealed the victory by blocking New Haven's game-tying three point attempt.
The senior is a top-ten record holder in six all-time categories, including points scored (seventh with 1343), steals (fourth with 243), and assists (fourth with 456).
When asked how she was able to achieve all of her impressive accolades, Andrews simply said, "I work hard." Andrews also credits the "amazing" assistance of her coaches and her teammates for working together.
In addition to her impressive athletic achievements, Andrews balances the rigorous commitments of Division II athletics with a double major in sociology and social work.
She attributes her ability to balance athletics with academics because of her passion for both. "I love my major and what I'm going to do with my life," she said. And while saying farewell to basketball and Saint Anselm College may be bittersweet, "it's time for me to do something else that I love."
After graduation, she is considering playing basketball overseas for a year, but is "so excited" to begin her career as a guidance counselor.
As her senior season is winding to a close, Andrews would like to thank her teammates "for everything they've done for me," and "my family for always being there."