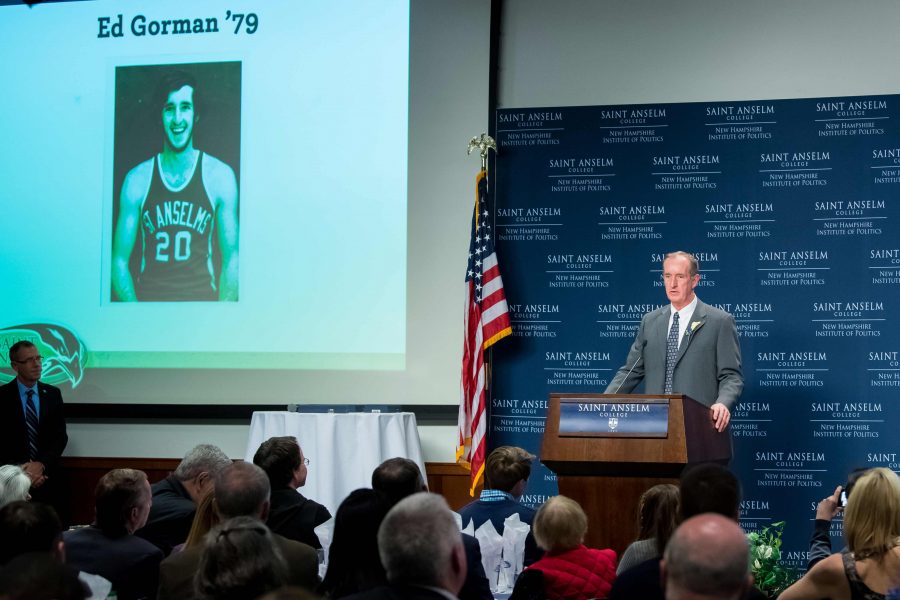 Courtesy\Saint Anselm Athletics
After a 10 year hiatus, Saint Anselm Athletics held its first Hall of Fame induction on Feb. 11.
The ceremony was held in the auditorium at the New Hampshire Institute of Politics. Many coaches, past and present student-athletes, administrators, and notable alumni attended. The ceremony also included a cocktail hour and dinner.
Daron Montgomery, director of athletics, served as the master of ceremonies. Dr. Steven DiSalvo, president of Saint Anselm, provided opening remarks. Fr. Mathias Durette, O.S.B. provided the invocation. Ed Hjerpe '81, former member of the college's Board of Trustees, provided closing remarks.
The ceremony featured six inductees, including four from the Hall of Fame Class of 2007, which had never been formally inducted after being voted in a decade ago.
The 2007 Hall of Fame class included Annamaria (Addonizio) Spiriti '97, Nick Gabardina, Ed Gorman '79, and Frank McBride '90.
Dr. Jo-Ann Nester and Kevin DeBenedetto '10 headlined the 2017 Hall of Fame class.
Annamaria Spiriti '97 is a former Hawk softball player. During her four years on the Hilltop, she received three All-NE10 recognitions at third base and shortstop. She also finished her playing career first in Hawk softball history in stolen bases, second in home runs and runs scored, and third in hits and RBI. She had a .337 career batting average and a .404 on-base percentage. Her final season, Saint Anselm posted a record of 33-9 and clinched Hawk softball's first-ever ECAC Division III Championship.
Spiriti told The Crier that winning the ECAC title was one of the highlights of her career and added, "Any player wants to win their last game."
Nick Gabardina filled a number of roles within Saint Anselm Athletics. He served as the head coach of Hawk baseball from 1979-86 and 1989. Over that time he won 54 games, which ranks third most in Hawk baseball history. He was also an assistant coach for the softball team for a number of years, and in addition was a scorekeeper at Saint Anselm basketball games.
Gabardina told The Crier "I enjoyed it up here and had a great time," and added, "these kids [at Saint Anselm] were so different because they were pleasant, sharp and very friendly."
Ed Gorman '79 played varsity basketball all four years he was at Saint Anselm. He was a regular in the starting lineup and was named a captain both his junior and senior seasons. Gorman tallied 229 steals in his career, which is second in Hawk men's basketball history. He also totaled 1,270 points for his career, which is 24th all-time. In addition, Gorman average 15.1 points per game, which is 23rd in team history.
During his remarks at the induction ceremony, Gorman reflected on his time at Saint Anselm and said that he "played with really good players, and they made me a better player."
Frank McBride '90 played varsity men's soccer for four years at Saint Anselm, and was a regular starter his final three years. He received All-NE10 First Team selections at both midfield and a back his junior and senior seasons. McBride tallied 18 career points. He was also a member of the NE10 championship team his freshman year, and the Hawks were the NE10 runner-up team his senior season. After graduation, McBride served as a Hawk men's soccer assistant coach for seven seasons.
McBride cited one of the highlights of his time on the Hilltop when he "had the pleasure of coaching for seven years with Ed Cannon and that was an outstanding seven year run."
Cannon was a long time coach and director of athletics at Saint Anselm, and he was inducted into the Hall of Fame in 1987.
Kevin DeBenedetto '10 played lacrosse for four seasons at Saint Anselm. He received several accolades in his time on the Hilltop including four First Team All-New England selections, and two All-NE10 selections. His senior season, he was also named the NE10 Defensive Player of the Year, and New England Intercollegiate Lacrosse Association and ECAC Player of the Year, and was also a United States Intercollegiate Lacrosse Association Second Team All-American.
In 2009, DeBenedetto led the Hawks to the NE10 Semifinals. His 91 caused turnovers is still the most in Saint Anselm men's lacrosse history, and he also ranks second all-time in games started and third in groundballs.
Dr. Jo-Ann Nester was the first female director of athletics in Saint Anselm College history. She had two stints at the helm of the athletic department, first from October 2009 through August 2011 and again from October 2013 to May 2014. Dr. Nester was responsible for several key improvements to athletics including changing a number of part-time coaching positions to full-time. The faculty-team advisor program was also introduced during Dr. Nester's tenure, which paired a faculty member with each athletic team to serve as mentors to the student-athletes.
In addition, she introduced athletic scholarships for all teams that were eligible, which provided more opportunities for student-athletes, particularly female athletes.
Dr. Nester is also credited with contracting corporate sponsorships, particularly Nike who produces many of the teams' uniforms. Fundraising efforts during Dr. Nester's tenure as AD also allowed the college to improve athletic facilities, in particular the turf field at Grappone Stadium.
Dr. Nester told The Crier that a lot of her former coworkers from around the college, many of whom still work at St. A's, "are all about the students at Saint Anselm, and for me that's what it was all about. Make their program as good as you can make it in the time that you're here and hope you do something to help them."
Each inductee was formally welcomed into the Hall of Fame on stage at the NHIOP, and they were each presented with a plaque by AD Daron Montgomery.