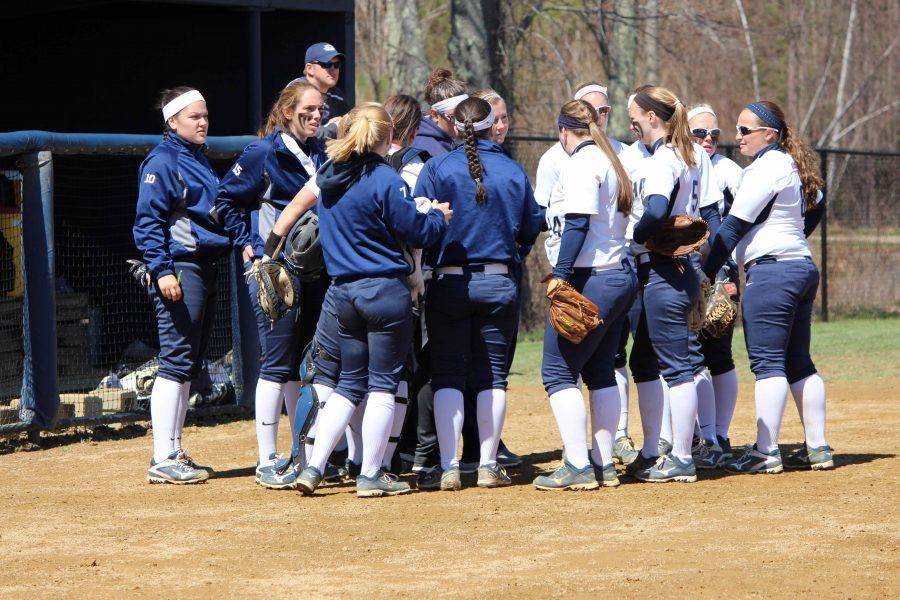 Crier\Livy Ashburne
Over spring break, the Saint Anselm softball squad traveled to Clermont, FL, to open their season with an eight game road trip. The team had its ups and downs during their stay in the sunshine state, finishing with a 2-6 record.
All eight games were against non-conference opponents. They opened the trip with back-to-back losses against LIU Post and Minnesota State on March 8.
The Hawks earned their first win of the season the next day on March 9 when they defeated Caldwell 10-1, who were ranked 18th in the country at the time. In addition to the 10 runs, Saint Anselm also collected 13 hits.
Jordan O'Connor, Leiandra Wilson, Amanda Bickford, Shannon McLaughlin and Megan Murrell all drove in runs for the Hawks.
Senior Sam Hennequin pitched all seven innings for the Hawks, allowing only one run, four hits, five walks, while striking out six.
The Hawks returned to the diamond later that afternoon against Lewis University, however Saint Anselm lost 7-4
Freshman Morgan Perry pitched for Saint Anselm. She allowed 13 hits and seven runs over seven innings, however only two runs were earned as Lewis capitalized on two defensive errors committed by the Hawks in the first and fourth innings.
On March 10, Saint Anselm played a doubleheader against Minnesota Duluth and the University of Indianapolis, however they lost both games 8-3 and 7-1 respectively.
Freshman Maggie Murphy had a double and a triple, and freshman Erin Thompson and sophomore Jordan O'Connor each had runs batted in against Minnesota Duluth.
Sophomore Karoline Leavitt recorded a triple, and she drove in the lone Hawk run in the game against Indianapolis.
Saint Anselm wrapped up the road trip on March 11 with games against Bridgeport and Kutztown.
The Hawks defeated Bridgeport 7-2. Karoline Leavitt had another big game, going two for four with two doubles and two RBI. Megan Murrell also added two runs batted in.
Sam Hennequin was the winning pitcher, delivering seven innings, allowing two runs, and striking out five.
Saint Anselm lost to Kutztown later that evening 5-3. Amanda Bickford, Shannon McLaughlin, and Jordan O'Connor drove in the three Hawk runs.
Morgan Perry took the loss, pitching seven innings, allowing 12 hits and four earned runs as the Hawks finished the road trip with a 2-6 record.
"Our record doesn't speak to how well we actually played," sophomore Karoline Leavitt told The Crier after returning from the team's trip to Florida.
"We played some really tough teams." Leavitt continued.
Both Caldwell University, who Saint Anselm defeated 10-1, and the University of Indianapolis, who the Hawks lost to 7-1, were ranked in the top 20 among all NCAA Division II softball teams.
"I think that the 10-1 win [against Caldwell] probably was the highlight of our week. We certainly were the underdogs going into that game so to win was really exciting for us," Leavitt told The Crier.
"We had a lot of hits, the problem was getting the timely hit when we had runners on base. We just didn't score enough runs unfortunately, and I think that's where a lot of our losses came from," Leavitt continued.
Leavitt added that building team chemistry was one of the main benefits of the road trip to Florida.
"We bonded so much. Living together, playing together, eating together, and being together for all that time really helped our team chemistry, and I think we saw that on the field," Leavitt told The Crier.
As the season progresses, Leavitt said that the team is looking to improve their record and perform well against the other Northeast-10 Conference teams.
"Our overall goal is to have a winning record in the NE10, beat the teams that we lost to last year, and to hopefully make a good run so that we can get a spot in the [NE10] tournament."
Hawk softball will return to action on Wednesday, March 22 when they host a doubleheader against Queen City rival Southern New Hampshire University. The first game is scheduled to start at 3:30 p.m.