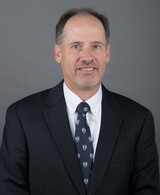 Courtesy\Hawks Athletics
Ed Seney has been at the helm of Saint Anselm men's ice hockey for 15 years, and earlier this month Hawk Athletics announced he would resign as head coach. Seney told The Crier that his final day on campus would be Friday, March 31.
In total, Seney has coached NCAA men's ice hockey for 36 years. Prior to coming to Saint Anselm, he was an assistant coach at New England College (his alma mater), Norwich University, and then Clarkson University. In 1988, Seney earned his first head coaching job at SUNY Postdam, where he remained for 14 years. His 169 wins while at Postdam are the most in program history.
Seney became the head coach of Hawk men's ice hockey in 2002. In his time at Saint Anselm, he posted a 202-162-36 record, but perhaps more impressive a 73-16-5 record against Northeast-10 Conference teams. In total, Seney has won 371 games as an NCAA head coach, which ranks in the top 20 in NCAA history among Division II and III men's ice hockey coaches.
The Hawks have also won eight NE10 regular-season titles, and seven NE10 tournament championships under Seney. This past season, he was also named NE10 Coach of the Year for the fourth time in his career.
When asked why he is stepping down, Seney told The Crier "after 15 years, it was just time for me."
He said that the challenge moving forward will be "finding what will fulfill that competitive teaching that I've always done."
The Crier also asked Seney what has been the most rewarding part of coaching college hockey.
He said one thing was remaining in contact with "the guys who have played here. They graduate, they get jobs, and the stay with the program."
Seney said that this was evident at the alumni hockey game that Saint Anselm hosted earlier this year when about 35 hawk men's hockey alums returned to the Hilltop.
He added that 2003, the program's first season in Sullivan Arena, was another highlight of his coaching career. It was Seney's second year at Saint Anselm, and that season the Hawks won 20 games and the first NE10 regular season crown of Seney's career.
"Having a home rink was really special for a lot of the guys," he told The Crier.
Watching his players succeed was one of the things Seney said he has enjoyed the most.
"We've had a lot of guys who were NE10 Players of the Year, Tucker Mullin '13 won the Hockey Humanitarian Award, we've had five or six guys who had 100 [career] points, and also Coleman Noonan '10 won the Joe Concannon Award, which is the top U.S. [ice hockey] player in New England."
Seney said one of his most memorable moments while at Saint Anselm was "in the locker room at Hamilton College my second year here when we swept Amherst and Hamilton on the weekend."
He said the year prior, the team only won nine games, and before that they were in a "tough spot."
"To see the look on the [players'] faces, that we just won two games in a row against two really good teams, that kind of stuck out."
Something that Seney did reference as an "ongoing issue" during his time at Saint Anselm is the college's NCAA divisional status, and how it affects the ice hockey programs.
Saint Anselm is in the NCAA Division II, and since there are only six DII men's ice hockey programs (all in the NE10), there is not a national ice hockey playoff in DII.
NCAA policy also does not allow any of the Division II programs to play for a Division III title, even though many DII schools, like Saint Anselm, have faced DIII opponents during the regular season.
Seney told The Crier that the program's Division II classification has always been a "battling point," for him as a coach and for his players.
"Especially years when we had teams that had a chance to get into the [NCAA] tournament, but you'll just never know," Seney added.
As has been reported in past issues of The Crier, the college has looked into potentially moving from Division II to Division III within the NCAA.
Seney told The Crier in regards to this issue that he hopes the college "looks at athletics and where they want it, and what it can do for the school. I just hope they make the right decision in terms of what is best for the whole school, not just for athletics, and not just for one team."
Seney said that he thinks any decisions made will likely be driven by whom Saint Anselm wants to be "associated with academically."
The divisional and conference situation, as it pertains to both Hawk men's and women's ice hockey, will be even more complex next season. As The Crier reported in October of 2016, Saint Anselm (along with all other non-Division III hockey programs) will no longer be a member of the New England Hockey Conference effective June 30, 2017. Saint Anselm's affiliation with the NEHC had guaranteed a scheduling agreement during the regular season with several Division III schools.
This means that Saint Anselm men's ice hockey will predominantly be playing against the other NE10 schools starting next season.
Hawk men's ice hockey will be having its annual end of season banquet on Friday, March 31. The team is expected to honor Coach Seney for his 15 seasons of service at the event.