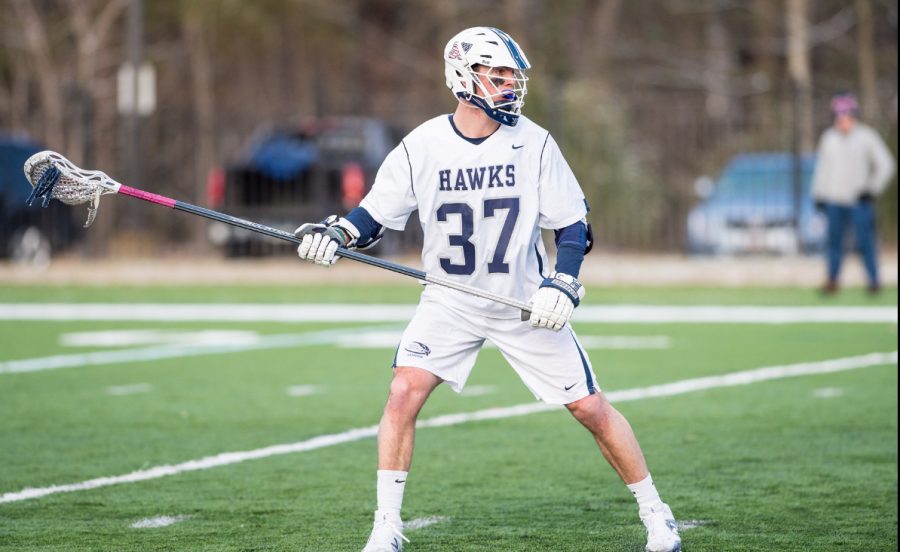 Courtesy\Hawks Athletics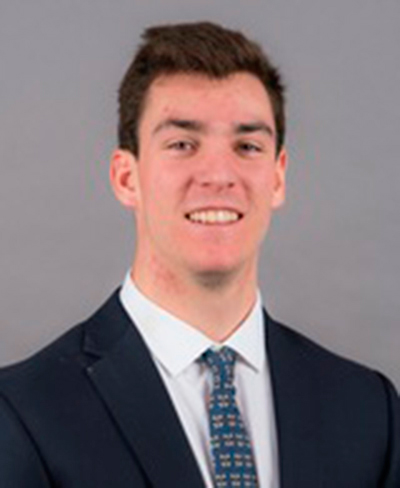 Drew Bourdeau can best be described as "driven to excellence," although that fails to encapsulate the junior's positive impact on Saint Anselm College. The junior defenseman balances extensive extracurricular involvement with athletic and academic excellence, all while diligently pursuing a future as a high school math teacher. For this edition of the Athlete Profile, The Crier is honored to share Bourdeau's story.
As a freshman, Bourdeau appeared in all 13 of the Hawks' games, starting in 12 and anchoring the defense with 10 caused turnovers and 21 groundballs. From early on, it was clear that he had a special gift for lacrosse. After combining his athleticism with a strict work ethic, Bourdeau would go on to flourish in the backfield.
Since his first year, Bourdeau has collected personal accolades both on and off the field. He has earned a spot on the Dean's List and the NE-10 Commissioner's Honor Roll three times, and was tapped for the NEILA All-New England Second Team last year.
When asked about the personal achievements, Bourdeau stated, "The only accolade I care about is wins." He continued, "I have a job to do every single time I step on the field… the stats will come if you do your job."
He has certainly been doing his job this season, as the defenseman has already tied a personal best for caused turnovers. His 16 steals have brought his career total up to eighth on the all-time record list, trailing fellow teammate Brennan Quackenbush by five.
In addition to his defensive contributions, Bourdeau provides a constant supply of motivation to his teammates. As a team captain, the junior is charged with delivering inspirational pre-game speeches to pump everyone up, a job he describes as "one of my favorite things." By exhorting his teammates before their competition, Bourdeau ensures that every member is mentally focused on and excited for the game.
As committed as he is to the lacrosse team, Bourdeau has demonstrated that he is equally passionate about serving his college. As a freshman, he looked up to his captain Jake Stokes as a source of inspiration. Stokes was an Orientation Leader and a member of the Student Athlete Advisory Committee (SAAC).
"He was one of my role models," Bourdeau explains. "I figured I might as well follow in his footsteps."
Throughout his three years at Saint Anselm, the defenseman has been exceptionally involved in various extracurricular activities. He has maintained an impressive balancing act while upholding several commitments beyond athletics. Bourdeau volunteers as an Orientation Leader, works in the Office of Admission, and holds the position of co-chair of the SAAC.
As co-chair, he "helps make the lives of student athletes a little easier." The lacrosse player has been involved in various projects, including keeping Davison Dining Hall open later and advocating for Wi-Fi on away trips.
Bourdeau also "tries to volunteer" whenever he can through different service opportunities, including the Foster Adoptive Parents Night Out (FAPNO).
Over winter break, number 37 participated in a Winter Break Alternative (WBA) service trip to Washington, DC. Alongside 12 other Hawks, Bourdeau worked in conjunction with Foods and Friends, a company dedicated to preparing and delivering meals to the terminally ill. Bourdeau described the experience as "really eye-opening," and recommends that all athletes take advantage of the excellent opportunity to service a community in need.
As if balancing all of these interests weren't enough, Bourdeau is also fulfilling his lifelong goal of being a teacher. "My eighth grade life skills teacher, Mr. Murphy, inspired me to be a teacher," Bourdeau explains. He credits his "mentor" with first instilling the desire to teach, a goal he is accomplishing by double majoring in Math and Secondary Education. Next spring, Bourdeau will be student teaching in Pinkerton Academy, a prospect he is "nervous" over but "looking forward to."
Bourdeau was quick to note that he "wouldn't be here today" without the unwavering love and support from his friends and family. He credits his success as a player and an individual to their continuous advice and encouragement.
Bourdeau also credits Coach Michael Sciamanna for his positive influence. "He's the best coach in the nation," the junior declared, before admitting that he is "a little biased." Coach Sciamanna pushed Bourdeau to fully committing to the sport while being supportive of his passions beyond lacrosse.
Sciamanna also helped Bourdeau realize that lacrosse could open new opportunities in the future. Following in his coach's footsteps, Bourdeau intends to work as an assistant coach post-graduation. By working as a grad-coach, Bourdeau will be able to continue his involvement in the sport he loves while furthering his education by a graduate student program financed by the college he works for.
Luckily for Saint Anselm's, graduation is another year away for Bourdeau. The Hawks will continue to enjoy his positive attitude and inspiring, campus-wide influence as he aids the college in every way he can.