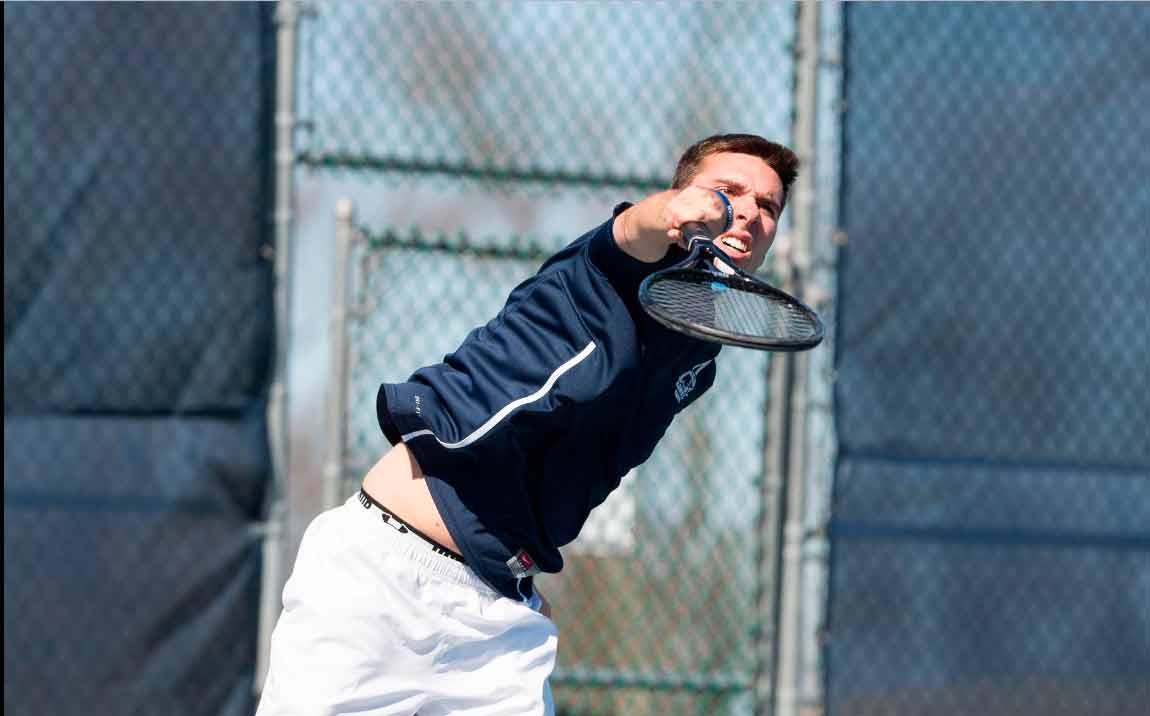 Courtesy\HawksAthletics
For the final Athlete Profile of the school year, The Crier interviewed junior tennis star Kyle Harris, who finished his season on an impressive six match singles win streak that cemented his place in the Hawks record books.
While most collegiate athletes spend their whole lives playing and practicing their sport, Harris first picked up tennis when he was in the eighth grade.
"My mom actually made me start playing tennis," he laughs. "I played for fun over the summer and really enjoyed it."
The Business and Finance double major was able to turn his summertime hobby into a passion through hard work and plenty of practice. He plays in the fifth singles spot for the Hawks, and plays number one doubles alongside teammate Eric Howes.
Tennis is unusual from any other Saint Anselm varsity sport in that they are active in both the fall and spring seasons.
"Technically, the fall is our off-season," Harris explains. "We have 45 days to practice and play matches." According to the junior, the team plays seven out-of-league matches against various Division 2 and 3 schools that they usually wouldn't compete against. This helps them gain valuable match experience and prepare for the arduous second half of their year.
"In the winter season we train hard, and we officially start practicing six days a week after winter break," says Harris. The team's 11 spring matches are spread out over seven weeks in March and April. The team has to train intensively in order to be mentally and physically prepared for their strenuous spring.
An additional challenge for Harris and the Hawks came this season when their head coach Nancy Driscoll stepped down after their fall campaign. Despite being "surprised" by the change, Harris says that learning under new head coach Alejandro Andres has been "really good."
"We're learning so much, and his coaching style matches our team really well," Harris says. "He's teaching us a lot of different techniques."
One of the most important lessons Harris has learned from his new coach has been to "focus on playing point by point." Andres emphasizes the importance of clarity and self-confidence in his players, which he believes will help them concentrate on adapting their game in order to win.
Andres' lessons have certainly been working for Harris, who closed his season out on an remarkable six-match win streak at the fifth singles spot. His final six wins brought his season total to 11 singles wins, which earned Harris a place in the record books for the second-most singles wins in one season. Harris trails only Tim Allard, who won 16 singles matches in the 1987-88 campaign. Harris is also tenth on the all-time singles career victories list with 17 total wins.
The rising senior will participate in a different athletic challenge next year when he volunteers for Road for Hope. The eight-day charity walk is a faith-based service program run by Campus Ministry. Participants raise money for nine different charities in Maine and New Hampshire that they visit across a 130-mile journey.
"I'm really looking forward to the opportunity," Harris says.
After his service, Harris will return for his fourth and final season as a Hawk. He especially wanted to thank his teammates for the fun times they have shared over his time at Saint Anselm College.
"Everyone on the team is great and so supportive of one another. I've really enjoyed playing with them my last three years, and I'm looking forward to my fourth."