Panic ensues as signed wooden eggs begin to hatch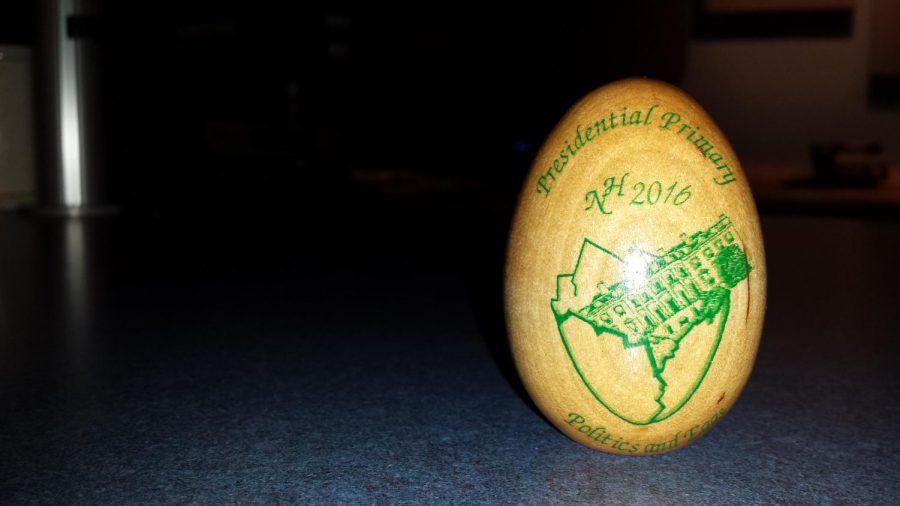 Edward Frankonis, Crier Staff
April 12, 2019
Disclaimer: This article is a piece of satire. The Saint Anselm Crier Staff decided to add some post-April Fools Day stories. We hope these stories make you smile but don't take them as fact.
"This is a completely unexpected and unbelievable surprise," said one NHIOP staff member to a Crier reporter while asking Google Maps for directions to the nearest veterinarian, "I mean, how did these things even incubate? They're made of wood, for heaven's sake!"
Upon discovering cracks in nearly all of the New Hampshire Institute of Politics' displayed signed eggs, staff members of this prestigious political center have been scrambling to find a new home for the hatching eggs.
"We still haven't determined if the eggs are from warm-blooded or cold-blooded creatures," said a Saint Anselm biology professor, who was brought on the scene for consultation, "in fact, I'm not even sure what kind of animal could be hatching from these eggs. Is it a reptile? Some type of bird? Perhaps a rare mammal, like an echidna?"
"It's entirely illogical," remarked a prominent Saint Anselm chemistry professor, who was forced to cancel class to inspect the eggs, "I mean, this is an inanimate object. It's, well, dead tree but yet it is plain as day that something in these eggs is trying to get out!"
"I cannot yet determine anything about these eggs, but," the biology professor worriedly remarked to Crier reporters, "I can say for certain that we are not ready for whatever is hatching out."
Already concern for the thousands of unsigned eggs sitting in storage has spread, with two online petitions already circulating that advocate for the safe return of these eggs to the nearest wildlife shelter. In response, the New England Council, a senior partner with the NHIOP for the "Politics & Eggs" event, has put out a statement that "affirms" the "many rights" of animals, but "prioritizes the safety & security of institute members" which "can only" be achieved "through a vast recall of all wooden eggs the NHIOP has in store". The Council has also contacted the local Manchester PetCo in order to procure the supplies necessary to sustain the eggs when they hatch.
Although the Institute has yet to make an official statement about the crisis, several Ambassadors noted at press time that the NHIOP will not allow Davison management to try to prepare any of the wooden eggs for consumption, and that, for the time being, no further eggs would be permitted for signing.