Welcome, 2017-2018 Editorial Staff
Emily Craig, Editor-in-Chief
October 15, 2018 • No Comments
The Alva de Mars Megan Chapel Art Center here at Saint Anselm College recently held an opening reception for the Lucille Davison Collection of Ceramic Cow Creamers. In...
Hispanic Heritage Month is a hit with students on the Hilltop
October 15, 2018
The Modern Language Department and the Intercultural Center teamed up for Hispanic Heritage Month, which...
Banned Books Week ends with a thought-provoking debate
October 15, 2018
Wherever there is a controversial subject to discuss, the Saint Anselm Debate Team will not be far behind....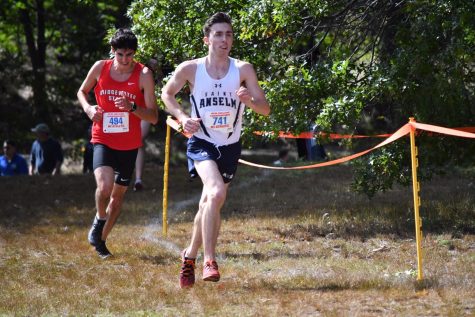 Brodie Deshaies, Crier staff
October 15, 2018 • No Comments
For Jordan Cook, cross country is more than a sport. It is a chance to prove himself and redeem himself. Cook was born and raised in Biddeford, Maine. A graduate of Biddeford...
Hawks come up short once again in close battle against Merrimack
October 15, 2018
The nightmare season for the men's soccer team continued Tuesday, as they fell 1-0 to Merrimack College...
Hawks field hockey dominates the game against Southern Connecticut, wins 7-0
October 15, 2018
Sometimes a team's greatest defense is their offense. That was just the case last Saturday afternoon...
Saint Anselm Broadcasting Station
SABS Weekly Update Apr. 17, 2018
Loading ...