Welcome Center to include car garage, high-speed wifi, among other things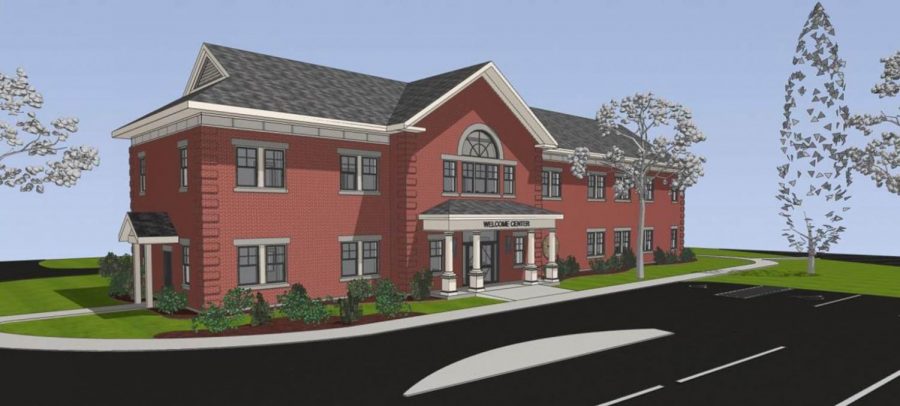 Edward Frankonis, Crier Staff
April 12, 2019
Disclaimer: This article is a piece of satire. The Saint Anselm Crier Staff decided to add some post-April Fools Day stories. We hope these stories make you smile but don't take them as fact.
The brand-new two-story welcome center, set to stand where the old bookstore currently sits (the Jean Building), is going to serve as a one-stop shop for prospective students, as well as for anything else the school needs. "Although our original focus for the structure was on recruitment, we broadened our vision for the edifice in light of examining the college's needs," said one official familiar to the project, who spoke on condition of anonymity.
In addition to providing resources for prospective students, the Center will also address needs of the current student population by way of new dormitories, new air conditioning units, and even new places to park their cars. Utilizing the latest in architectural modeling and MatchBox die-cast toy cars, school officials demonstrated to the Crier how a new parking garage placed to the rear of the center will alleviate the parking needs of current students, while providing great places to park for incoming ones.
"I'm sure prospective and current students alike will love it," one administrator said, adding that a section of the garage will be reserved just for students who are commuters.
The Welcome Center's planned new air conditioning units allow it to be the perfect place to build new IT infrastructure, leading many to speculate that this may lead to the implementation of campus-wide high-speed wi-fi. Aside from providing incredibly accurate information about the college to prospective students, the Center will also provide up-to-date textbooks at deep discounts for students who need significant amounts of financial aid.
Large amounts of space, some of which has been designated for a new "presentation center" for prospective students, have also been set aside to address any needs that either prospective or current students will face down the line.
"After all," said one senior member of staff at press time, "if we've got money we don't need to spend on stuff like new utilities, and the new building is already getting more than it needs to handle prospective students (not to mention all the construction crews and equipment will be here anyway), then why not also invest in anything else the college needs? It's a win-win."