Students find creative expression at Lucubrations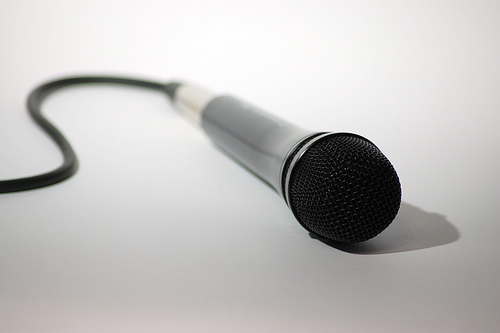 At a glance, the student body at Saint Anselm College seems very similar. We act similarly, we talk similarly, we even dress similarly. However, it's events like Lucubrations Open Mic Night that reveal just how unique and expressive Saint Anselm students really are. The event featured performances of all sorts—poetry readings, comedic acts, story tellers, singers and other musicians—performers of all sorts were welcomed.
The event was held on Thursday, February 21, at 8 pm, and with just a few small adjustments, Cushing was transformed from a quiet study center, to a stage ready for performances. The event was catered by the generous Professor Banach, and there was a wide spread of pasta, homemade bread, desserts, drinks, and of course, coffee, all adding to the close-knit atmosphere.
Lucubrations Open Mic Night was MC'ed by Jeremy Munro, who provided introductions for performers, as well as witty commentary. In conjunction with the Facing Prejudice Everyday exhibit in the Dana Center, and the Multicultural Center's celebration of Black History Month, the theme was Odd Bird Out. While acts going along with the theme were encouraged, it was not a requirement. Rachel Taschereau read poems that fit the theme nicely, including Robert Frost's Mending Wall. Similarly, other students, such as Austin O'Connor, Jon Daigle, and Jeremy Munro read their own original poetry, with themes ranging from the night to adventures on tour. Another performer, Sarah Galevi, not only recited a poem she had written, but also read an original story that offered a new theory on the origin of the Polio Pit.
Transelm, a trio of Matt Pendergast, Nate Chartier, and Matt Robbins was one of the most memorable performances. Two guitars, a keyboard, vocals, and, ingenuity were all the group needed to perform three impressive covers. They also composed original poetry to fit with the theme of each one of their songs. While they lacked a poem for their final song, they simply improvised a new poem on the spot, adding to their already impressive amount of creativity.
Transelm was not the only wonderful musical display of the night. Molly White sang an Adele song beautifully, accompanied by the talented Dave Oslin on guitar. Vallerie Stein wowed the audience with her immense skill on violin. All of the night's performances were unique and entertaining, and the performers exhibited a great deal of talent.
In a sea of black North Faces and Timberlands, Lucubrations Open Mic Night offers a refreshing show of creativity. It gives students the chance to express themselves and show off their talents, plus the event makes a great show for anyone who is looking for an entertaining display of talent and arts.