'Taking the pledge': college wears ribbons to end violence against women
April is the designated month for the awareness of sexual assault and domestic violence, and the Saint Anselm College community recently participated in the White Ribbon Campaign to raise awareness on campus.
"The White Ribbon Campaign was started over 25 years ago in an attempt to change the culture surrounding the participation of males in violence against women and children," Wayne Currie, director of the Multicultural Center, said in an email to the student body. "It is important for us as men to stand up and use our voices to ensure that others will not condone violence against women."
All of the men at Saint Anselm College, as well as the women, were encouraged to take up the challenge; this challenge required students to "come together and wear a white ribbon in support, to raise awareness, and to have open dialogue around violence against women."
Dean Joseph Horton, Ed.D., made a short speech to the gathering crowd in the Dana Center for the Humanities on April 26. He explained in this speech that the White Ribbon Campaign does not have the intention to blame anyone for domestic violence, but rather wants to promote healing for the victims of sexual assault.
"Every 15 seconds there is a woman beaten and every hour as many as 115 children are abused," Dean Horton said. "From these statistics how many lives are affected, ruined, or ended by the scourge of domestic violence? What has happened to us? How can we tolerate this?"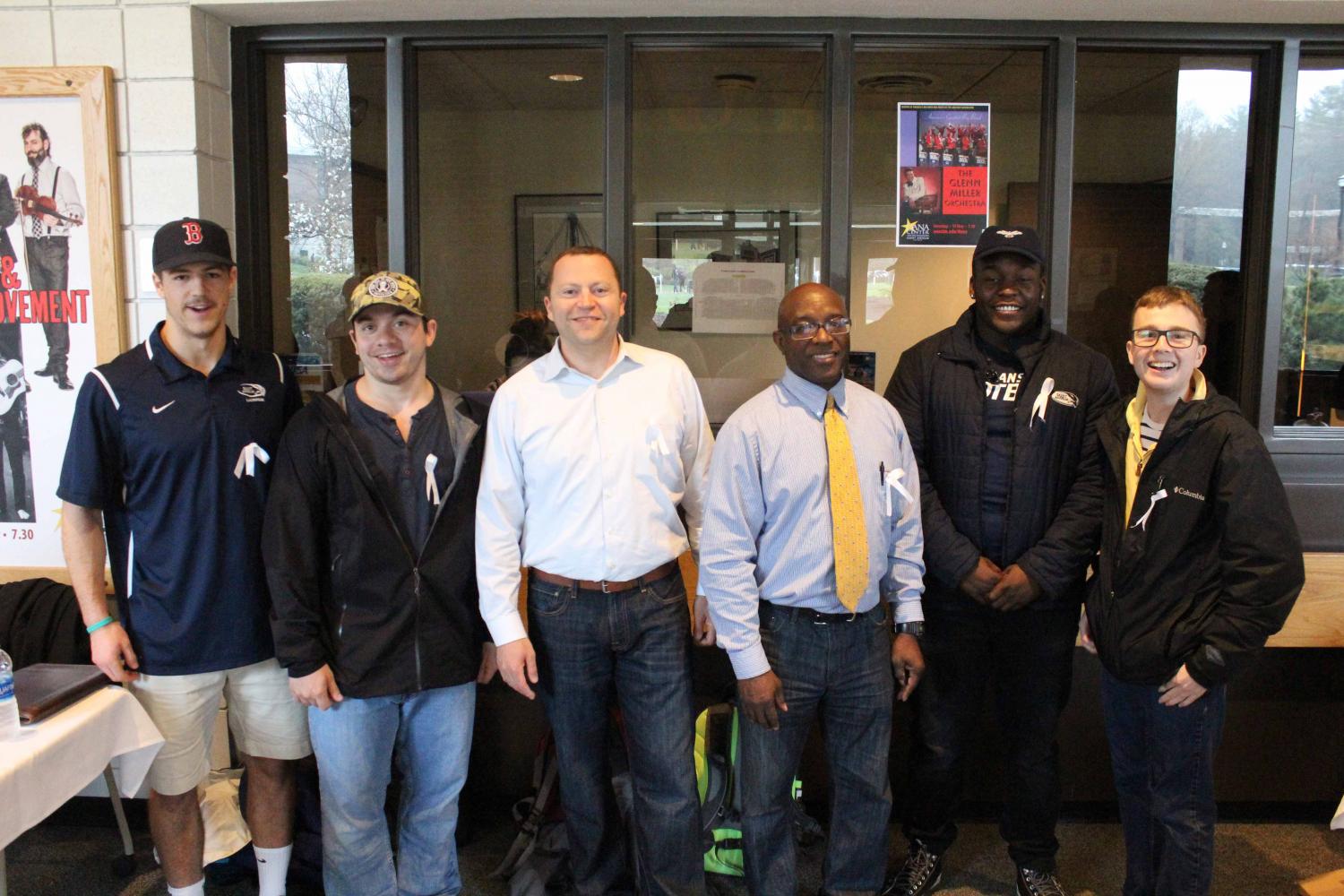 The White Ribbon Campaign, "starting in 1991, … asked men to wear white ribbons as a pledge to never commit, condone or remain silent about violence against women and girls." Over 60 countries worldwide have participated in the challenge. As a bracket challenge, Currie explained, the college enlisted 16 male students to motivate as many other men on campus to sign up for the pledge. As a result, over 300 Saint Anselm students took the pledge.
Students then voted between the four finalists—Rees Gemmell '18, JJ Courtney '17, Xavier Quinn '19, and Michael Akinlosotu '18—to decide which student would win a $100 Amazon gift card for their help in encouraging others to take the pledge "to help us join to change the culture of violence against women on this campus and elsewhere," as Dean Horton said.
There are often false assumptions about in which households domestic violence occurs. In response, Dean Horton said, "Trust me. I can tell you that domestic violence spans all areas of the country, all neighborhoods, all races, and all socioeconomic classes. This behavior even exists at Saint Anselm College, and perhaps involves someone very close to you."
He then encouraged anyone affected by sexual assault or domestic violence to seek help on campus if needed.
"Know that there are places on this campus that will help you," he said. "Know that Saint Anselm College is committed to the idea that every person is worthy of dignity, and that you will be supported as a unique and special individual who will be helped by this community in any way possible."
Dean Horton then expressed thanks to Wayne Currie and the others who helped organize the White Ribbon Campaign on campus.
For more information about the White Ribbon Campaign, visit http://www.whiteribbon.ca/. Saint Anselm's Assault and Violence Education and Reporting Team (AVERT) offers further support and guidance on what to do if you or someone you know is sexually assaulted.
On-campus resources include Health Services (603) 641-7028, Campus Safety and Security (603) 641-7000, and the Dean of Students (603) 641-7600; off-campus resources include 911 for emergencies, the YWCA 24-hour Crisis Hotline (603) 668-2299, the Bridge Domestic Violence and Sexual Assault hotline (603) 883-3044, and Elliot Hospital (603) 669-5300.