The Emmys features more than 80 shows, Saturday Night Live wins nine awards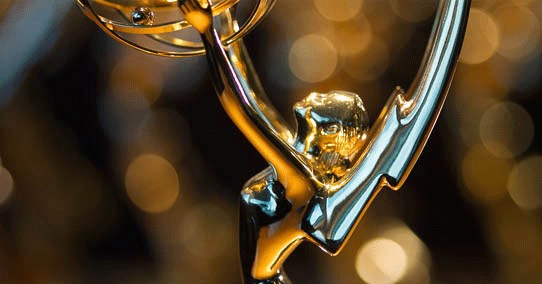 The 69th Primetime Emmy Awards were held on Sunday, Sept. 17, at the Microsoft Theater in Los Angeles. Hosted by the Late Show star Stephen Colbert, this year's Emmys featured a diverse range of nominees across more than 80 shows on networks such as ABC, HBO, Hulu, Netflix, and NBC.
The night was highlighted by big names and big wins. The Handmaid's Tale, a drama series based on Margaret Atwood's novel, won Best Drama, Best Actress, Best Supporting Actress,  Best Directing and Best Writing. Veep made headlines for winning Best Comedy for the 3rd consecutive time. Veep star Julia Louise-Dreyfus won Best Comedy Actress for the 6th time in a row, making her the record-holder for most wins with the portrayal of a single character. Saturday Night Live goes home with the most awards with a grand total of nine collected at both the Creative Arts Emmys and Primetime Emmys.
The night was a step forward in accolading the works of people of color. Actor and director Donald Glover won two Emmys for his work on Atlanta, and became the first African American male comedy director to win an Emmy. Lena Waithe won an Emmy alongside Aziz Ansari for their writing in Master of None. This award gives her the title of first African American woman to win in the category of Best Comedy Writer.
Given that her award was for a coming-out episode arc based on her own life experiences, Waithe gave a heartfelt speech, stating, "And last but certainly not least, my LGBQTIA family. I see each and every one of you. The things that make us different. Those are our superpowers. Every day when you walk out the door, put on your imaginary cape and go out there and conquer the world, because the world would not be as beautiful as it is if we weren't in it."
Waithe was not the only history-changing winner with a motivational speech. Riz Ahmed won Limited Series Actor for his performance in The Night Of. Ahmed graciously accepted the award and admitted in his backstage interview that he felt a win like his was only a small step toward dismantling an issue as large as multicultural representation in media. However, he followed up with the statement, "I think we're starting to see more awareness around how beneficial it can be to tell a diverse range of stories and to tell them in a way that is authentic."
Stephen Colbert, who had spent the event making cracks about President Donald Trump, invited former press secretary Sean Spicer on stage. Spicer's comedic shtick was using the same podium which Melissa McCarthy had used during her mocking portrayal of him on Saturday Night Live. While his appearance garnered some laughs, others felt that it was "too soon" for this alleged "rebranding" of the press secretary. GQ special correspondent Keith Olbermann stated on Twitter that night, "Shame on the Emmys for the Spicer validation. He is dedicated to demeaning our craft and restricting our freedoms of speech. #Unforgiveable."
Looking forward to next year's awards night, both creators and viewers can agree that the film industry is gradually moving forward towards developing a more diverse platform for the world to enjoy.