Anselmians Abroad; A Student's Perspective on Orvieto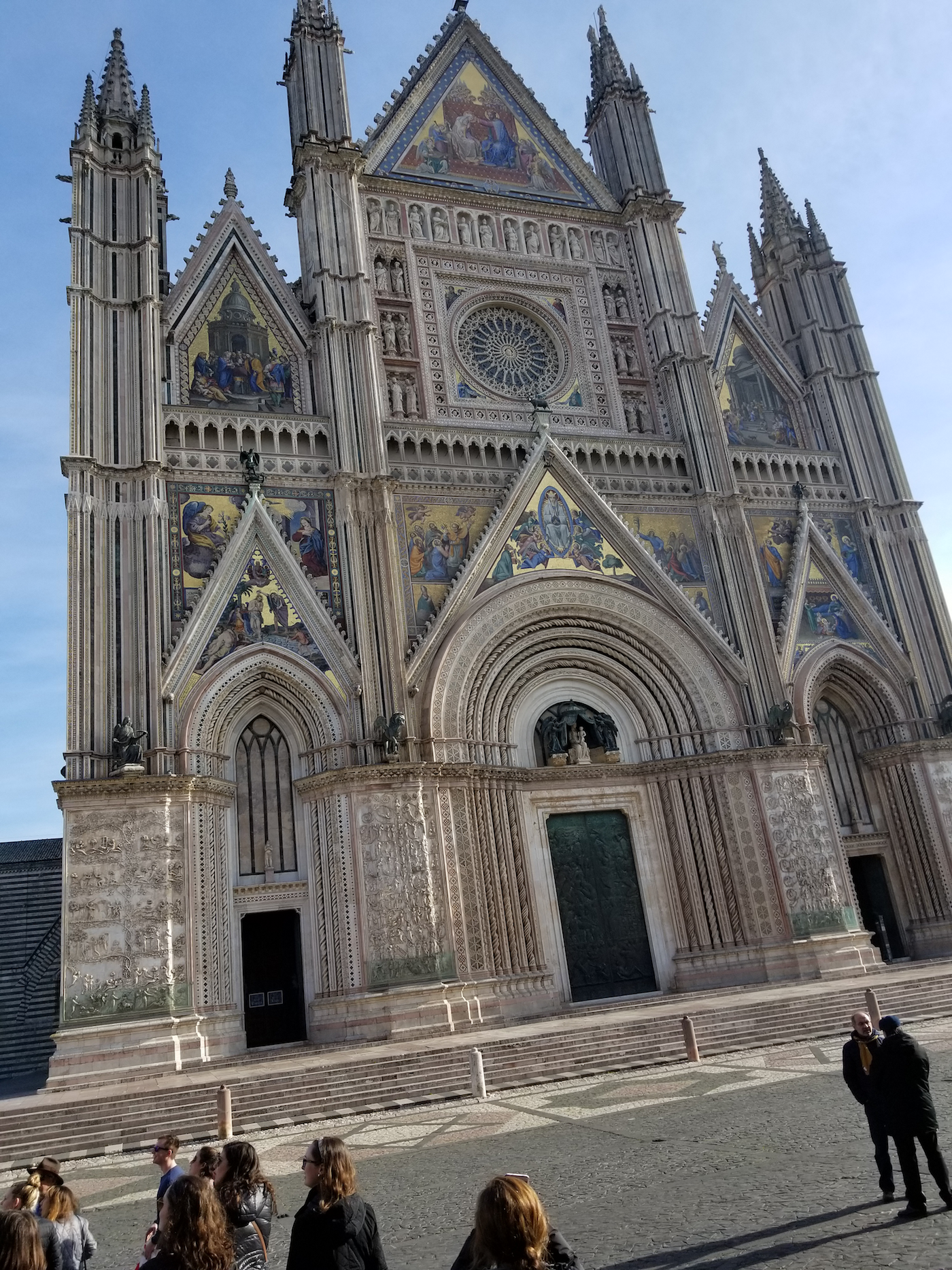 Hang on for a minute...we're trying to find some more stories you might like.
Even though we've spent roughly half a semester in the quintessentially Italian town of Orvieto, it is still impossible to count the amount of times students such as I have gazed upon something and quietly thought "Nah, this isn't real".
Here on "the Hilltop", twenty-seven American students from Saint Anselm College have been embarking on a remarkable once-in-a-lifetime adventure through the most important historical and cultural centers of Italy, all the while under the guidance of a small but dedicated team of Italian staffers and Saint Anselm College professors. On a weekly basis students embark on excursions across Italy as part of the masterfully crafted "Chiavi" course, take classes on intriguing yet relevant academic topics (ranging from ancient warfare to Renaissance art), and battle for space to hang wet laundry in comfortable two-story apartments.
Through the program's mandatory course on Italian culture students have visited famous locations such as the old Roman forum and the Sistine Chapel, along with lesser-known but enriching destinations like the Monastery of St. Benedict in Subiaco (the first of its kind in the world-founded by St. Benedict directly) or the entombed city of Perugia (which produces the best chocolate in Italy-in my opinion, anyway).
In the near future students will be journeying to famous locations in southern Italy like Pompeii, Naples, and Montecassino as a built-in part of the study abroad experience.
Aside from undertaking such surreal excursions, students take a palette of different courses ranging from Greek mythology to Italian food & culture, each giving a student the ability to experience the same journey as their peers from a different angle; for instance students of mythology will be able to recognize Greek myths without the aid of an expensive tour guide, while students of the Renaissance arts will be able to drink in the masterworks they encounter in their original contexts instead of just gaining knowledge about such works in a static classroom setting.
After all, it is one thing to learn about Leonardo Da Vinci's The Last Supper on a Powerpoint during a lecture on a Thursday afternoon; it is a far more enriching experience entirely to bask in its enrapturing presence in person.
Whenever breaks emerge during the semester, students are indirectly provided (thanks to the amazing "home-base" of Orvieto, as well as its close proximity to high-speed trains) opportunities to see the many different corners of Italy as well as Europe. Through this blessing Anselmians have undertaken many unique experiences all over Europe, from snowmobiling for polar bears in the Scandinavian Arctic to rowing a batellina through the narrow Venetian canals to enjoying live folk music in Irish pubs.
Aside from experiencing Europe's greatest sights and sounds (as well as enjoying famous Italian pasta and gelato), studying abroad here in Orvieto gives Anselmians a window into the various social norms-and social problems-facing Italy today. A brisk walk down the main streets at night, for instance, reveals a culture that cherishes family life, encourages strong relationships between adults and their parents, and is quite tolerant of public displays of affection (even among rambunctious youth).
Stroll down the street during mid-day however, and a keen observer will note the presence of various migrants begging (or selling knock-off goods) at strategic locations around the town. Local attitudes towards these "beggars", who unfortunately are often conscripted into organized crime operations, have been personally observed as ranging from overly sympathetic to subtly hostile. Experiencing one of Europe's largest political problems from the perspective of a small town gives observant Anselmians a much closer connection with the country of their stay.
This program has brought Anselmians face-to-face with the tumults of the past and the turbulences of the present in ways that would be impossible to experience simply traveling solo.
Taking a personal perspective to close, simply put, the study abroad program in Orvieto grants unbeatable opportunities to students with rather tight budgets (like myself and many others) to travel and learn in such a manner that would never have been possible absent this program.
Despite two odd months of being imbedded in one of Europe's most vibrant cultures, for many students it just seems like yesterday we were planning our trips back home. From one student to many others, it's safe to say that this advice rings true; go study abroad. You won't regret it.