Professor Bouchard publishes biography on unsung English poet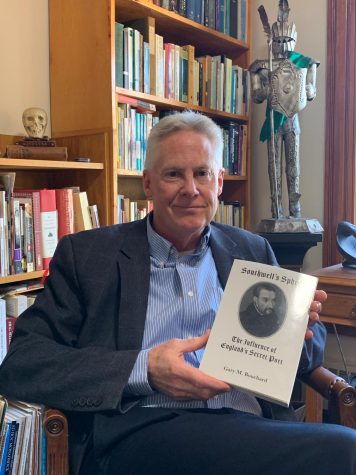 Saint Anselm's own English Professor Gary Bouchard's new book, Southwell's Sphere: The Influence of England's Secret Poet, published through St. Augustine's Press, has recently hit the shelves.
Written about the "hidden" English poet Robert Southwell (1561-1595), Bouchard argues that his works influenced many other poets in both Southwell's time and beyond, including William Alabaster, Edmund Spencer, George Herbert, and more.
Bouchard has published many essays on a variety of early modern poets, including the ones listed above, and articles on the nineteenth century poet Gerard Manley Hopkins.
Not only this, but in 2000 he published Colin's Campus: Cambridge Life and the English Eclogue with Associated University Presses. He first began writing Southwell's Sphere in 2011.
Bouchard's first introduction to Southwell began with the 19th century poet, Gerard Manley Hopkins (1844-1889).
Lots of similarities rose between the two poets. The most prominent connection being that Southwell was the only other Roman Catholic priest, and only other Jesuit, in the English canon of literature aside from Hopkins.
"The way I describe Robert Southwell is a minor poet with a major influence," Bouchard told the Crier.
Southwell was an English Roman Catholic of the Jesuit Order who had joined the Society of Jesus in 1580, a religious congregation of the Catholic church for men that originated in 16th century Spain.
He was not only a poet, but a missionary in post-Reformation England. Southwell was officially canonized as a Catholic saint in October 1970.  In 1858, it was prohibited for Jesuits to enter England under Queen Elizabeth I.  Southwell was sent to England as a Jesuit missionary and was eventually arrested and imprisoned.
During his imprisonment, Southwell was tortured for any information of the assassination attempt against Queen Elizabeth I.
He was eventually put on trial and charged with treason against the crown and executed at age 33.
Bouchard examines the works of six different poets "whose verse may be appreciated differently in light of Robert Southwell's life and work."
Excluding Spencer, the poets Bouchard compares Southwell to were ordained ministers.
What they mostly shared was their priestly vocation, talent as English poets, and the joining of these two pursuits.
If you're interested in English literature, this is a man whose influence is pretty significant," says Bouchard. "Much more than you realize."
Professor Bouchard's book is now available for purchase on Amazon or at St. Augustine's Press' website.