Road for Hope grows, but its loving message will always be the same
"If you want to walk fast, walk alone. If you want to walk far, walk together." For the 46 participants of Road for Hope this year, the quote is a reminder of the struggles and lessons learned on the 130-mile journey from Lewiston Maine to Saint Anselm College.
For 20 years, Road for Hope has grown from very humble beginnings to what is now an integral part of the Saint A's community. No freshman orientation is complete without welcoming the travel weary walkers back with a flurry of enthusiasm and shock. The program reached an unprecedented level of popularity this year, and interest has only grown in recent times. The walkers are never in short supply of blisters, or aching muscles upon their return, leaving many to wonder what the appeal is of such a physically draining pilgrimage.
The very first participants of Road for Hope look very different than the students who walk today. The walk itself was invented by incoming freshman Seamus Griesbach in 1998 along with his younger brother and their family dog. The following year became the model for the program students know today as Road for Hope. The students on the first walk back in '99 decided they wanted to have a mission on their journey. This is how the practice of walking for nine different charities each day came to be.
With a two-decade long track record of success, many would like to know what exactly happens on the road that makes the program so memorable. It is hard to answer this question as many veterans of the road will tell you it's an experience that cannot be described. Others will say it is something that must be experienced for yourself. However, in recent years this has become harder and harder for students. At the start of the program, participants had to be begged to come on the road. Today, the applicant pool is nearly double the size of people allowed to participate each year.
For those who are lucky enough, and brave enough, to sacrifice nine physically, grueling days at the end of their summer for charity, they have only found happy memories. These students walk into completely unknown territory and live out of one backpack and the charity of others for over a week. This is a daunting ordeal for anyone, especially for first time-walkers on the road. Matt Boulet, a Junior Communications major was one of 31 first time walkers this year.
When asked what impacted him the most on his journey, Boulet did not say it was the pain or exhaustion as one would expect on a 130 journey. Rather he explains that, "Seeing everyone else embrace the entire experience and overcome the pain inspired me to do the same." Boulet, like many other first time-walkers, fully intends to reapply for Road for Hope next year.
So, why is that Road for hope has endured for 20 years with such ardent approval? When asked this question, Senior Nursing Major Chelsea Hall declares it is "because people believe in Road for Hope."
Hall completed her second Road for Hope, bringing her personal mileage count to 260 miles, and memories made uncountable. She is shining light on campus is no stranger to other service missions and random acts of kindness. She insists that "faith, courage, and patience, which are values that have held strong for years" has made road for hope and irreplaceable experience for all.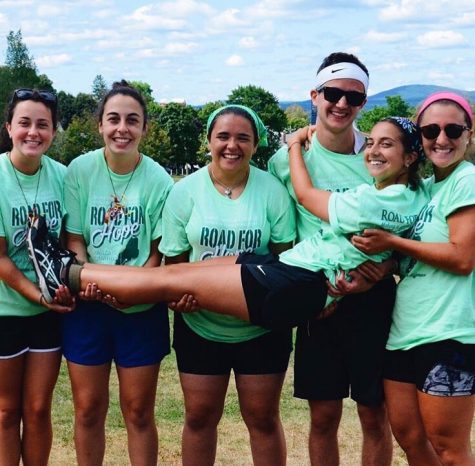 Voluntarily walking over a hundred miles on some of the hottest days of summer not only sends a powerful message of solidarity to charities, but also allows participants to view the world around them in new ways. The privileges we take for granted on a daily basis are put into perspective when you have to sleep on a granite floor every night. Students grow and bond together in ways they never thought possible over nine days. Hall explains that while walking "you don't have to relate to someone, or understand what they've been through, all you have to do is show them that you're there, and that you're listening." In the end, the main goal of Road for hope is just that. To make the bonds of community stronger.
Students no longer camp in tents overnight in random parks as they did on the very first Road for hope. Some practical parts of Road for Hope have changed, but the message remains the same. A group of students embarks on a journey to try and help their community through self-sacrifice and solidarity one footstep at a time. That message has rung true for 20 years and shows no sign of stopping anytime soon.