Stand against antisemitism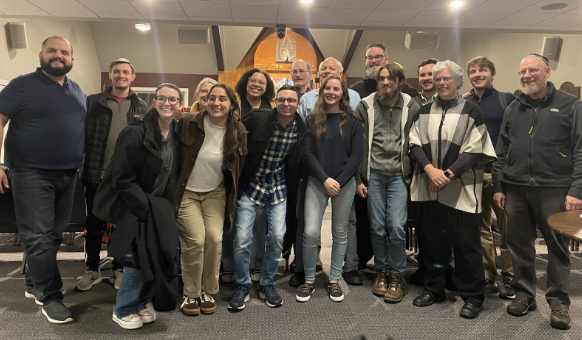 I recently had the opportunity to attend two amazing events relating to the Jewish faith hosted by the office of campus ministry. The first was a discussion led by Professor Gilberto Ruiz and Professor Peter Josephson on antisemitism in the passion narratives. The second was a visit to Temple Beth Jacob in Concord to attend a Friday night Shabbat service.
During the discussion on antisemitism in the passion narratives, Professor Ruiz explained how anti semitic activity has risen in the United States to the point where it is at an all-time high in the last 43 years. Professor Josephson, elaborated, explaining how antisemitism is the highest it's been in 50 years specifically in the state of New Hampshire. He also referenced the recent acts of antisemitic vandalism on black and Jewish-owned businesses in Portsmouth, New Hampshire. What struck me most was when Professor Josephson, a practicing Jew, said that these numbers are not shocking to members of the Jewish community. These are unfortunately normal events that the Jewish people face regularly.
Rabbi Robin Nafshi at Temple Beth Jacob also referenced the rise of antisemitism during a Q&A dinner before the service began. She showed us how they have an iPad connected to security cameras and people must ring a doorbell to be let in the locked door. She explained how this and other security measures are necessary due to the rise of antisemitic activity.
Both of these events were valuable opportunities to learn more about the Jewish faith and reflect on how we can better support and love one another. A main point from the antisemitism in the passion narratives discussion was the importance of listening and being open to dialogue with people of other faith backgrounds. Being welcomed into the temple by Rabbi Robin and other members of the community who were excited to share their faith and answer our questions was a beautiful educational experience. 
As college students witnessing continued violence in the world around us, there is a general sense of wanting to do something but not knowing where to start. We have the opportunity to take the first important steps to make a difference right on our own campus. We should take the time to be intentional, to listen to people and their experiences. We should take it upon ourselves to pursue education and to ask questions. Most importantly, we should ask members of our community how we can stand alongside them and fight against continued persecution.