New leadership in college EMS; club proves essential to college life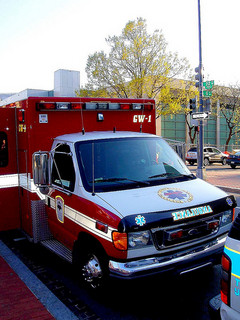 Saint Anselm College Emergency Medical Service (EMS) recently held elections in which they chose junior Natural Science major Devan Brazil to serve as captain for the 2013-2014 team. The captain is in charge of all day-to-day operations of the team and is responsible for scheduling all coverage, budgeting, and maintaining good relationships between the team and outside fire departments and other responding agencies. Currently holding this position is senior Politics Kyle Baker.
Brazil was accepted to the EMS team in the spring of her freshman year, and she currently is a lieutenant on the team.
In addition to the position of captain, Saint Anselm EMS also has four lieutenants. These positions are chosen by the captain and are based on overall experience, leadership qualities, and skill level.
Saint Anselm College EMS, which was founded in 1991, is a group of volunteer students who are all Nationally Registered Emergency Medical Technicians (NREMTs) and licensed through the state of New Hampshire. These students provide first-response emergency medical care to students, faculty, staff, and visitors while they are on campus.
Saint Anselm EMS has a crew scheduled every night and also cover all high-contact club sports and many different events on campus, such as the CNN debates, the Facebook/ABC debates, Family and Alumni Weekends, and events by major politicians.
Each night there is a crew made up of three EMTs on duty for twelve hours, from 6 P.M. until 6 A.M. Each crew has their specific duty night and is composed of an officer, either the captain or lieutenant, and two other numbers. Crews alternate weekend and maintain a schedule of a five week rotation (one on-duty weekend in every five weeks).
As a team, Saint Anselm EMS posts just under 15,000 hours a year working. Between event coverage and their weekly training sessions, an EMT could work a full 40 hour week. Saint Anselm EMS is open to all students who hold a NREMT-Basic level of certification.
On April 14th, Saint Anselm EMS will hold the second annual "Safety Day" for the community. The event will be held in the new parking lot and picnic area.
"We will be bringing many different fire departments and police department on to campus," said Baker. "We will also be highlighting many other community health and safety organizations including the local hospitals and the American Red Cross. There will also be a car extrication demonstration where people will learn how the fire department would get you out of your car after a severe car accident."