Cardinal Lacroix thanks family for success
Looks forward to continue serving others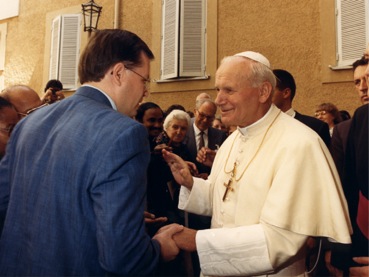 The newly created cardinal in Québec, Gérald Cyprien Lacroix, spoke with The Saint Anselm Crier to discuss his accomplishments and his view of the future of the Roman Catholic Church.
Born in Canada, Cardinal Lacroix emigrated with his family to the U.S. at age 8. He said he considers Manchester to be one of his many homes. For Cardinal Lacroix, the place he calls home changes frequently as his roles in the Church have required him to move often. He has lived in Colombia in South America, where he served as a missionary for nine years, and in Rome for several years as superior of his religious community.
"Where I hang my hat, I'm home," said Cardinal Lacroix.
Several weekends ago, from March 21 to 23, Cardinal Lacroix returned to Manchester and celebrated Mass at his home parish of nine years, Saint Anthony of Padua. The crowded church was filled with the familiar faces of family, friends, and former classmates.
"These people helped me become who I am," explained Cardinal Lacroix.
Cardinal Lacroix described his parish community as "a loving family" that gathers every Sunday. Even though there were over 900 people present at the Mass, Cardinal Lacroix said he knew the majority of them on an individual basis.
It is the familial quality of church gatherings that provides Cardinal Lacroix with hope for the Catholic Church.
"The Church has challenges, but look at what we can do."
Cardinal Lacroix believes that Catholics around the world need to renew their personal relationship with Jesus Christ in their lives. Through his roles as auxiliary bishop, archbishop, and now cardinal, this is precisely what Cardinal Lacroix has been aiming to accomplish.
"My mission is to share the Good News of the Gospel and help others encounter Jesus Christ."
Cardinal Lacroix emphasized that his new position draws him even closer to Jesus Christ, as the red in his robes symbolizes the blood that Jesus shed for the salvation of humanity.
"I'm proud to wear that and I hope and pray that I will be able to give my life to that others may have abundant life, the New Life in Jesus Christ."
In this post, Cardinal Lacroix will be available to serve the Holy Father, Pope Francis, whom he respects greatly. Of all of Pope Francis' qualities, Cardinal Lacroix admires most the simple life he leads.
"His simple lifestyle is quite an example…He is a breath of fresh air to the Church."
Cardinal Lacroix pointed to Pope Francis' confession in public a couple of weeks ago. This is unprecedented in the Church, and Cardinal Lacroix is most impressed by it.
Now that the Catholic Church has a pope who embodies the life of simplicity, Cardinal Lacroix wonders, "Will we be able to follow in his footsteps?"
Reflecting on his accomplishments in the Church, Cardinal Lacroix attributed a large portion of his success to his parents.
"My parents are number one for me…I am grateful the Lord has given us such wonderful parents."
Cardinal Lacroix explained how his parents, Brigitte and Raymond Lacroix, dedicated their lives to their children and the needs of their family. Beginning early on, they taught him and his siblings the importance of family, both immediate and extended, and their presence in every stage of life.
According to Cardinal Lacroix, his esteem for his parents and the life lessons he has learned from them very much resemble the sentiments expressed by Cardinal Roncali, who later became Pope John XXIII, in a letter he wrote to his parents.
Recently, there has been speculation that a North American might be elected to the papacy and that Cardinal Lacroix could be the one.
"We don't need to speculate because we have a pope – it would be disrespectful. Let's work with Pope Francis," responded Cardinal Lacroix.