Saint Anselm students prepare for first Boston Marathon since the bombings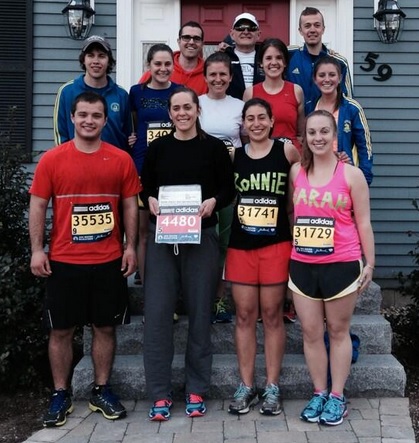 Six student runners gathered Sunday in prayer and remembrance after their final, and longest, practice run before the Boston Marathon.
Despite the horrific events that ruined what was supposed to be a triumphant day filled with celebration a year ago Tuesday, these runners and scores of others from the area are determined to cross the finish line of the Boston Marathon in honor of those who could not.
But the pain of what happened that day is still fresh, particularly for those who participated in the race last year.
Kelsey Ouellette, a senior athlete, admits to having "a lot of nerves due to last year's event and all of the emotions it brought."
The "bandit" was redirected by officials half-way through her 26.2 mile run last April, but this year will be different. Ouellette registered for next week's marathon so that she, like the many numbered individuals who will run beside her, could finish the race "as a reminder of what positive human spirit can accomplish."
As Coach Paul Finn (Psychology Department) says: "Alone, we run together." This year, it is not about finishing first — but finishing for Boston.
"Some 36,000 people will run the Marathon this year — about 10,000 more than usual," said Thomas Grilk, executive director of the Boston Athletic Association, the organizer of the race. "About 5,600 will be those who were unable to cross the finish line last year after two bombs exploded, killing three and maiming many others."
Memories of the panic that consumed the nation on April 15, 2013 are causing some to be fearful for next week's participants. Here on campus, afternoon classes were disrupted by tearful students stepping outside to call, text, or otherwise confirm the whereabouts of loved ones who attended the race. It was a day no one wants to see repeated.
"There is a buzz, a little bit of fear in the air about what could happen this year," Boston Police Commissioner told USA Today.
Craig Bromley, president of John Hancock Financial Services — the Marathon's sponsor of 29 years, spoke on the issue at the Greater Boston Chamber of Commerce earlier this month: "While security will be enhanced, it will not be over the top," The Boston Globe quoted. "We still feel that this is a community event. It shouldn't feel like a prison camp or something like that."
While Bromley did not provide details of the security measures, some steps, such as prohibiting backpacks along the Marathon route, have been revealed by state officials.
The Massachusetts Emergency Management Agency has also said there will be dozens more video cameras along the race route and multiple tools for smart phones and the Web to help the agency track and communicate about any issues — whether a suspicious package or a runner.
For the most part, officials are delivering a message of hope, remembrance, and unity in the discussion surrounding this year's race, reiterating the "Boston Strong" mantra.
"From the outside, America can seem a very divided place: the red states and the blue states, UMass and Harvard, a sometimes dysfunctional Congress, the one percent versus everyone else," Bromley said. "But in the aftermath of the bombings, a different America took shape in my mind, one where everyone pulled together, one where there was no divisions. There was one America and one Boston."