On-campus programs strives to prevent sexual assault
College campuses across the nation have been held to a higher standard when dealing with reports of sexual assault since the implementation of Title IX. Vice President Joe Biden announced broad new federal guidelines for how college campuses should handle reports of sexual assault on April 4, 2011. His announcement included a 20-page letter titled "Dear Colleague" by the United States Education Department Office for Civil Rights.
This was the first time that colleges alone had been addressed by the Education Department. The letter outlined just how colleges should react to students' reports of assault. The guidelines in the address push colleges to "promptly and fairly" investigate alleged assaults on and off campus, whether or not a student had filed a complaint. Title IX requires colleges and universities to do everything in their power to prevent assaults and punish offenders.
Since the address was first published, schools across the country have increased their sexual assault prevention programs and education. The implementation also made it clear that the Obama administration cared about the issue. The Chronicle reports that citizens question whether the Trump administration will care as deeply about the issue as the past administration.
Nearly six years after the "Dear Colleague" letter was first introduced, the precedent set is still prevalent at Saint Anselm. Maura Marshall, director of Health Services on campus says that the college has "always taken really good care of its students", even before Title IX.
Since its publication, the school has clarified their policies on sexual assault and has created more education opportunities to spread the word about the issue. Saint A's has also clarified the Title IX Coordinator on campus, Pat Shuster, along with other confidential advocates, including the Health Services staff and Campus Ministry.
The college offers several programs that seek to prevent sexual assault. Ok2Discuss is a program during New Student Orientation in which a counselor facilitates discussion groups throughout the first weeks of classes. Other programs and educational opportunities include the "Enough is Enough" violence prevention week, poster programs, Walk a Mile in Their Shoes event, Parent/Faculty/Staff training and Bystander training. The school also offers the AVERT program: Assault Violence Education Response Team. Marshall describes this as "a large group of faculty, staff and students who plan education, training and programing for the campus".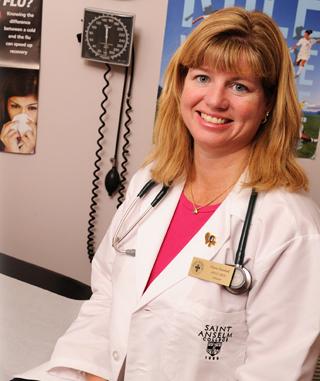 According to the college website, AVERT works to establish a campus-based center that draws visibility to issues of sexual assault, dating and domestic violence and stalking on campus as well as creating a place for victims to gain confidential support and advocacy. The group also works to train all investigators, campus security, local law enforcement, and Conduct Review Panelists who will be handling assault issues.
Despite these efforts to combat campus assault, the Annual Security and Fire Safety report, issued in September 2016, states that there were 6 reports of rape on campus in 2015, and 7 reports in 2014. When a report is filed by a student, there are a set of procedures that Health Services follows to ensure the safety of the student.
Marshall says that the first step is making sure the student is safe. Then, Health Services would refer them to medical care and counseling for support. The counselor would guide the victim in making the decision of whether or not to report their assault. If the student wishes to report the assault, they have the option to report on campus through the Dean of Students office, or to the local authorities. Health Services also refers students to a victim advocates through the YWCA.
In a New York Times opinion letter regarding sexual assault on campus, President Dr. Steven DiSalvo writes, "With the kind of preventive measures built into today's Title IX pro-grams, we may be able to help change student thinking and behavior to make sexual assault is-sues less pervasive." Dr. DiSalvo conveys the importance of prevention, stating that these kinds of programs are "a wise investment in the future of today's students — tomorrow's leaders. Our top priority as custodians of our student body is to make sure that they are safe during their time on our campus".
Students who have been a victim of assault on campus are encouraged to seek help from Health Services (603-641-7028) or Campus Ministry (603-641-7130). These organizations are dedicated to providing safety and confidentiality for victims.
In addition, students can talk to a resident assistant if they have been a victim of assault on campus. That's one of the many reasons halls are staffed with RAs. Residential Life staff members are mandatory reporters if they come across an assault case.