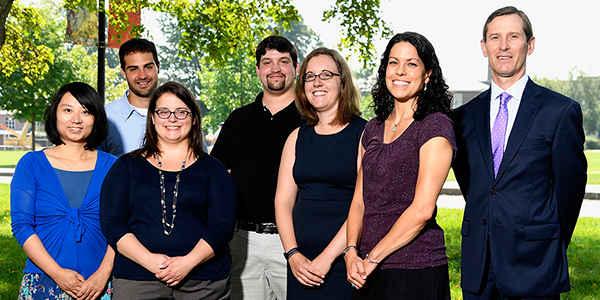 Hang on for a minute...we're trying to find some more stories you might like.
Welcome back to the hilltop, Anselmians! As all of you are walking around campus and catching up with your friends about your summer activities, you may notice a few new faculty members on campus.
This year, there are six new faculty members joining various departments on campus.
One of the new faculty members is Professor Lauren Sager, an assistant professor in the mathematics department.
Professor Sager graduated from the University of New Hampshire with her Ph.D. in pure mathematics last spring.
Prior to her time at UNH, she completed her dissertation on Operator Theory and taught quite a few math classes during this time.
Growing up, she has always heard of Saint Anselm College, and said "I was hoping to teach at a small, religious, liberal arts college because I had missed the relationships between students and professors while I was at a large school.
I am happy to have landed here because it is such a welcoming, beautiful campus with lots of friendly, staff, faculty and students!"
Another new faculty member is Professor Susan Mazzeo. Professor Mazzeo taught here at Saint Anselm College as an adjunct for a year and a half prior to this semester. This year, she joins us as a full-time faculty member as an instructor of Modern Languages.
Before joining Saint Anselm, she previously taught at a plethora of high schools and colleges such as Phillips Exeter, Boston College, and the University of Rhode Island.
Outside of teaching, she is very interested in fitness. "I have an extensive background in the fitness industry as an instructor, personal trainer, and triathlon coach. I have also been competing in endurance events and triathlons for about 20 years" she said.
Professor Paul Marmora is a new faculty member to the department of Economics and Business. Professor Marmora graduated with a Ph.D. in economics at Temple University in Philadelphia.
Like many students here at Saint Anselm, he entered as an undeclared major. It was not until he entered his senior year that he discovered his passion for economics, while writing his senior thesis, and knew what he wanted to do.
Professor Marmora is more than happy to join the Saint Anselm community and says "since graduation, my goal has been to work at a small liberal arts college that is focused on teaching and student outcomes. Based on everything I've heard about the emphasis on student interaction and the small class sizes, I was confident that Saint A's would be a great fit.  Also, while I've never lived in New England, I've heard nothing but great things about the Manchester area: whether it's being close to the beach or the proximity to Boston (also being within driving distance to my family in New Jersey doesn't hurt!)".
In addition to Professor Sager, Professor Mazzeo and Professor Marmor, new faculty members also include Tina (Tingting,) an assistant professor of Business and Economics, as well as Christine Kenison who is an assistant professor of Modern Languages, and Wes Napoline who is an assistant professor of Chemistry.