Eric Norman looks forward to serving college community as new CFO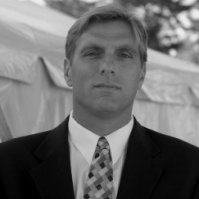 Saint Anselm College hired Mr. Eric Norman as the new Chief Financial Officer and Vice President of Finance last month, released in a statement by Dr. Steven R. DiSalvo, President of Saint Anselm College. Norman previously served as Chief Financial Officer and Vice President of Finance at Curry College in Milton, Massachusetts. Norman started his tenure at Saint Anselm on Monday, Sept. 18.
In an interview with the Crier, Dr. Steven R. DiSalvo, president of Saint Anselm College, expressed his excitement over Mr. Norman joining the College by stating, "We got a very talented person who fits this institution like a glove."
Norman will join a full staff in the finance office, which he expressed his excitement over in an interview with the Crier, saying, "I am excited to join the team here at Saint Anselm. The finance office has always played a strong, successful role here and we hope to continue that legacy."
He further added, when asked why he chose Saint Anselm, "It's a really tight community and it is a real nice size. You can walk into anybody's office and that is different from a lot of other universities. There are open doors and open access here at Saint Anselm to speak to administrators and faculty. I think we all feel that in the community. It has a great mission, beautiful campus, and strong sense of community which makes it a nice experience."
Dr. DiSalvo repeated this sentiment by saying, "There are a lot of talented people in that division; finance, budget, controller, and procurement. In every single area, we have top talent. It was not like someone had to come in and assess the landscape and make personnel moves. The person has a great team in place. You just have lead that team to help advance the institution."
The lead on the search committee for a new CFO was Patricia Shuster, Vice President for Human Resources and Administration at Saint Anselm. Shuster mentioned in an interview with the Crier that a statement made by Mr. Norman that made an impression on her during the interviewing process for the CFO position. The statement that Mr. Norman made, according to
Shuster, was regarding the role of finance and the CFO position at a college or university.  
Shuster said, "He feels that finance's job is to make it so the college can move forward and do what it wants. He sees the service side of finance. He is going to work with different divisions and departments to help us get where we want to go."
Shuster further mentioned her happiness with the hire as she was impressed with Norman's commitment to serve the community. She told the Crier that Norman was "coming from a service perspective and I find that appealing."
Norman backed this up by telling the Crier in his own interview, "The most important thing [in my role] is to find a way to allocate the resources to the right things [for the College]."
Mr. Norman has had a very diverse background, working more than a decade at PriceWaterhouseCoopers, LLP, in Hartford, Conn., as a Business Assurance (Audit) Manager, and then several years as a CFO at higher educational institutions. He worked at The Taft School, the University of New Hampshire School of Law, and The Boston Conservatory at Berklee College of Music.
Mr. Norman has unique experience as a CFO, as he led two different large mergers in his time in higher educational administration. These mergers were the mergers between, according to Norman, "An independent law school in New Hampshire, called Franklin Pierce Law School and that merged into the University of New Hampshire (UNH)." He emphasized the importance of this merger by saying,
"Until that point UNH was one of the few large research universities without a law school. Most of their peer universities, the land grant universities, have a law school, medical school, business school, and engineering school. At that point UNH was just getting a new business school, and they really wanted a law school too. The law school, also, worked well with the business and engineering schools, because the focus of that law school was intellectual property."
Norman later left UNH after the merger was completed and moved to The Boston Conservatory. Here he successfully completed another merger with Berklee College of Music. Norman said, "It just made sense to push those two schools together." The one school is now known as The Boston Conservatory at Berklee.
Patricia Shuster expressed her enthusiasm about Mr. Norman and his experiences with these mergers by saying, "The thing about the mergers, what they tell me about him is that this person collaborates. This is someone that can work collaboratively with many different people and across administrations. That is the type of person we want here at Saint Anselm."
She did clearly express that Saint Anselm is not looking to complete anything similar, such as a merger with another school, but that they thought Mr. Norman's experiences qualified him for the position at Saint Anselm.
Norman talked to the challenges that Saint Anselm is facing right now. He went into detail regarding a low supply of students that colleges in the New England region are seeing today, saying, "There are a lot of schools out there and fewer students. Competition is fierce for students. Strong schools will pick up more programs and more students and weak schools will merge or go away. That just means that we [Saint Anselm] have to play a strong role in states that are growing."
Finally, Norman spoke to the diversifying revenue that Saint Anselm is attempting to attain. He explained that student learning is constantly changing and the college must evolve with the students to attract top talent that will be successful in the future. He said that these are the target students for Saint Anselm to reach out to after they graduate for alumni donations.
The search committee for the CFO position opening included: Dr. Mark Cronin, Dean of the College; Kelly Lalonde, Chair of the Economics and Business department; Daron Montgomery, Director of Athletics; Eric Nichols, Vice President, Enrollment & Dean of Admission; Patricia Shuster, Committee Chair, Vice President for Human Resources and Administration; and Rosemary Stackpole, Director of Dining Services. Shuster mentioned her satisfaction with this team, "We had a great committee. We had great synergy around what we had been charged with doing and it worked!"