"Soaring Higher Together" versus "New Beginnings, Endless Possibilities"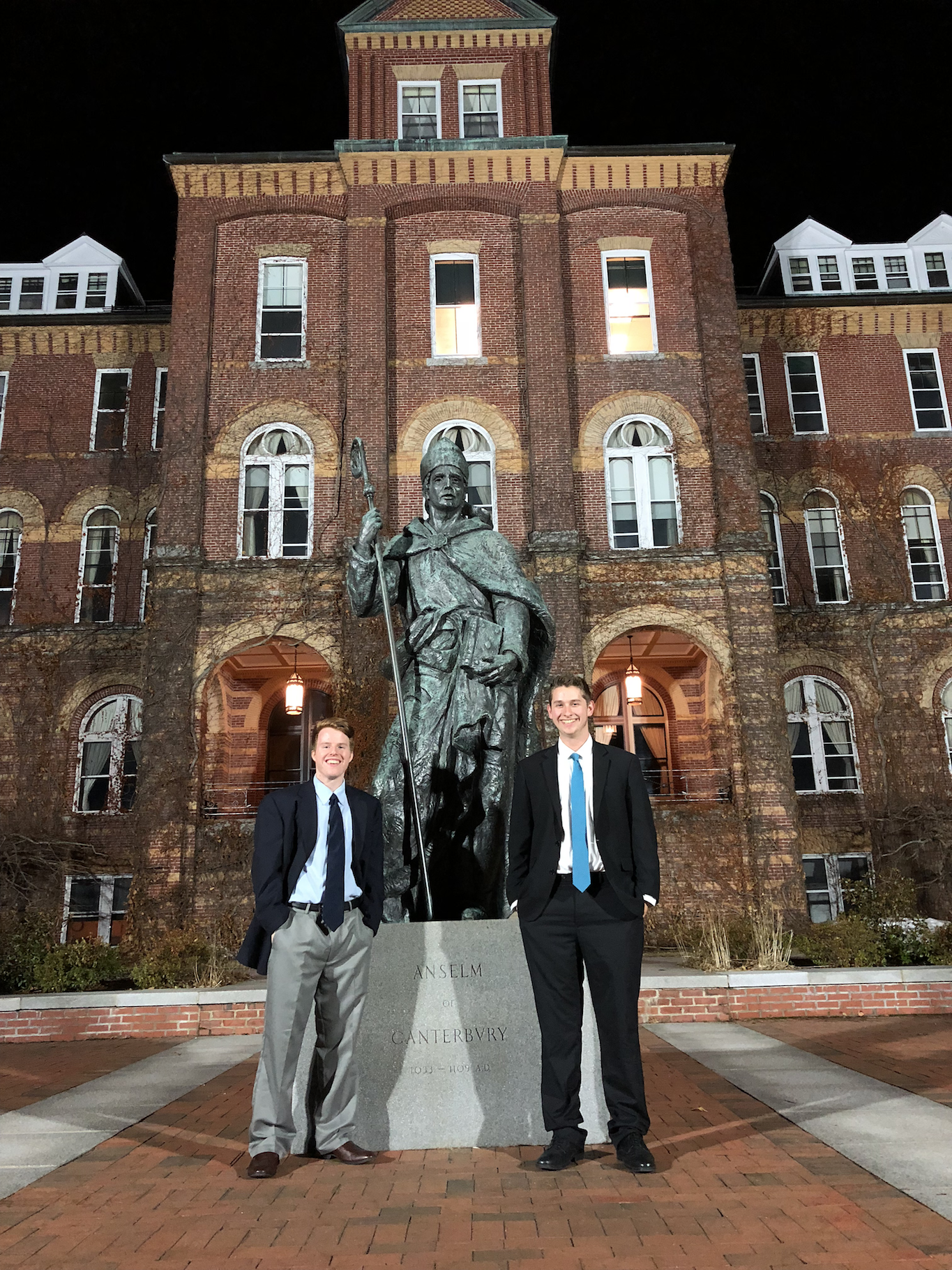 Hang on for a minute...we're trying to find some more stories you might like.
Saint Anselm College is in the midst of an intense, yet short, campaign for our new President and Vice President of the Student Government Association (SGA). The two tickets for President and Vice President are entirely made up of male members of the sophomore class, also known as the Class of 2020. Saint Anselm will not see the re-election of the two-term president and vice president combination of Emma Bishop and Brandon Pratt as they are both graduating seniors as members of the Class of 2018.
On one ticket, the candidate for president is Jack Landry. Landry is currently a senator for the Class of 2020. Landry's running mate, Andrew Dahl, is also a senator for the Class of 2020. Dahl is a criminal justice major and cyber criminology minor, while Landry is an economics and politics double major. This ticket is running on the campaign slogan, "Soaring Higher Together."
Their opposition in this race are also two gentlemen from the Class of 2020 at Saint Anselm. This ticket is made up of Joshua Hughes and Jacob Ethier. Hughes is the candidate for president, while Ethier is the candidate for vice president. Hughes is currently the vice president of the Class of 2020, while Ethier is the president of the Class of 2020. Ethier is a business major, while Hughes is a computer science with business major and cyber criminology minor. This ticket is running on the campaign slogan, "New Beginnings, Endless Possibilities."
The SGA held the speeches for these candidate in the Living Learning Common's classroom on Thursday, Feb. 22, at 5:30 PM. The room was filled with current members of SGA and several interested voters. The first to speak was Ethier. Ethier stressed his past experience in high school as student body president and expressed his love for his current role in SGA and Saint Anselm as a whole.
Ethier was confident in his abilities, saying "Although I have loved my class council, I believe that I can take on much more. I can help lead this school much like Emma [Bishop] and Brandon [Pratt] have [led this school]." He described his skills by saying, "I tend to be more of an extrovert and focus on big picture ideas. It is where I thrive and something that I love to do."
"Representing such a large and diverse group of students may seem daunting, but both Josh and I are up to the task." Finally, Ethier commented that "every voice matters" in the Saint Anselm student body and "If you have something to say, we'll listen."
The next candidate to speak was Ethier's running mate, Joshua Hughes. Hughes talked about his role in the Class Council for the Class of 2020. He gave the examples of his "organizing three successful fundraisers and two more coming near the end of the year." He talked about his relationship with his running mate, saying "Jacob [Ethier] and I have known for so long now that we have wanted to run for student body president and vice president. It all started back when we first started working with each other freshman year."
Hughes expressed his happiness with his experiences in Class Council, "The thing I am happiest about, though, is that I got to work with Jacob [Ethier] running this Council."
Hughes finished by saying, "We are ready to devote all of our time and effort into the Student Government Association, and to make the community a better place. … I want each and every person to feel like they can approach us and tell us whatever they want."
The next speech was given by Andrew Dahl. Dahl started his speech in saying, "Part of the reason Jack [Landry] and I are running is to fix communication errors we feel exist between the student body and the student government. Under the last administration, lots of progress was made in informing the student body in what was going on in the student government. … However, there has not been enough progress in the other direction. As a senator, when I want to write a resolution I usually have very little idea what the student body wants to have solved."
Dahl proposed a solution to these communication problems, saying, "The best way Jack and I have thought of to solve this is by regularly holding Town Halls. We want to hold a Town Hall Assembly several times per semester in which students can come up to us and tell us what they want to see on campus. Our eventual goal would be to get a different school administrator to attend every meeting as well."
Dahl closed his speech by mentioning his reason to run for vice president. He said, "For me, I especially wanted to run to be the vice president of the student government because I wanted to see change. Not only for the campus, but for student government as well. When I first ran for senate, I was unsure with my decision because the student government seemed to be a place for a certain type of student. It seemed to be mostly politics majors who were trying to get experience for the future. While there is nothing wrong with this, I feel the student government should represent all the students at this school."
The final speech was given by Dahl's running mate, Jack Landry. Landry started by telling the crowd what his main goal would be as student body president. "Our main goal would be to make sure nobody on this campus is forgotten. Right now, we feel that there are a lot of people in the student government who are a lot like me. They are all politics majors, who are part of the [New Hampshire Institute of Politics] Ambassadors, and they are part of the Meelia Center. They came to college and knew right away that they wanted to part of the student government. These are a lot of people with the same interests and the same friends and they are focused on the same things. What me and Dahl fear is that there has been a development of a homogony of interests within the organizations and that we all want the same things and we all push the same ideas. Those are not the views that everyone on this campus has."
Landry proposed a solution to this problem, saying, "Our goal is to ensure the next year that our Executive Board would be full of people from all different groups on campus, not just people we know we have as close friends. We want to make sure we have student athletes, people from Meelia, people from the Multicultural center all there to make sure we represent the different interests we have on our campus."
The final part of the speeches was a brief question and answer forum for all guests in attendance to ask any of the four candidates any questions. Junior Nick Fulchino asked to all four candidates, "I am very concerned about the idea that you reflect the student body. I am not a big fan that neither ticket has a woman. I was wondering if either of you would be willing to commit to making half of your [Executive Board] women?"
Both groups were very willing to commit to this. Both tickets agreed that they hope more women than men apply for these positions on the Executive Board. The tickets agreed that they both want to "represent the entire student body."
All four candidates were asked if they would remain a part of student government if they lost, and all four candidates confirmed that they would "definitely" continue to be a member of student government even if they lost this election for president and vice president.
The election for Student Government Association President and Vice President will be held on Feb. 26 and 27. The voting will be hosted in Davison Hall and the Coffee Shop.