Students devote spring break to service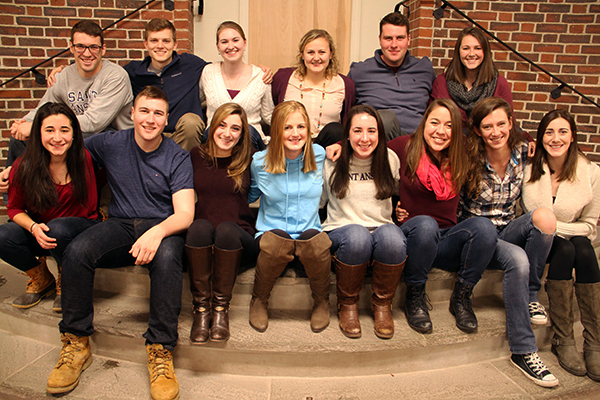 This March, eight groups of Saint Anselm College students will devote their spring break to the service of others. For 28 years, the college's Campus Ministry has sponsored student-led Service and Solidarity missions. The volunteers will depart from campus on March 3, and will return on March 10. Prior to their departure, the students are invited to a celebratory send-off mass where they will be blessed before they venture off to their sites.
Each of the eight sites will serve a different population across the United States and Costa Rica. In Pine Ridge, South Dakota, a group of students will aid the Re-Member organization, which seeks to improve the quality of life on the for the Oglala Lakota people on the Lakota reservation. They will participate in tasks such as building bunk beds and outhouses, repairing roofs, and skirting around mobile homes. While they serve, the volunteers will also participate in nightly reflections, craft nights, and a tour of the badlands in order to learn about the culture and history of the Lakota people.
One group of students will serve at the Benedictine School in Ridgely, Maryland. The volunteers will work with nearly 200 children and adults with disabilities in classrooms and residential life settings at the school. The Benedictine School volunteers have a dynamic role; they will serve as a teacher's assistant during the school day, and spend the afternoons doing extracurricular activities with the students. In the evenings, the students are able to socialize in the residence halls.
Another group of volunteers will head to New York City, New York to serve at God's Love We Deliver, an organization aimed at improving the health and well-being of men, women and children with HIV/AIDS, cancer and other serious illnesses. The students will prepare and deliver free meals to those whose illnesses prevent them from providing their own meals. At night, the group will work with Midnight Run and the Coalition for the Homeless, two organizations that serve meals to those in need in the city.
Sophomore Kait Brine is one of the volunteers attending the New York City trip. When asked about her trip, Brine replied, "Between the people I will be serving with and the people we will be serving, I am most looking forward to meeting new people and hearing their stories. I think that human connection is one of the most valuable aspects of life and being able to share that with so many amazing and inspiring people in such a short amount of time is something that I am very much looking forward to doing."
Yet another group of students will travel to Newark, New Jersey to serve at the Saint Benedict Preparatory School. The school was founded by monks from Saint Mark's Abbey, the same Abbey whose monks founded Saint Anselm College. Saint Benedict's is an all-boys inner-city school dedicated to guiding their students through their journey to becoming young men. The volunteers will assist the school's teachers with this goal by serving as a valuable in-class resource for the students. Additionally, the volunteers will help at a local soup kitchen to aid the surrounding community of Newark.
Saint Anselm will once again be sending students to Costa Rica. The volunteers will work alongside Costa Ricans at Unbound, a site in Los Chiles that is dedicated to reaching out to children as well as building a home for a local family in need. The rural Los Chiles community, located in northern Costa Rica does not have power equipment, so the volunteers will build, mix concrete, and dig the septic system by hand.
For the first time, students will travel to Bear Branch, Kentucky to serve at Big Creek Missions. The organization connects volunteers with various needs in the local community. Their mission is to aid struggling families, provide hope and share the love of Jesus. Saint Anselm students will serve in the Clay and Leslie counties, which have been named the first and third hardest places to live in America.
Volunteers in Aberdeen, Mississippi will serve at Camp Friendship, a rural summer camp for underprivileged youth. At the camp, student volunteers will help in numerous projects, such as yard work, painting, and light construction in preparation for summer. Students will also get to experience southern hospitality by engaging in the local community.
Another group of student volunteers will be stationed at Homeowners Organized for More Employment (H.O.M.E.), an organization in Orland, Maine. Saint Anselm College students have volunteered at this site for 28 years, making it the oldest Service and Solidarity site. Students will also get to participate in projects alongside members of the community such as building projects, soup kitchens, farming and childcare. The mission will help our students relate to the challenges of rural poverty.
Caitlin Golden is a sophomore who will be going on the trip to Maine. While she is looking forward to her trip, Golden also says, "It can be very sad but extremely rewarding." She added, "Not showering for a week won't be easy either. But overall I am very excited."
Saint Anselm College wishes the best of luck to its eight mission groups as they embark on a challenging and rewarding journey in March.