America mourns the loss of former first and second lady Barbara Bush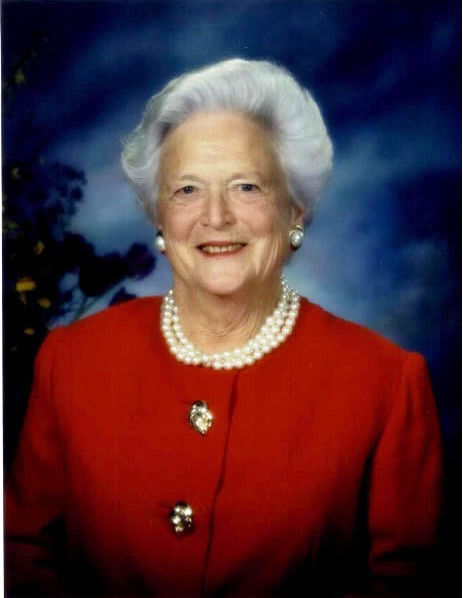 Barbara Bush, 92, died April 17, 2018, with her family by her side. She was born to the late Marvin and Pauline Pierce June 8, 1925, in New York City, New York. Barbara graduated from Ashley Hall High School, a boarding school in Charleston. She briefly attended Smith College in Northampton, Massachusetts.
Even before becoming first lady to President George Herbert Walker Bush, Barbara had ties to the presidency. Barbara Bush's father Marvin Pierce is a distant relative of Franklin Pierce, the fourteenth president of the United States. Barbara would later be survived by the 44th president of the United States, George Walker Bush, and later, 2016 Presidential candidate and Governor of Florida, Jeb Bush. She is also survived by three more children: Neil, Marvin, and Dorothy. Her daughter, Pauline, died of Leukemia at the age of three.
As a youth, Barbara was athletic. She enjoyed swimming, tennis, and bike riding. Her strongest passion though, was reading, which followed her throughout her life. As the First Lady of the United States, she started the Barbara Bush Foundation for Family Literacy. This program's goal was to combat the generational cycle of illiteracy within the United States.
During the 1980s, a large surge of Latin-American immigrants migrated into the United States with no formal educational background. This program worked to increase literacy within this group of first and second generation Americans.
Barbara was well ahead of her time on other issues as well. Oftentimes, this put her in direct conflict with her husband's political brand, but she spoke out nonetheless. One of these issues was reproductive rights. Barbara was an opponent of any legislation that prohibited women from being able to decide what they wanted to do with their bodies. This was highly controversial because of her husband's party. Regardless, she maintained her belief in a women's right to choose.
She also worked to combat the negative stereotypes that existed about the AIDS epidemic. These negative stereotypes prevented the American people, and the Republican party, from properly addressing the epidemic. By working to shift public perception, Barbara was able to show people that the AIDS epidemic wasn't strictly confined to a specific sexual orientation.
This increased nationwide awareness helped suppress the rapid spread of the disease, and brought it the attention it desperately needed.
Her children knew her to be loving and supportive, but fiercely loyal to her convictions. She spoke out when they could not. Her family would call her "the enforcer" for her ability to speak her mind without fear. An example of this came during an interview where she spoke out against President Trump for mocking her son Jeb throughout the campaign trail. The people who were lucky enough to meet her revered her for being genuine and honest in all things she did.
Her secret service staff pointed out her graciousness by revealing her tendency to hug them for their work to protect her and her family. Her husband knew her best. She was his best friend, his confidant, his rock, and most importantly, the love of his life. She was there for him as was he was for her. She could be vulnerable at times as well.
When her husband became the newly appointed director of the CIA, Barbara Bush had succumbed to depression. George H.W. Bush would hold her every night in this time of weakness in the same manner she held him after he lost his re-election bout to President Bill Clinton. She was without a doubt the foundation that the Bush family stood upon and will be dearly missed.
History will remember Barbara Bush as the standard bearer for modern First Ladies. Barbara maintained her many positions, even when it went against her husband's political party. She advocated for reproductive rights, universal literacy, and mental health awareness. Most importantly, her life stood as a testament to this statement: behind every great man is an even greater woman.