Saint Anselm students host the college's first LGBT Day of Visibility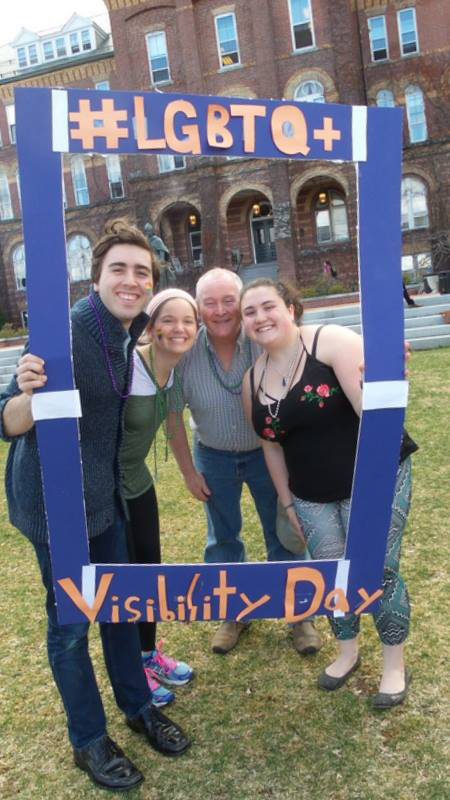 Saint Anselm student Matthew Solomon, '20, demonstrated his commitment to the LGBT community this week as he hosted Saint Anselm College's first Day of Visibility on the Alumni quad. The event, organized by Solomon (who is a Resident Assistant in Dominic Hall,) was designed to offer support for those on campus who were not confident enough to openly express their sexuality for fear of persecution.
Solomon, who has been openly gay for years, said that the event, "offered those on campus [who are silent about their sexuality] an opportunity to see the support they have on campus" and said that the amount of support and attendance the event received was "amazing."
Solomon says that even though he is at a Catholic college, he feels that being Anselmian has helped him be proud of his identity and be happy with who he is. "Before I became an Anselmian, I was not proud of who I was; but through the support I found on this campus, I have been able to find myself. I want to bring that same community and support to members of the LGBTQ+ community who haven't found that here yet and celebrate all those who have."
The event included a grill station serving up hamburgers and hot dogs, snow cones, bread cooked up by the monastery, and various faculty and staff members running tables and making their presence and support for LGBTQ students known.
SGA also had a table at the event- activities included a raffle, conversation, and a Hint of Lime performance. Solomon also shared his story of coming out with the crowd gathered to watch; through the megaphone, Solomon stated that "the most important thing for a member of the LGBT community is visibility… this can happen at Saint Anselm College. Maybe people will see this is something we have to get behind." He spoke about how he "spent seven years of my life pretending I was somebody I wasn't… but coming to Saint Anselm College gave me the confidence to come out to my family… after my sister's college graduation."
Matt Panneton, also '20, who was present at the event, said "I thought it was a great event that made me feel a lot better about being out [as gay] on campus. It was nice seeing such a large and supportive presence on campus, especially in front of such a visible and notable landmark of Saint A's [as the statue of Saint Anselm.]"
Though the event went well, Solomon says he hopes even more people will get involved in the future. "There were many people who I would have loved to see get involved, but unfortunately they were very busy that week and weren't able to host a table" Solomon said.
However, Solomon hopes that the event will change the attitude on campus and inspire silent Anselmians to come out into the open and know that they are welcome. "Visibility is something we need more of, so that LGBTQ+ can realize that they are not the 'other.' I hope to see this event continue every year."