NHIOP students find common ground on calls to defund police
After a summer filled with racial tension and political hostility, student leaders through the New Hampshire Institute of Politics are finding a common ground on hot button issues. 
Samantha Riley '21 and Emily Burns '22, who lead the Kevin B. Harrington Ambassador Program's Community Events Committee, introduced the series in collaboration with the Meelia Center for Community Engagement. 
The first debate to kick off the "Finding a Common Ground" series was defunding the police. The event took place in the Event Space in the Jean Student Center last Tuesday, Sept. 8 at 7 pm. Senior Jenifer Wallitsch and Chair of the Kevin B. Harrington Ambassador Program, facilitated the event. While the event came to a civil conclusion, students had opposing viewpoints on defunding the police. 
Sean Thompson, a junior Criminal Justice major from Worcester, MA was on the pro side of defunding the police. Thompson brought up examples of police brutality targeting black Americans this summer, which sparked nationwide protests. Thompson said police officers exhibited poor deescalation techniques during the Black Lives Matter protests, 93% of which have been peaceful.
In Buffalo, NY, where a police officer was recorded shoving a 75 year-old man to the ground, Thompson says this case "didn't seem to be police officers attempting to come to a peaceful resolution, but instead a show of force." Thompson added, "that was a show of force missing when compared to the protests that took place across the country with regards to COVID policies." 
In big cities such as Chicago, Detroit, or New York, where police departments are larger with bigger budgets, Thompson says funds "should be reallocated to other social services that can work with the police to better protect and serve our communities." Thompson gives the example of mental health experts, social workers, and drug addiction counselors.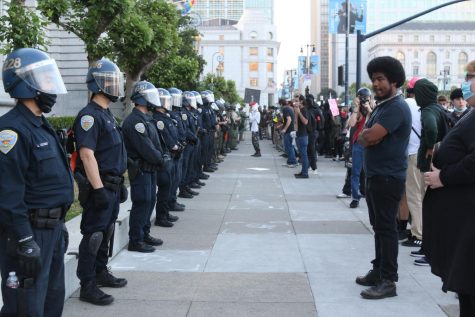 Although he is for defunding the police, he agrees that officers deserve the proper training in difficult situations. He says, "I personally believe that officers should be constantly trained and retrained on how to deescalate a situation because there may be new techniques on how to do it more effectively."
Patrick McDermott, a sophomore History and Second Education double major from Brentwood, NH disagreed on Thompson's stance of defunding the police. Coming from Brentwood, McDermott lives in a relatively small town compared to Thompson's hometown of Worcester, MA. 
McDermott says, "It's a difficult topic. I don't think it's the right path for everywhere in the country nor do I think it's a correct path for most of the cities in the country. However, I do believe there is some merit to the argument." 
Being from a small town, McDermott has only had positive relationships with police officers. 
"The majority of Americans in small towns and cities only have good interactions with their local police officers. In many cases, they don't even have police stations because they're not a necessary item in their communities. It has to be a community by community-based approach." 
Thompson, who was on the pro side of defunding the police has had similar interactions with police officers. 
However, he says, "it is easy for someone like myself who has only had a couple of encounters with the police that were overall positive to dismiss and overlook what is going on right now." Thompson added, "it is essential for everyone to recognize that while you may have had a positive encounter with the police, that is not the case for everyone." He used the murders of George Floyd, Breonna Taylor, and Elijah McClain as examples. 
Despite their disagreements on the issue, both Thompson and McDermott believed the discussion was civilized. McDermott believed the conversation "was going to be a lot more polarized and aggressive than it was" and was happy with the amount of respect participants showed toward each other. Thompson was hesitant like McDermott before coming because he expected it to "evolve into a shouting match". However, he was pleasantly surprised with how the conversation went. He added, "one thing that I really respected and enjoyed was that even if people had varying opinions on this topic, they were able to find common ground and provide solutions to the problems we discussed."
Both Thompson and McDermott gave a few ways our government can eventually find a common ground on defunding the police. 
McDermott feels the movement could be clearer in finding a common goal.
"There is a significant portion of the 'Defund the Police' movement that means the abolishment of police stations as it did in Minneapolis. I feel like we need to decide if that is the true focus of the movement or is it more a reallocation of funds as a lot of people said in the discussion. Until that distinction is made, I felt like both parties will continue to polarize the issue and prevent the slightest bit of progress."
Thompson believes our government needs to understand police are people with faults of their own. He says, "police officers are not perfect, and those that abuse the power and authority of their office should be held accountable for their transgressions against the community they swore to protect."
However, Thompson understands the issue is not a quick-fix, but the conversation was a good starting point. 
"While problems like systemic racism and excessive use of force will not be solved in one conversation, one election or even by one generation, having conversations like these sets the foundation for which solutions can be built upon."
When asked about future topics for debate, McDermott offered the role of media bias in politics and the national debt, both of which were brought up in the discussion. Thompson offered whether we should implement a Medicare-for-All type plan and the government's response to the Coronavirus pandemic.
For more topics, stay tuned for the next Common Ground discussion. If you are interested in attending, email Sam Riley ([email protected]) and Emily Burns ([email protected]) for more details.