Remembering legacy of embattled Bishop McCormack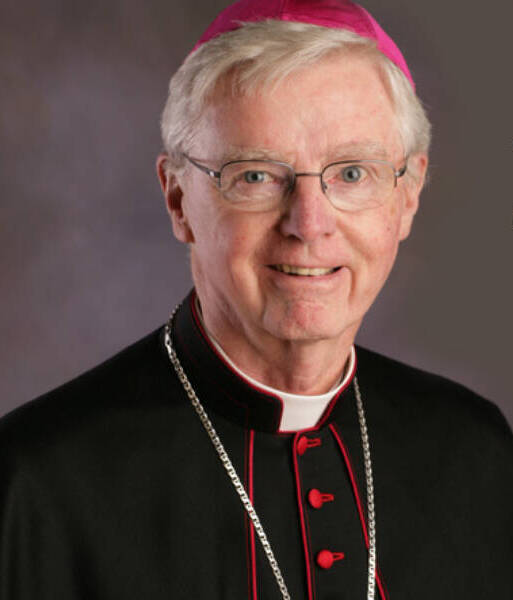 Bishop John B. McCormack of the Diocese of Manchester died on September 21 at age 86. Community members gathered for the one and a half hour ceremony on Tuesday to commemorate the Bishop's most impactful life.
McCormack died at Mount Carmel Rehabilitation and Nursing Center in Manchester. His  funeral service was held at Joseph Cathedral in Manchester and Bishop McCormack was laid to rest in the cathedral cemetery. Bishop Libasci, the presiding official of the funeral mass, in a statement by the diocese specified, "Bishop McCormack was a good and holy bishop who worked hard in times of great difficulty, demonstrating the virtues of kindness, compassion and humility right up until his passing."
Sophomore Saint Anselm student Erik Bishop attended McCormack's funeral mass and commented upon the sense of community in the room. He stated, "While we were not all familiar with each other, we all felt united with one another. We all understood or at least tried to understand whose body lied in that casket. We were all ready to offer up prayer in the cathedral that day." While Bishop did not know McCormack personally, the environment of the precession revealed how welcoming the Manchester community is and the type of company that McCormack impacted.  
McCormack joined the Manchester Diocese in 1998 where he served as Bishop until 2011. As a religious leader, McCormack reduced the numbers of parishes from 131 to 90. He also oversaw the rise of Catholic Medical Center as a full-service hospital. 
McCormack originally grew up in Cambridge Massachusetts and was ordained in 1960. He continued his religious pursuit from a role as auxiliary bishop in the Archdiocese of Boston in 1995 and then as the Bishop of Manchester, New Hampshire. However, in an unfortunate light, Bishop McCormack receives name recognition mainly for his role in a priest-abuse sex scandal.
Boston Globe article revealed that widespread abuse of children by Catholic priests often goes undercover and merits heavy concern. In 1984 McCormack was appointed secretary for ministerial personnel in the Archdiocese of Boston. In this role he oversaw priests and it was through this role that he faced pressure to resign over his handling of sexually abusive priests in the Boston area. McCormack has also settled lawsuits of more than 160 victims who were abused by New Hampshire priests while he resided in the Manchester Diocese. In 2002, McCormack headed criminal charges against the Manchester Diocese when agreeing that church officials had allowed abusive priests to move from parish to parish. It was at this time when the Diocese of Manchester became the first in the country to admit to have violated criminal law when failing to have prevented protection to these children under the abusive priests. 
During this challenging time was when Rev. Jason Jalbert of St. Joseph Cathedral acknowledged to News Station WMUR "I knew him as a man who loved to be out with the people. Loved confirmations as I accompanied him as a priest to confirmations throughout the dioceses." 
Similarly, student Maggie Lamy, who didn't personally know Bishop McCormack, stated, "He has touched my life personally in the sense that because of him, I learned more about the faith that I was raised in and thinking back to the times when he was bishop creates an almost nostalgic feeling." 
Lamy further commented upon her experience of attending McCormack's mass in general. She explained, "The Catholic Church is rooted in tradition. Of course, this was something that I already knew, but attending the funeral mass really further cemented this. A church has to sort of evolve with the times, yes, but the ceremonial practices are something I really like and appreciate that have been kept alive. People know the Catholic Church for the "smells and bells" and I think that it is really cool that they have always kept that alive while still trying to adjust with our current times. It's an intricate balance."
In acknowledgment of the service in its entirety, Bishop stated that "this was a chance to pray for the dead and glorify God."
Bishop McCormack's life and dedication to the Catholic role was celebrated at this well attended mass, and gave opportunity to depict the importance of community. 
While many attendees did not have the entitlement of personally knowing Bishop McCormack, many recognized the impact he had within the Manchester community.