New VPAA sees bright future at Saint A's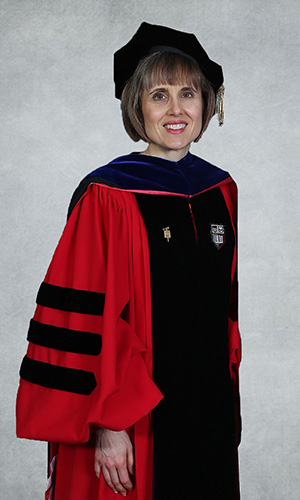 On March 2nd, it was announced that Dr. Sheila Adamus Liotta had been named Saint Anselm College's Vice President of Academic Affairs. This decision was made after an extensive and "consequential search" process intent on fostering the college's "academic innovation," as noted by Saint Anselm College President Joseph Favazza. 
Dr. Liotta was born and grew up in New Jersey, later attending Rutgers University for her undergraduate studies and Cornell University for graduate school wherein she obtained her Ph.D. in chemistry. Liotta gives further insight into her personal background. "I also met my husband Louis, a fellow graduate student in chemistry, there. We have been married for 29 years and have two grown children. Our son lives in Seattle and our daughter lives in Washington, DC. We enjoy travel and look forward to getting back to more of that as the pandemic hopefully lets up." Liotta concludes her introduction to the Saint Anselm community with statements of excitement: "we also like dining out and hope people will give us good restaurant recommendations!"
 In terms of Dr. Liotta's passion for academic success, she cites her personal experiences as a student herself. "I think I chose an academic career because I was one of those kids who always liked school, and the academic environment was a place I felt at home." In the transition to professor and academic administrator, Liotta felt fulfilled through helping promote a sense of belonging. "I would love to teach at Saint Anselm eventually, but I want to give myself time to adapt to my new position." Since her tenure as dean at Providence College, she states that teaching a course each year has been a true highlight.
 In discussing why Liotta ultimately decided to pursue this role at Saint Anselm, she writes: "I was not looking to leave Providence College," where she had built an entire career. However, when she heard about the VPAA position, she notes that "it seemed like a wonderful opportunity," especially in applying her experiences from Providence College, as a faculty member and dean, "to some new challenges." She further emphasizes a remarkable aspect of the institution itself: community. 
"The first time I visited the Saint Anselm campus was in the summer. Even though there weren't as many people around as there would be during the semester, I felt a real sense of place. I could tell that Saint Anselm had a unique identity that made me more interested in becoming part of the community." Liotta, in engaging with the interview process, felt this unity even deeper as the search narrowed.
 "Everyone I met, students, administrators, faculty, staff, trustees, and of course, the Benedictines, were so welcoming. The pride and love for Saint Anselm was really obvious." She echoes this unique quality seen at Saint A's, stating: "I have visited a lot of colleges and that is something special that I haven't seen in too many places."
 In shifting the conversation to the predominance of the COVID-19 pandemic, Liotta elaborates on educational implications. "COVID-19 has made me recommit to supporting students in new ways, keeping in mind all they may be experiencing outside of the classroom that may affect them in the classroom. The same is true for faculty." She echoes, once more, the greater sense of unity the pandemic has inspired. "Even though their own lives were also disrupted by the pandemic," Liotta emphasizes the admirable nature of her colleagues in maintaining a dedication to aiding students.
 Although COVID has evidently shifted attention to the needs within higher education, Liotta illuminates a greater point of consideration. Due to "rising costs compared to household income," she explains that, now, more than ever, "families are more interested in 'return on investment,' or what path a student can take" following graduation and the investment families spend on "four years of tuition. There are also opportunities now for students from a wider range of backgrounds to attend colleges like Saint Anselm." She highlights a goal regarding her new role as VPAA, noting an interest in how best to "attract and support" students that identify with this concept. "Being innovative," Liotta writes, "while also respecting and celebrating tradition and heritage will be important for Saint Anselm College in the years ahead." 
Dr. Liotta will officially commence her role as VPAA following July 2022. She is "excited to get to meet more of the people at Saint Anselm and to begin to work with President Favazza and the entire community." While she acknowledges the significant transition from Rhode Island and PC to Saint Anselm, she is sure "that Saint Anselm will soon be familiar and a true new professional home for me." Liotta's closing remarks, perhaps, are reminiscent of Saint Anselm's centrality of unity, an ever-important value in navigating an uncertain future.