'Evening with Ken Burns' champions Humanities efforts
Award-winning documentary filmmaker Ken Burns paid a visit to Saint Anselm College on Sat. May 1 to host "An Evening with Ken Burns". 
The program included a gala and conversation about our shared humanity and acted as a celebration for the establishment of the permanent home for the Gregory J. Grappone '04 Humanities Center. The College will be renovating the Print Shop behind Alumni Hall in the Fall of 2022 to become the Center's home on campus. Burns, who is known for his documentary storytelling on American History, is currently serving as the Honorary Chair of the Campaign to establish the Gregory J. Grappone '04 Humanities Institute. 
Preceding the gala, James Maloney '24 sat down with Ken Burns for a conversation on Burns' career and its relationship to the humanities that will be released as a part of the 'Humanity Examined' podcast series. During his conversation with Maloney, Burns revealed that he "always wanted to be a filmmaker- a storyteller" and that he didn't realize his interest in American History until college. While he might not have realized his passion for American History until later in life, he was well aware of the emotional impact that filmmaking can have on a person, after seeing his father cry for the first time while watching the film "Odd Man Out".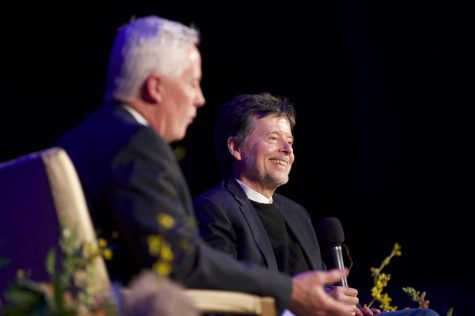 At one point during their discussion, Maloney asked Burns about his experience with working with PBS, and the impact that his work has had on our education systems, as his series "The Vietnam War" is played in classrooms across America. Burns stated that one perk of working with PBS is that there are, "no commercials! And everything published is the Director's Cut, because I am an independent producer."
When speaking about the role of his films in education, Burns noted that "education is the frontline of the most important aspect of how we stitch ourselves together as a society… visual aids can invite people to the table, but the book is still the more important tool." Burns continued on to mention the impact his high school history teacher had by teaching through storytelling. Burns considers himself to be a storyteller, not an educator, saying that "all of us are lit by the fire of a good story". 
The recently released documentary 'Benjamin Franklin' (April 2022) was one of the main focuses of the conversation. In a time when people are entranced by social media and endless scrolling, Maloney asked, "what would Ben Franklin think about social media?". To which Burns replied, "he was social media." 
While Franklin was not tweeting about his day-to-day life, he was deeply involved in many areas of communication at the time. Burns explained, "he was a printer, publisher, newspaperman, and postmaster." He also posed his theories of what Benjamin Franklin would say if he was alive today. "I think he would remind us that the worldwide web is simultaneously beneficial and a trap," said Burns.
English Professor and Executive Director of the Gregory J. Grappone of '04 Humanities Center, Gary Bouchard was thrilled to have the opportunity to host Burns. "Having Ken come to campus to see firsthand the work we are doing to build the Grappone Humanities Institute was so edifying. He was generous and authentic with everyone, and his willingness to sit down and record the Humanity Examined podcast with James Maloney was so gracious," said Bouchard.
Professor Bouchard referred to his conversation with Ken as a "highlight in [his] life" and a "memorable moment in the College's history. "It was not a conversation most people expected to hear because we really spoke about Ken's heart and soul, what he values and believes most deeply, and what he regards as essential to living the good life. The questions I asked of Ken are the same ones that students confront all year long in Conversatio and throughout their Saint Anselm career. He answered with honesty and eloquence that really impacted many people deeply," he continued.
Riley Buchanan, a sophomore marketing major, serves as the Assistant to the Director for the Humanities Institute and was on the Campaign Steering Committee for the Ken Burns event. Buchanan described that day as a "memorable whirlwind" as she met Ken Burns during the podcast recording and during the gala. She stated that the conversation between Bouchard and Burns was her favorite part of the entire day. "I could have listened to them talk all day; it was such an inspiring and engaging conversation," she said.
Fellow sophomore James Maloney was also enlightened by his conversations with Ken Burns, especially when interviewing him for the Humanities Examined podcast. Maloney said that he admired how Burns did not just focus on his work exclusively but connected everything back to humanities. "He didn't waste a single moment, and every experience he shared carried so much weight and insight," said Maloney.
Professor Bouchard explained that the event was a "peak of celebration and affirmation of our purpose and vision" and accredited its success to all of the hearts and hands that contributed to the 16-month-long capital campaign. "Now it's on to the building of a beautiful home where hundreds of experiences like April 30th will continue for decades!"