The Man Behind the Press: Keith Morse
Get to know the man behind the press! Ever wonder who puts in the work behind the printing scene? Saint Anselm's own Keith Morse, the printer at our print shop, got personal with the Crier in sharing his years of experience as a printer here. 
Of course, he is more than just a printer. Born and raised right here in Manchester, Keith grew up the way many of us had. He has three brothers who were raised alongside him, and it was in his high school years that he developed his passion for working in printing. Years later, he found himself married for 44 years and still living in this area.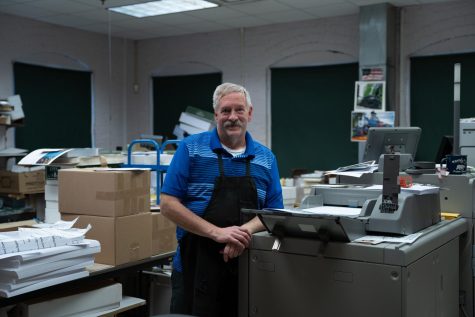 His work as a printer started back in his high school days, as he shared that "they needed someone to drive deliveries, and once I got in the shop and smelled ink I fell in love with it." His immediate love and passion for printing and working in a print shop landed him a 4-year apprenticeship, and he was even one of the last apprentices in Manchester! 
Working as a college printer for 39 years, Morse certainly knows the ropes of being in the shop. Working here that long, and "starting in the basement of Alumni Hall where financial aid is", changes have undoubtedly been made and noticed by Morse. He stated that "changes over here are all just the new technology, but I still have an offset press which uses real ink and water." Seemingly a man of tradition when it comes to technology, he added "when I leave no one will know how to use it because everything is digital now." Though new changes in technology can bring new opportunities to develop the work he produces, Morse vulnerably shared that with the influx of digital use "it's kind of losing the charm to it, but it's still a lot of fun, I love what I do." His passion for his work is without a doubt a strong force!
If you've never been in a print shop before, get ready for some insight into the environment Keith endures every day! Historically, print shops served as quasi-newsrooms and chat centers in communities, and the same could be said here! Morse tells the Crier "I have people come in here all the time seeing what's going on, seeing the posters I'm printing. It's a lot of fun." Passion meets friendship here in the print shop, and friendly faces and conversation are never missing! 
With years of experience, Morse has endured a lot of challenging and rewarding print jobs. Funnily enough, the most challenging and the most rewarding print job he shared is the commencement and convocation works. Morse tells the Crier that the most challenging "are usually the commencement and the convocation because they're usually last minute, and I'm working until midnight," but the most rewarding he shares "is probably the commencement because I love seeing people's faces and parents looking through the programs for people's names." He is truly a man who is passionate about his work; stays up as late as he must just to make other people happy! "It's very gratifying," he shares "and they don't throw it out." His appreciation stems from ours, so take the time to show your gratitude for what he does!
His dedication to the school is seen in all his works, as he tells the Crier he's done "the inauguration things for our two Presidents and all of the monastery work for the new monks." His work is clearly of esteemed value, and is honored and appreciated on all corners of campus. To be a part of this "is very rewarding" he shared.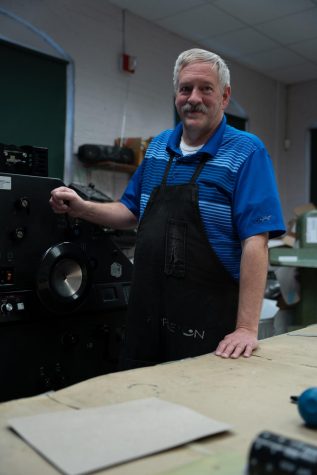 Recent news has been shared that the beloved print shop will be renovated to be the new center for humanities on campus. When asked about the foreseen changes, Morse eagerly shared that, "with the pictures I've seen, this place is going to look amazing." The hustle and bustle of the print shop might look different, but new renovations will make the spot an exceptional hub for the humanities emphasis we see here at Saint Anselm. Though excited about the new changes, Morse said, "I'm sad to lose all of my windows because I really like them, but they'll find me a good spot." Change doesn't have to be bad, and that was duly noted by Morse! 
Changing the purpose of the print shop to serve as the humanities center will inevitably be a change for Morse. But he feels that the work he does will undoubtedly support the emphasis on humanities at the college, because "everything I do is for the college and the students, or for learning or fundraising for the students." Wherever he is and whatever he does is for us, and even though the print shop is changing, he won't!
The people he has met and the work he has done contribute greatly to his experience here at Saint Anselm. If you've never met Keith, it's in your best interest to do so. Get to know the man behind the scenes; everything he does is for us! 
View Comments (1)