Saint Anselm alumna headlines NH District 1 ballot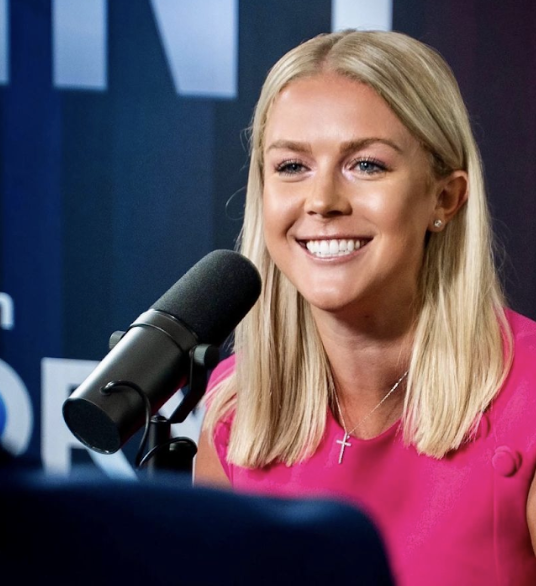 Saint Anselm College will be well represented on the New Hampshire ballot on the November 8th elections. Karoline Leavitt (R) is running for one of New Hampshire's two House seats taking on incumbent Democrat Chris Pappas. 
Leavitt is running for New Hampshire's 1st Congressional District House seat. Saint Anselm College is located in this district and several students live in and are constituents of the district. Leavitt is a Trump-endorsed candidate who worked in the White House immediately after graduating from Saint Anselm. She worked as one of President Trump's Presidential Writers and then served as the assistant Press Secretary under Kayleigh McEnany. According to her website, Leavitt "helped prepare Press Secretary Kayleigh McEnany for high-pressure briefings, fought against the biased mainstream media, and proudly helped message President Trump's America First agenda that uplifted the forgotten men and women and small business families like my own." Following the 2020 elections, Leavitt served as the Communications Director for Congresswoman Elise Stefanik (R-NY). Leavitt said, "I led the Congresswoman's messaging as we fought against President Biden, Nancy Pelosi, and the House Democrats' radical agenda. I watched in horror as my own Representative, Chris Pappas, continuously voted in lockstep with Nancy Pelosi, abandoning families like my own."
Leavitt is from Atkinson, NH and grew up in a conservative, small business family. She graduated from Saint Anselm College in 2019 with a degree in Communication and a minor in Politics, where she played on the softball team for two years, founded the Saint Anselm Broadcasting Club, served as a New Hampshire Institute of Politics Student Ambassador, and wrote for the Saint Anselm Crier. She also interned at NBC Sports Boston and worked part-time at WMUR-TV during her time at the college. Leavitt is 25 years old and, if elected, would become the youngest woman ever elected to Congress. Leavitt cites Representative Stefanik as a role model to her as being a young, conservative woman looking for a leader in a majority-male Congress. She is endorsed by many prominent GOP leaders, including NH Governor Chris Sununu, Texas Senator Ted Cruz, Ohio Congressman Jim Jordan, the New Hampshire Police Association, and, of course, Donald Trump. 
Leavitt, who fits the bill as the prototypical MAGA Republican, has many views that are supported by former President Trump. Most notably, she is on the record as being a firm election denier, claiming that "there is no way Joe Biden got more votes than Trump" and that she "will always stand by" the former president. 
She is also on the record as being an advocate for the permanent ban of federal funding and subsidies for abortion. In addition to these views, Leavitt also shows her support for lowering reckless government spending in efforts to reduce inflation and promote small business, banning Critical Race Theory and other, as her website says, "racist, divisive ideologies that plague our classrooms and culture", limiting red flag laws that are designed to help the government run firearm and ammunition businesses, and pushing back on the radical "Defund the Police" movement. 
Leavitt won the Republican primary earlier this fall with 34.6% of the vote, beating a field of candidates that included former chair of the New Hampshire Republican Party Matt Mowers and Gail Huff Brown, wife of former Massachusetts Senator Scott Brown. As was seen in several GOP primaries throughout the country, the Trump endorsement proved to be the game changer amongst Republican voters, but it remains unproven if it is enough to win the general elections. Several media outlets classify the race as a tossup or tilting towards the Democrats. With the general election almost here, Leavitt recalls being at Davison Hall applying to a White House internship while her friends were out tailgating. "I remember thinking 'If I made this opportunity, it's worth missing any football game in the world.'"
Leavitt looks at her time at Saint Anselm College fondly. She believes her time at the college gave her the skills and foundation necessary to reach this point in her political career at such a young age. "Saint Anselm College introduced me to politics and the media at the national level", Leavitt said, "It started during the 2016 primaries where I was an assistant for FOX News and it all took off from there." Leavitt knows that Saint Anselm has endless opportunities for every student and encourages them to take advantage of it. "Take advantage of every amazing opportunity offered to you. Believe in yourself. Take advice from your professors and your mentors. Soak up every class, lecture, and discussion you have." Particularly for the Politics students, Leavitt stresses to them that there is always a path to success in the difficult political world. "Don't let anyone tell you that you are too young or inexperienced. Politics is gritty and can unfortunately be dirty at times. Be prepared for the hostility. But remember that we are looking to serve the people and that is what matters most."