Dems, GOP split control of Congress, Trump endorsees flop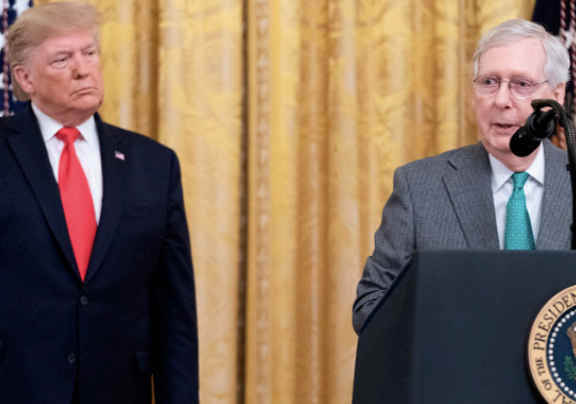 As the 2022 Midterm Elections come to a close, the results are not as the media expected. Over the past few months, political analysts and media members have set expectations for a "Red Wave." Despite the expectations, Democrats have prevailed in securing at least a one-vote majority in the U.S. Senate. Although Republicans approach securing a majority in the House of Representatives, the majority will be slim.
When the dust settles, Republicans will hold 49 seats, and Democrats will hold 48 (2 Senators are registered Independents but caucus with the Dems). There will be a runoff election in Georgia between Democrat Incumbent Raphael Warnock and former football superstar Herschel Walker. This hotly contested race will decide if the Democrats have a one or 2-vote majority in the Senate.
In the open Pennsylvania election, Fmr. Lieutenant Governor John Fetterman defeated Dr. Mehmet Oz, flipping the Senate seat from red to blue. Traveling to Ohio, Donald Trump endorsed J.D. Vance, author of the renowned memoir Hillbilly Elegy, defeated Tim Ryan, a Democratic Congressman from Ohio. The Ohio race was one of the few victories for Trump-endorsed candidates. Arizona's race was a significant loss for Republicans and Trump, as Incumbent Mark Kelly narrowly defeated his Republican challenger Blake Masters, a Trump-endorsed venture capitalist. Kelly securing Arizona for Dems all but clinched the Democrats' retention of the Senate.
Back in Georgia, Republicans rejected Trumpism again by reelecting Republican Governor Brian Kemp, who stood against Trump's election fraud campaign in 2020. Kemp defeated Trump-endorsed former Senator David Purdue in the Republican Primary and defeated perennial Democratic Candidate Stacey Abrams in the November 8th general election. Former Massachusetts Attorney General Maura Healey defeated Former State Senator Geoff Diehl in Massachusetts. Additionally, Tina Kotek won her race for Governor in Oregon. Healey and Kotek made history by becoming the first openly lesbian Governors in the United States.
Many Republicans are disappointed in this year's election results. The Republicans failed to secure a larger House majority. One of the many repercussions of failed expectations is a Republican party in chaos, led by Kevin McCarthy, who looks to become Speaker of the House.
Members of the House Freedom Caucus are pushing for a leadership change, with an Ohio Congressman and original member of the Caucus as their frontrunner for the Speaker of the House nomination.
Professor Christopher Galdieri, an Associate Professor of Politics and head of the Campaign Management Minor at Saint Anselm College, provided his analysis of the Republican-controlled House of Representatives, saying, "Either one of them [Kevin McCarthy and Jim Jordan] would be in charge of a very narrow majority. That's going to make life incredibly difficult for either of them." 
Galdieri continued: "I think McCarthy would at least try and hold the party together. We would probably be more strategic about what goes up then. I think Jordan would probably be even more dysfunctional because he is from that wing of the party. He likes to stir things up." 
The question for the Republican Party now becomes: Do you want to pass laws, do you want to stir the pot and investigate the administration, or do you want to hold the party together?
Looking at what went wrong for the Republican Party, Galdieri had two points: "Donald Trump and the Supreme Court."
 Of Trump, he said, "Trump, I think, has remained the face of the Republican Party. He was very active in candidate selection. You know, he endorsed candidates in primaries all across the country, many of whom proved not to be very strong competitors."
On the Supreme Court's influence, Galdieri added, "the Supreme Court's decision to strike down Roe v. Wade really turbocharged a lot of women in the electorate who were already sort of primed after the Trump administration. If you look at polling, the number one issue was inflation, and right behind it was abortion. In states like Pennsylvania, abortion was more important than inflation and the economy." 
So what's next for Republicans? Galdieri thinks that "they need to figure out: How do you solve a problem like Donald Trump? Can you convince him not to run for the good of the party and just keep his mouth shut?" 
Many potential Republican presidential candidates won reelection this midterm, including Florida Governor Ron DeSantis, South Carolina Senator Tim Scott, and Florida Senator and 2016 candidate Marco Rubio. 
Galdieri adds that a Trump candidacy would be confusing for Republicans, saying, "I think the fear Republicans have is he leaves the party and takes his core supporters with him. If he does that, it will throw a wrench in states like Pennsylvania, Michigan, Wisconsin, and Arizona, where the margins were so slim in 2020. So there are a lot of Republicans who hope he moves on, but they're also terrified of what he might do and whether or not he has enough people to really throw a wrench in 2024."
The Biden administration had the best midterm results for the President's party in a very long time. Keeping control of the Senate and only giving up a slim majority in a highly dysfunctional House of Representatives is as big a win as Biden and other Democrats could have hoped for.