SGA to push 'Benedictine Way'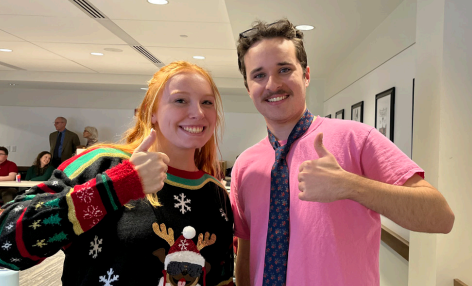 As the semester comes to an end, Student Government Association President Maura Crump and Vice President Ben Mickens reflect on their first semester in office. 
One of their projects this semester was the launch of the "Benedictine Way" campaign, which emphasizes the importance of community living. "It's been an amazing way to stress the importance of respecting and loving our campus, ourselves, and those in our surrounding community," said Crump. Mickens echoed similar sentiments, explaining how the Benedictine way has positively impacted SGA. "I hope it is seen (or starting to be seen) by the whole school," said Mickens.
In a Crier article published at the beginning of the semester, Crump and Mickens both said that reintroducing service that was lost due to Covid was an important goal for this semester. Throughout the semester, SGA has worked to achieve this goal. "We have been able to give back to those living on campus, as well as to the greater Manchester community," said Crump. She noted two of Saint A's most beloved holiday traditions, the Thanksgiving basket blessing and annual Meelia Center Holiday Fair, as important opportunities for SGA to be involved with community service, a core element of Anselmian hospitality.
The cancellation of the traditional senior casino night event might have raised some concerns among the student body, but SGA administration remains optimistic for future programming. Mickens was pleased by the senior class council's response to canceling the event. "I attended their town hall and thought they did a very good job fielding questions and taking ideas," he said. "There will always be struggles when it comes to event planning, as it often is hard to truly gauge the interest of every student, but we will definitely try our hardest to do so as we move forward into next semester," added Crump.
Both sang high praises for all members of SGA and all their collective efforts this semester. "We've got a talented, go-getting group working with us," said Mickens. "It's been a pleasure to work with everyone in SGA, especially my fellow Senate members," he continued.
Crump explained how proud she is of all that SGA has been able to accomplish by working together. "I am so grateful to everyone in our organization for their dedication and support. They have made lofty goals a reality, and I'm in awe of how they continue to lead by example," she said.
Looking forward to the spring semester, Crump and Mickens are eager to expand the presence and efforts of SGA on campus. "We're looking forward to many things– chiefly more volunteer opportunities to get our members engaged with the student body and some activity in our Club Affairs division," said Mickens. 
Mickens also noted that next semester will bring another round of elections for both the SGA president and vice president seats, as both are currently held by seniors, as well as class council elections. Crump and Mickens both emphasized the importance of getting involved in SGA, whether it be through running for office or attending the weekly student senate meetings. Mickens noted that the meeting times may change next semester, but they will inform the student body when and if that happens.