Highest voter turnout in years gives SGA 'Sal and Diego'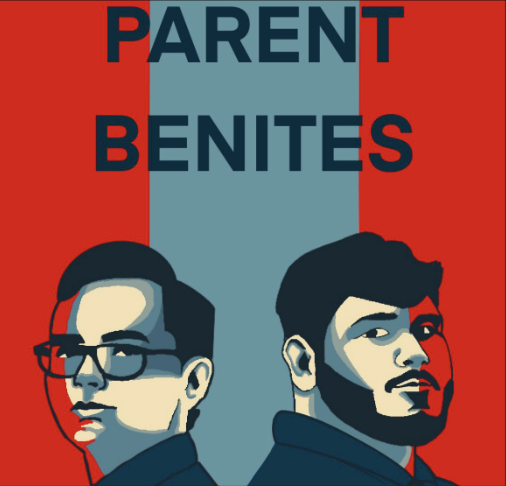 Sal Parent '25 and Diego Benites '25 have been elected President and Vice President of the Saint Anselm College Student Government Association. The election took place on March 16 and was "the highest total turnout in recent history," according to an email sent out by SGA to the student body. The two will take over from current President Maura Crump and Vice President Ben Mickens, who will both be graduating this semester. 
Parent and Benites have been members of SGA for the past two years. Parent served as the Chief of Staff for the class of 2025 and Benites served as a Senator for the same class. This year, President-elect Parent is the Organizational Outreach Liaison and Vice President-elect Benites serves as the Secretary of Internal Procedures. After two years of serving on the Student Government Association, Parent and Benites are set to take on new leadership roles and deliver on the ideas they promoted during their campaign. 
One of the platforms the ticket ran on was enhancing and streamlining communication between SGA and the student body. "One of the things that Sal and I are going to work towards is how to set up better communications with the student body and the SGA. The SGA does amazing work, but we struggle to inform the student body about what we do," Benites said. One of the ways in which they intend to accomplish this is by hosting town-hall style events for the next academic school year. "We want to introduce town hall events next year where we can better communicate what the SGA is doing to the student body while providing a space for the students to ask questions and express their concerns." 
Parent and Benites are both proud to support the Benedictine values of Saint Anselm College, but have some concerns that a portion of the student body has not stuck by the hospitality and caring values that have been with Saint Anselm College since it opened. "We have heard people express their concerns that the college is not fully accepting of who they are. This is a great concern for the both of us," Benites said. "The hilltop is our home, and it troubles us to hear that some people don't feel that way." 
The college has been known as a place to promote the Catholic faith and the values of the Benedictine monks who live on campus. Some of the Benedictine values given in the Rule of St. Benedict include awareness of God, community living, the dignity of work, hospitality, justice, listening, moderation, peace, respect for persons, stability, and stewardship. 
While many students feel wholeheartedly welcomed by the Saint Anselm community, there have been some events in recent academic years that have put into question whether or not all students feel as accepted as they would like by the community. Parent and Benites are aware of these complaints and look to use their new positions as an opportunity to strike a balance between accepting all students and promoting the Anselmian and Benedictine values.
 "Our mission is to work tirelessly to embrace our Benedictine value of hospitality and ensure that we have a culture of acceptance and belonging here on the Hilltop. That is the mission statement that we had during the campaign which we will strive towards in the upcoming term," they said.
President Maura Crump and Vice President Ben Mickens have commented on the victories of their successors. "This year's race held two amazing tickets who, though running against each other, truly treated one another with such grace and kindness. Sal and Diego are excited and hungry to begin, and I am sure they will do an amazing job," President Crump said. 
Crump's focus is now on the transition of power and making sure it is as smooth a transition as possible ahead of the April 28 inauguration. "Our transition process will focus on making sure that the student body is left in the hands of two people who are well prepared to lead. Ben and I both plan to work with Sal and Diego to provide them with the tips and tricks that we have developed, in addition to answering any questions they might have," she said. "It is always hard to close a chapter and say goodbye, but I know Sal and Diego will do important work." 
Vice President Mickens reflected on the transition and how he believes Parent and Benites will transition into their new roles. "I was really excited about this election. We had two great tickets, and it resulted in our highest participation in any election since I've been a member of SGA. This is going to provide the new administration with a great chance to expand the reach and service of SGA across campus," he said. "As far as transition goes, it's a lot of reflection on our part. Considering what we did right, what we could've done better, what trends we've noticed, truths about the SGA as such, and so on. Diego and I have already spoken a bit, as well as all four of us exchanging some messages. We talk a lot about the function of the roles, unexpected elements, and so on."
Parent and Benites ran against Jackie Labovitz and Luke Chadwick, the current president and vice president for the class of 2024. "While the election did not have the outcome we were hoping for, Jackie and I are certain that the winners will do a fantastic job for our community, College, and fellow students," said Chadwick.
"I truly believe that Jackie and I learned a lot from this process; including that we will not always be successful, but that we can continue to serve our community," he continued. Labovitz and Chadwick intend to seek reelection for their seats in the class of 2024 council in the upcoming class council elections this month.
With an eye toward the fall semester and new leadership in the Student Government Association, the student body has spoken about who they want to be the new faces of the SGA. This election resulted in the most voter turnout in recent history, showing that students care and are engaged with those who represent them in the community. The inauguration for Parent and Benites is set for April 28, when they will both immediately assume their new positions. Members of SGA hope to see the same enthusiastic voter turnout for class council elections that will take place shortly after Easter break on April 12 and 13.