Miami's Mayor Suarez at NHIOP amid 2024 GOP speculations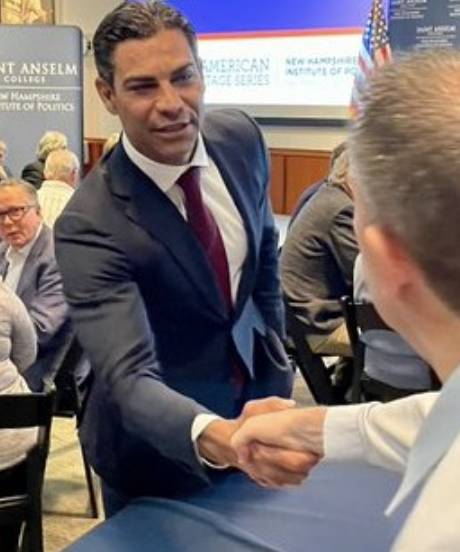 On the 18th, Mayor Francis X. Suarez came to the New Hampshire Institute of Politics with an intention to charm. The quadragenarian is Miami's first mayor, not by some accident of civil code that left the municipality without an executive, but by writ of being the first of the city's mayors born within its borders. He is also quite popular. Suarez's first election was won with 86% of the vote, and his second, with 78%. While Suarez lacks name recognition, he is indubitably aware of another young mayor of a smaller city who made quite an impression on New Hampshire.
The NHIOP auditorium was not packed for the 9 AM event. Representing the college were around a dozen Student Ambassadors from various committees, plus a few members of the greater Saint Anselm community. The rest of the attendees were local buffs and would-be politicos. Undeterred by the paucity of the crowd, Suarez dove right in. 
One Ambassador, Maya Pontes (Class of 2026), said, "Mayor Suarez took the time to personally introduce himself to every guest in the room and held brief conversations with each person, making sure to shake their hands. I thought this was a smart gesture to make as a potential presidential candidate, showing humility, approachableness, and geniality."
After a significant period of glad-handing, Suarez took to the auditorium stage to deliver a fifty-minute address. Much of it was personal backstory- the history of his family's flight from Castro's Cuba to the United States. His immigrant story is deeply impressive, with Suarezes of three generations having been educated at most of the Ivy League. Mayor Suarez's father, Mayor Suarez, was the first Cuban-born mayor of Miami. During his address that Tuesday, our Mayor Suarez brought up his father, but neglected to mention his involvement in a massive voter fraud scheme that brought down his administration.
Aside from personality politics, the speech focused on selling the Miami model of economic success. Highlighting investment growth and housing construction, Suarez pitched his hometown as a replicable model that he, a former financier, could replicate on a national scale. It is a similar pitch to DeSantis' Florida model. It is certainly true that Miami is a thriving, vibrant, and diverse city, but there is a question of how much of that is due to its mayor. A University of Miami professor, speaking on Suarez's ambitions, argued that Miami has a "weak executive." The role of the mayor is mostly ribbon cutting.
The speech ended with him announcing his phone number to the crowd, should they have any questions or comments. After the speech, Mayor Suarez was interviewed by someone with an iPhone and ring light before speaking with students. Referring to his presidential hopes, he pulled up an old Kentucky Derby on his cell phone. The favorites lost, and an underdog won. Students were impressed. Colin Mulvey (2025) said "I think he has potential to be a future President of the United States." Another student, a junior who asked not to be named, said "I was very impressed with him as a candidate. I normally lean more left, but if Suarez made it to the primaries, I would consider giving him my vote." Not everyone was quite so impressed. One attendee I spoke with described the speech as "choppy" and the Mayor as ill-prepared. This is not a novel sentiment. A decade ago, Miami New Times published "An Open Letter To Francis X. Suarez: For God's Sake, Hire a Speechwriter."
Would-be-president Suarez's visit represents the importance of the New Hampshire Institute of Politics as a service provider. To candidates, it provides crowds and focus groups to test out personalities and messages. For the public, it works as a proving ground for candidates to prove their worth. Governor Sununu likes to promote New Hampshire's first-in-the-nation primary as valuable because of the types of questions candidates get asked. During his visit, Mayor Suarez was asked what he thought of the New Hampshire primary and Governor DeSantis' war with Disney. To the latter, he repeated the serenity prayer- "God grant me the serenity to accept the things I cannot change."