Athlete Profile: Ciara Petry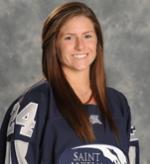 Athletes have always heard the expression "for the love of the game," but what does this actually mean? Does this mean putting in hundreds of hours at the gym? Or what about moving more than 500 miles away from your friends and family to continue playing the sport that you love?
Well in the case of senior Women's Hockey Captain Ciara Petry, it is both of these things. Petry is from Poolesville, Maryland which is about 525 miles away from the Hilltop. Petry first found out about Saint Anselm when she played in a tournament here her junior year of high school. After her first trip here, Petry did not like Saint Anselm because the tournament took place during winter break and there were no students or faculty here to interact with, as they were home for break.
After following advice from both her coach and her mother, Petry came back to Saint Anselm for a tour. This trip to Saint Anselm was not much better for Petry, as the tour around campus was not what she had expected. After returning home, Petry reluctantly listened to her mother and returned for one more trip to the Hilltop.
This time Petry contacted the Women's Ice Hockey Coach, Kerstin Matthews, to set up an overnight visit with the hockey team. Petry stayed with then freshman Angela Zevnik, and spent two days with the team. Petry thoroughly enjoyed that visit as the team welcomed her as one of their one. Petry cites that this hospitality from the team was the main factor in her deciding to attend Saint Anselm.
Freshman year Petry contributed immediately to the Hawks as she played in 19 of the first 20 games for the Hawks. Unfortunately for both the Hawks and Petry, a separated shoulder sidelined Petry for the rest of the season. Petry finished the 2009-10 campaign with five assists.
Sophomore year, Petry began right where she left off as she played in 23 games for the Hawks, scoring two goals and two assists. Petry was able to accomplish this even after being sidelined for a portion of the season with a reoccurring shoulder injury.
Junior year is when Petry hit her stride for the Hawks, as she played in 26 of 27 games for the Hawks scoring one goal and three assists. The Hawks fed off the energy that Petry brought to the ice as they went 4-0 in games that she recorded points.
Coach Matthews, who was able to see the poise and leadership that Petry brought to the ice, named her a captain going into the 2012-13 season. So far this season, Petry has helped to lead the Hawks to an impressive 7-1-2 (5-1-2 ECAC) record which lands them in first place overall. Petry has played in all 10 games, and the Hawks are at a +2 advantage when she is on the ice.
As Petry reflected on her four years she said, "After my first visit to Saint Anselm, I never thought that I would be spending my next four years at this school, but after getting to know the girls on the hockey team, I realized that this is a special place. My team has been like a second family to me. The support and hospitality we have on our team is second to none, and I am glad to be a part of it."
Petry, daughter of AnnMarie and Craig and sister of Ashten, will be graduating with the Class of 2013 in May with a degree in psychology and a minor in sports studies with aspirations to further her education in the field of sports psychology.