Senior night honors graduating talents on men and women's winter teams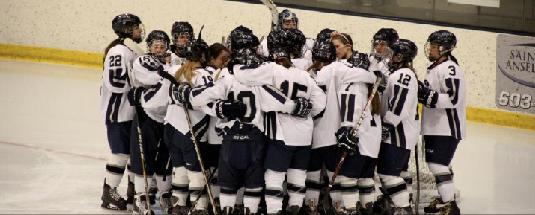 Despite the weather forecasts, winter is coming to an end. So too is the winter sports season at Saint Anselm College. Seventeen seniors will play their final game at Saint Anselm this month. All were honored for their four year dedication during Senior Night Last week.
The women's hockey program honored three of the greatest players to don the blue and white sweaters. Before Saint Anselm began a 7-0 rout over the University of Southern Maine on February 16, seniors Rosemarie Guarrusso, Kathryn Picarello, and Ciara Petry were praised for their accomplishments as Hawks. The three forwards combined for 261 points in 300 combined games.
"[It's] pretty bittersweet," Picarello said describing her experience. "It's really great to be a part of this program," she added.
Picarello and Petry captained the team to a 19-4-4 mark. Gurrusso skated off the Sullivan Arena ice as the program's all-time leader in points (139) and assists (68). Eight days later, the three seniors finished their final game. However, there was no time for tears. They just won the ECAC Championship for the second straight year, defeating Holy Cross 3-2 in overtime.
The top-seeded men's hockey squad will bid farewell to 8 seniors after Saturday's NE-10 Championship Game. On February 16, fans packed Sullivan Arena to say their goodbyes to the 3 time NE-10 Champions.
"Celebrating the class today was pretty special, we had a large class, and to make it this far as a group has been pretty awesome," Tim King said of the special night.
King added two assists in the 6-3 senior night win. A win this Saturday will give the seniors a NE-10 Championship for each year of play.
Moving from the ice to the court, the men's basketball team also has their eyes set on the NE-10 Championship and beyond. During Tuesday night's home finale, seniors Quinn Woodhouse and James Morse were honored. Woodhouse and Morse powered the Hawks to a 21-4 record this season. Morse, who started all 25 games this season, tallied 172 points for the Hawks and will play an integral role in the team's post-season success.
The women's basketball team thanked Curran Leighton for her efforts as a Hawk at its February 23 against Saint Michael College. Leighton transferred from the University of Southern Maine after her freshman season and has contributed to the team's success since her sophomore year. This season she has appeared in 22 games and made 9 starts. Retiring Associate Athletic Director, Donna Guimont, was also honored at the game for her 36 years of service to the Athletic Department.
The Saint Anselm men's and women's ski teams will lose two seniors each after the 2012-2013 season. Jackie Guy, Caitlin Forbes, Joe Germaine, and Justine Redente will race down the slopes for the final time in the USCSA Regional Championships. Germaine and Redente are two-year captains and have shown leadership on and off the slopes.
"From organizing dry land workouts in the fall, to building team chemistry [Joe and Justin] have always been good leaders," Ben Roy said of his teammates.
These senior athletes will graduate in May, but their legacies will become part of Saint Anselm's sport's history. It's time for the class of 2014 to grab the torch and continue the tradition of greatness.