Saint Anselm Athletics staying put for now; will continue to explore Division III options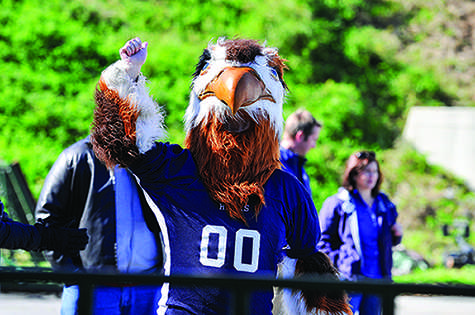 It appears that for the foreseeable future, Saint Anselm College Athletics will remain a member of the Northeast-10 Conference, and will continue to compete in the NCAA Division II.
Daron Montgomery, Saint Anselm Director of Athletics, announced in an email to college faculty, staff, and students on Friday, April 8 "Saint Anselm College will not be joining an NCAA Division III conference at this time.  We will continue to compete in NCAA Division II and the NE-10 for regular and postseason throughout the 2016-17 academic year."
According to a report on Friday, April 8 by The New Hampshire Union Leader, Saint Anselm had applied, but was not accepted into the New England Women's and Men's Athletic Conference (NEWMAC), a Division III conference based in Boston, MA.
Montgomery confirmed this report to the Crier. "The NEWMAC presidents recently decided not to expand membership, and Saint Anselm was one of the institutions the conference had considered inviting."
Had Saint Anselm been accepted into the NEWMAC, they would have been competing in the same athletic conference as Babson College, Emerson College, Springfield College and MIT among other institutions.
The Crier reached out to officials within the NEWMAC for comment, but did not receive a response.
As far as what is next for Saint Anselm Athletics, Montgomery said "we will continue to explore several options for our varsity athletic programs in the future. Our goal is to find the best fit for Athletics in terms of better competitive success, commitment to academic excellence, and student-athlete experience for Saint Anselm College. Although NEWMAC is no longer an option at this time, our goal remains the same."
Those future options could include Saint Anselm remaining in Division II and the Northeast-10 Conference, or finding another Division III conference open to accepting new members.
An NCAA Division III conference in the area that could be an option, perhaps remote, for St. A's is the New England Small College Athletic Conference (NESCAC).
The NESCAC is based in Hadley, MA and is comprised of eleven schools from Maine, Vermont, Massachusetts and Connecticut. Amherst College, Bates College, Bowdoin College, Tufts University and others currently make up the conference.
The NESCAC also offers many of the sports Saint Anselm currently plays within the NE-10.
Montgomery told the Crier "no decisions have been made, and per the NCAA membership timeline sent to the college community last August, the college will continue this exploration throughout the course of the next academic year."
Due to a level of uncertainty in regards to the future of the college's athletic department, there could also be an effect on recruiting new athletes.
"This year has presented some challenges for our coaches in terms of recruiting, but we remain focused on making a decision that is in the best interest of our Athletics program in the long term as we move forward and continue the exploratory process," Montgomery added.