Athlete Profile: Jon McQuarrie proves to be versatile member of baseball squad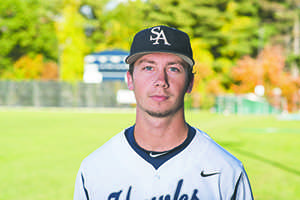 Baseball is America's pastime and for junior Jon McQuarrie of the Saint Anselm baseball team it has been his favorite sport since he was five years old. On Saturday, April 16 the Salem, NH product reached a collegiate milestone when he crushed a pitch over the wall for the first homerun of his St. A's career against Stonehill College.
McQuarrie says on getting his first collegiate long ball, "The pitch was in the right spot at the right time, I put a good swing on the pitch; it was cool to be at home too."
The double major in Business and Finance knows the importance of getting his work done as a student-athlete, because he does not have the luxury to procrastinate. And when he is not doing schoolwork or on the field playing baseball, McQuarrie is often on the golf course.
Up until his sophomore year, McQuarrie had been a utility infielder, mostly playing shortstop. The familiarity playing the position came to a halt at the end of last season. He was moved to right field because the team needed another player in the outfield. He has come a long way and enjoys the opportunity to help his team in whatever way they ask of him.
Some of McQuarrie's favorite moments playing the sport have been with his older brother, Allan, who is a senior on the team. He has played the sport with his brother ever since they started playing baseball up through high school at Bishop Guertin in Nashua, NH. The moments they have shared together have meant so much to Jon and he looks up to his older brother.
McQuarrie says about his brother, "He is a cornerstone behind the plate, he has always been money defensively, and he is swinging the bat well. He has always been a great leader on the team especially for me."
The upperclassman also mentioned another role model. He always tries to play like Major League Baseball player and Boston Red Sox second basemen, Dustin Pedroia.
McQuarrie says, "I love the way he plays the game, he never takes an out off and he is always going 110 percent, so I always try to play like him."
Individually, McQuarrie feels he has not performed to his potential this season, despite a few glimpses of great play. The team has also not played to the expectations struggling mightily so far this year; they have not been able to put the complete game together. They have been competitive in most conference games, but have not been able to finish many of the contests out.
McQuarrie thinks it has been due to not having too many instances where all three phases click. The pitching and defense might be there, but the offense won't be there for example. The squad stands at 3-16 in Northeast-10 Conference play with an overall record of 8-28.
McQuarrie says, "I am really proud that I have made it to this level, but as far as favorite memories I have met so many good friends through baseball that I will always be friends with; I have a ton of fun going out there and competing."
Come out and support the baseball team for the conclusion of their season and Jon McQuarrie will try to do his best to help the team finish the year strong.